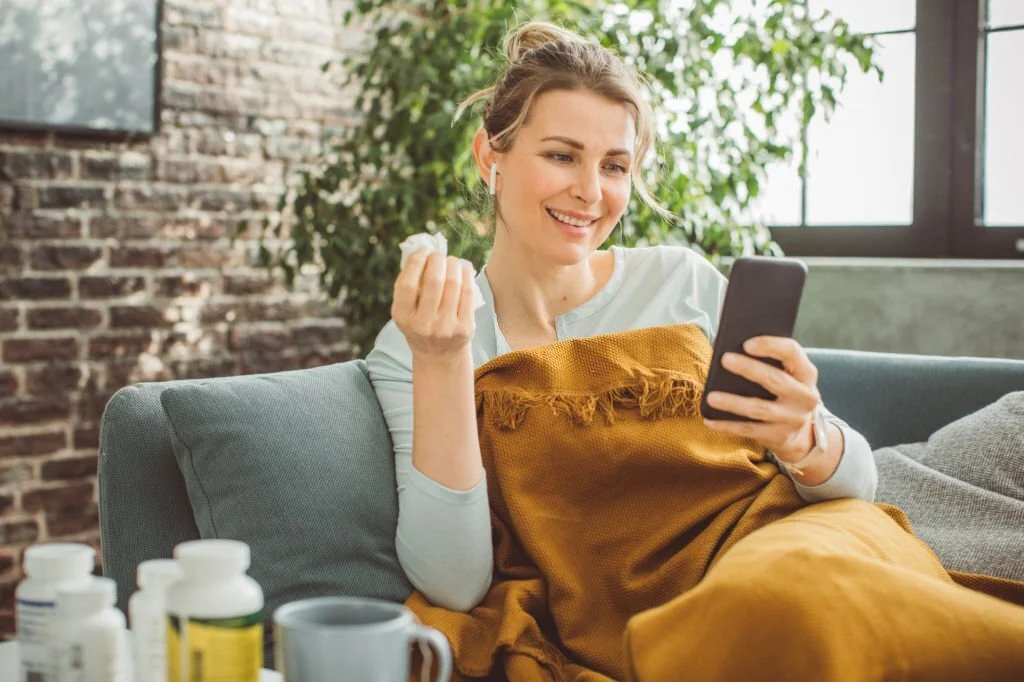 Get a Prescription for Ibuprofen Online
Ibuprofen is a medication to ease pain, swelling, and fever, reduce painful period (menstrual) cycles and treat arthritis. You can get prescription ibuprofen online by connecting with our online doctor at Your Doctors Online, who will ask you to elaborate on your symptoms to determine the best course of treatment. Then, if deemed necessary, they may recommend a follow-up appointment or a visit to a clinic.
However, please note a prescription will only be provided after consultation with the doctor and if the treatment is considered suitable and safe for you.
How to Connect with an Online Doctor?
Connect with a health care professional online in 3 easy steps.
Download our app, register and tell us about your medical issue to get started.
Mental Health
Anemia
STD
UTI
Skin
Covid
Connect with a board-certified doctor. You can chat, send pictures and videos.
Hi I'm dr. Nicole. How may I help you?
Hi Dr. Nicole, I have been having knee pain after falling . Can I get some form of treatment, please?

Our online doctors can help you with your medical issues and give you prescriptions.
Ibuprofen 400 mg

Twice a day for 5 days

 
Send Prescription
What is ibuprofen?
Ibuprofen, marketed under brand names such as Motrin or Advil, is similar to celecoxib, diclofenac, etodolac, ketoprofen, ketorolac, mefenamic acid, meloxicam, naproxen, nabumetone and oxaprozin (Daypro) and belongs to a class of medications called nonsteroidal anti-inflammatory drugs, or NSAIDs. This is how ibuprofen and paracetamol vary. With the general objective of lowering fever or discomfort, ibuprofen is utilized in various clinical conditions. Ibuprofen is hypothesized to function by nonselectively inhibiting cyclooxygenase enzymes, preventing prostaglandins' formation. In illness situations, prostaglandins increase the amount of inflammation, pain, and fever; hence, ibuprofen is hypothesized to have clinical effects by lowering their levels. Doctors prescribed ibuprofen tablets to treat primary dysmenorrhea, rheumatoid arthritis, osteoarthritis symptoms, and mild to moderate discomfort. In the drug Duexis, ibuprofen and famotidine are also present.
How to take ibuprofen? 
Ibuprofen 200 mg tablets,Ibuprofen 400 mg tablets, ibuprofen 600 mg tablets, and ibuprofen 800 mg tablets are the most common forms of generic ibuprofen medication. Ibuprofen, 800mg over the counter, is not available. The active ingredient in ibuprofen is a white powder with a melting point of under 80° C that dissolves easily in organic solvents. Ibuprofen is readily absorbed, and peak serum levels are often reached in two hours. Ibuprofen typically has a serum half-life of less than two hours, and within 24 hours, it is mainly excreted in the urine. Take ibuprofen with a full glass of water and preferably with food or milk to minimize stomach irritation. Avoid crushing, breaking, or chewing extended-release tablets, as this may alter their intended effect. Never combine ibuprofen with other NSAIDs unless advised by a healthcare professional.
Important information about Ibuprofen
Following are some points that you should know about ibuprofen:
Ibuprofen interactions include those with certain medications, including blood thinners, corticosteroids, other NSAIDs and antidepressants. It can also interact with alcohol and increase the risk of stomach bleeding.

Using ibuprofen alongside other NSAIDs or pain relievers can lead to overdose and severe health issues. Avoid taking multiple medications containing ibuprofen simultaneously.

Common side effects include stomach upset, heartburn, and dizziness. Prolonged use or high doses may result in stomach ulcers, kidney problems, or cardiovascular issues.

Some individuals may experience allergic reactions, such as hives, swelling, or difficulty breathing, requiring immediate medical attention.

Individuals with asthma, bleeding disorders, or heart conditions should use ibuprofen cautiously, as it can exacerbate these conditions.

Pregnant patients should seek advice from the doctor before using ibuprofen, especially in the third trimester, as it may affect the unborn baby.
Can you buy ibuprofen 800 mg over the counter?
Aspirin, ibuprofen (Advil, Motrin), and naproxen (Aleve, Naprosyn) are NSAIDs that can be purchased over the counter.
Is prescription ibuprofen stronger than otc?
The only variation between ibuprofen's OTC and prescription availability is the potency of the tablet. Ibuprofen OTC pills are available in 100 mg or 200 mg, but ibuprofen prescription tablets come in 400 mg, 600 mg, or 800 mg.
Can I take two 800 mg ibuprofen at once?
For adults, the maximum daily dose of ibuprofen is 3200 milligrammes (4 maximum doses), with 800 milligrammes for each dose at 4-6 hours intervals. Age and weight determine ibuprofen dosage for children.
Is ibuprofen 800 good for inflammation?
A nonsteroidal anti-inflammatory medicine (NSAID) called ibuprofen relieves mild to moderate discomfort. Additionally, it helps to lessen the symptoms of arthritis, including edema, inflammation, stiffness, and joint pain (whether from osteoarthritis, rheumatoid arthritis, or juvenile arthritis).
What if I take too much ibuprofen?
Ibuprofen can harm your health if taken in higher doses than prescribed, just like any other medication. Ibuprofen abuse can badly hurt your hormones, cause severe damage to your digestive system, and raise your risk of heart attack and stroke. Ibuprofen overdose can be fatal in some circumstances.
How many days in a row can you take 600mg ibuprofen?
Ibuprofen should be used for 4-5 days without a doctor's or chemist's supervision. Please take it as directed. Limit your intake to a maximum of 600 mg every 8 hours and only take what is necessary to reduce fever or pain.
Which is better for pain relief Tylenol or ibuprofen?
Ibuprofen and Tylenol (acetaminophen) work well to relieve pain, although they have varying potencies. While ibuprofen's anti-inflammatory qualities make it acceptable for pain with inflammation, Tylenol is superior at lowering pain and fever.
This is the best app..You ask anything and the doctors answer you within minutes, i love it

-Phindile Mkhatshwa


It is a good app, it can be helpful with pictures and be very detailed.

-brooke snow


Wow, these people are such a blessing. Dey give accurate answered to questions asked. Its really too good

-Okiti Stephanie


Impressive work !! Connecting to a doctor was so quick. I am really impressed.

-ASIF Khan


Doctor was really great, fast at responding very helpful

-Chelsey


Chat with them the doctor that I chat with very helpful and answer all my questions I recommend to anyone

-edith bien aime


The best patient doctors that understand and give you useful information ..I'm really thankful.

-Lesego Thejane


Very informative and very detailed in explanations.Also pleasant and courteous.I would recommend to anyone.

-Stephanie Brown


Very helpful, very polite and answers every question in a well mannered way.

-kulwinder gill


I really rate this website a lot, you people don't stick and and im sure you try your best to take swift actions for your patients.

-Elijah Mark


Talk to online doctors now and get medical advice, online prescriptions, and referrals within minutes. On-demand healthcare services at your fingertips.