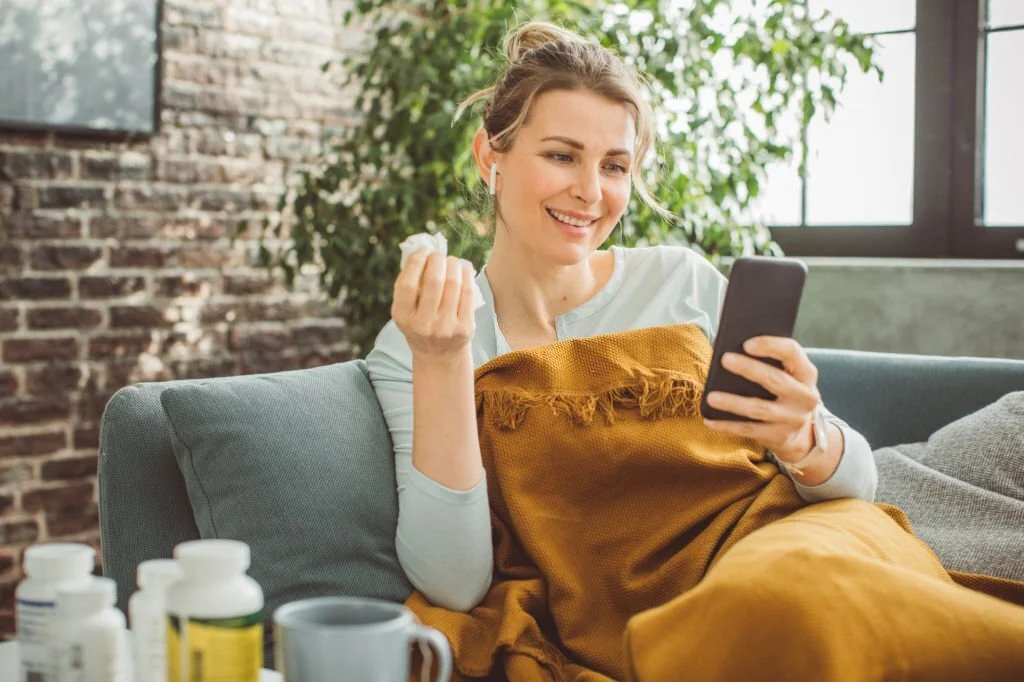 Get Dicycloverine Refill Online
Dicycloverine is used to treat intestinal spasm, particularly the ones associated with irritable bowel syndrome. If you have these conditions, you can refill Dicycloverine online. Obtaining a Dicycloverine prescription online is simple; visit Your Doctors Online and connect with a doctor anytime, anywhere. Our online doctor will ask about your symptoms to determine the treatment plan. They may suggest a follow-up appointment or clinic visit.
Please know that a Dicycloverine refill will only be provided after a consultation with our doctor and if the medication is appropriate and safe.
How to Connect with an Online Doctor?
Connect with a health care professional online in 3 easy steps.
Download our app, register and tell us about your medical issue to get started.
Intestinal Spasm
Anemia
STD
UTI
Skin
Covid
Connect with a board-certified doctor. You can chat, send pictures and videos.
Hi I'm dr. Nicole. How may I help you?
Dr. Nicole, I have been taking Dicycloverine for intestinal spasms; I ran out of it. Can you give me a Dicycloverine refill?

Our online doctors can help you with your medical issues and give you prescriptions.
Dicycloverine 10 mg tablet

Take one tablet four times daily
Send Prescription
What is Dicycloverine (Bentyl) and how to take it
What is Dicycloverine (Bentyl)?
Dicycloverine is an antispasmodic used to reduce muscle spasms in the intestine. Dicycloverine is available as an oral liquid medicine and tablets in 10 mg doses for adults and children above 12 and 5 mg doses for children under 12. It is available as Bentyl, Antispas, Coochil, Bocyclomine, Diciclomina, Magesan, Protylol, Actispas Plus, and Dicyclocot. Other drugs from the same therapeutic class include Dicyclomine, Dicycloverinum, Dicicloverina, and Dicyclomine Hydrochloride.
How does it work?
Dicycloverine is an antispasmodic. Blocking acetylcholine (Ach) at muscarinic receptors relaxes smooth muscles. Bentyl stops sudden muscle contractions (spasms) by relieving bloating, cramps, wind, pain, and discomfort.
How to take Dicycloverine (Bentyl)?
Take Dicycloverine (Bentyl) four times a day with or without food. Your dose will be increased gradually from 20 mg to 40 mg. The dosage varies among different individuals. Swallow the Dicycloverine tablet whole with a full glass of water. Do not overdose or under dose from the recommended dose. Talk to your doctor if you have questions about your dosing schedule.
Important information about Dicycloverine
Dicycloverine is an antispasmodic drug. You will require a prescription for Dicycloverine. Here are some essential points that you should know about this drug:

Side effects of Dicycloverine are not as common but may include constipation, dry mouth, dizziness, blurred vision, and diarrhea. You can share with your doctor if you persistently feel any of these side effects.

In some rare cases you may face some serious side effects such as hallucinations, trouble swallowing, problems with speech, memory, and confusion, dehydration, eye pain, allergic reactions, and slow heart rate. Get in touch with your doctor immediately if you notice any of these serious side effects.




Bentyl (Dicycloverine) is contraindicated with some medications such as antipsychotics, opioids, Vitamin D3, Xanax, Zofran, and alcohol. It is also contraindicated in some medical conditions such as ulcerative colitis, GI obstruction, obstructive uropathy, myasthenia gravis, CV acute hemorrhage, breastfeeding women, autonomic neuropathy, glaucoma, tardive dyskinesia, infectious diarrhea, and reflux esophagitis.
FAQs About Dicycloverine Prescription Refill
Is Bentyl over the counter?
Bentyl is a prescription medication that is not available for use over the counter. You will require a prescription from a registered medical practitioner to obtain it.
How quickly does Bentyl work?
Bentylusually starts working within 1-2 hours, and its duration of action lasts for about 4 hours after the onset of action. However, the duration of action and onset can vary based on individual factors.
Does Bentyl make you sleepy?
Yes, Dicycloverine (Bentyl) does cause drowsiness. However, the occurrence of side effects varies from individual to individual.
How long does Bentyl stay in your system?
The duration of action Bentyl is 4 hrs so it usually stays in your system for 4 hours. The exact duration may vary among different individuals.
How often can you take Bentyl?
The recommended dose of Bentyl for adults is 20 mg, taken four times a day. If well tolerated, the initial dose is increased to 40 mg per day after a week.
How can I refill my Bentyl prescription?
You can get a Bentyl prescription refill online from one of our qualified professionals at Your Doctors Online. Our doctor will evaluate your condition and will only prescribe you a refill if necessary.
What happens if you take Bentyl with food?
Taking Bentyl with food can delay the onset of action for the drug as it may delay the absorption of medication in the intestine.
When should you take Bentyl?
It is recommended to take the medication as directed by your doctor. You can take it with food or without it. Some people may feel drowsy upon taking Bentyl; therefore, it is not recommended to take it when you have to drive or do other activities that require alertness. Your doctor will advise the exact dosing schedule for you.
What happens if I miss a dose of Bentyl?
If you have missed a dose of Bentyl, you can take it as soon as you remember it. Avoid taking another dose if your next dose is near as this may lead to an overdose.
What happens if I take too much Bentyl (Dicycloverine)?
If you take too much Bentyl (Dicycloverine), it may lead to an increased occurrence of side effects that may worsen, such as nausea, weakness, dilated pupils, vomiting, fainting, trouble swallowing, confusion, memory problems, diarrhea, agitation, severe constipation, and hallucinations.
This is the best app..You ask anything and the doctors answer you within minutes, i love it

-Phindile Mkhatshwa


It is a good app, it can be helpful with pictures and be very detailed.

-brooke snow


Wow, these people are such a blessing. Dey give accurate answered to questions asked. Its really too good

-Okiti Stephanie


Impressive work !! Connecting to a doctor was so quick. I am really impressed.

-ASIF Khan


Doctor was really great, fast at responding very helpful

-Chelsey


Chat with them the doctor that I chat with very helpful and answer all my questions I recommend to anyone

-edith bien aime


The best patient doctors that understand and give you useful information ..I'm really thankful.

-Lesego Thejane


Very informative and very detailed in explanations.Also pleasant and courteous.I would recommend to anyone.

-Stephanie Brown


Very helpful, very polite and answers every question in a well mannered way.

-kulwinder gill


I really rate this website a lot, you people don't stick and and im sure you try your best to take swift actions for your patients.

-Elijah Mark


Talk to online doctors now and get medical advice, online prescriptions, and referrals within minutes. On-demand healthcare services at your fingertips.