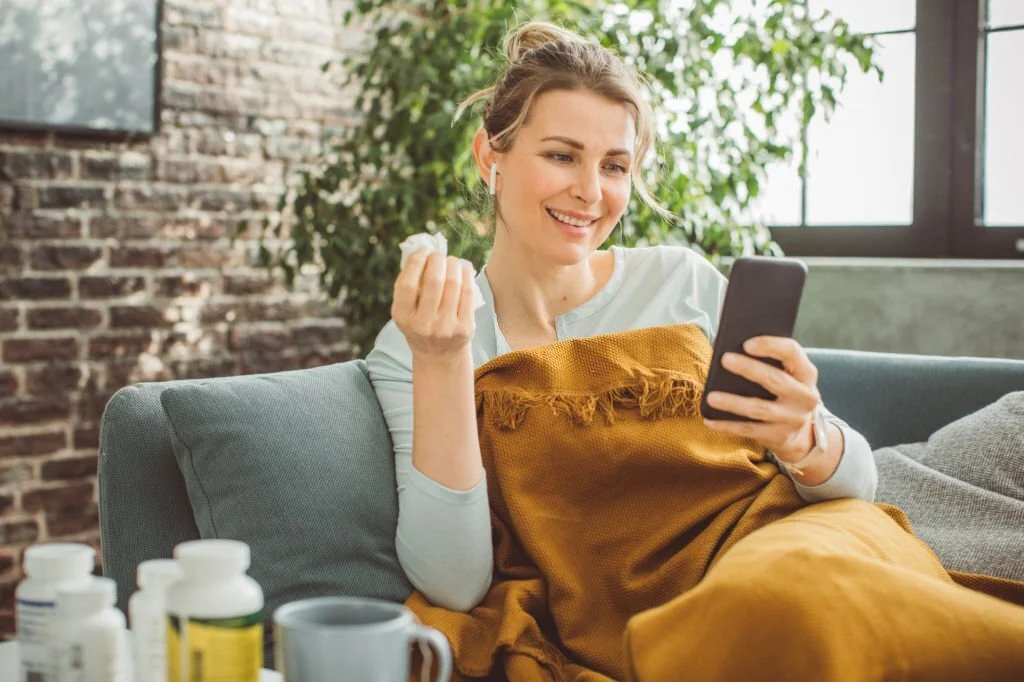 Get Efinaconazole Prescription Online
Efinaconazole is used to treat toe nail infections caused by fungus. The infection is called onychomycosis. If you have thisconditions, you can Efinaconazole online. Obtaining an Efinaconazole prescription online is simple; visit Your Doctors Online and connect with a doctor anytime, anywhere. Our online doctor will ask about your symptoms to determine treatment. They may suggest a follow-up appointment or clinic visit.
Please know that an Efinaconazole refill will only be provided after a consultation with our doctor and if the medication is appropriate and safe.
How to Connect with an Online Doctor?
Connect with a health care professional online in 3 easy steps.
Download our app, register and tell us about your medical issue to get started.
Antifungal
Anemia
STD
UTI
Skin
Covid
Connect with a board-certified doctor. You can chat, send pictures and videos.
Hi I'm dr. Nicole. How may I help you?
Dr. Nicole, I'm using Efinaconazole for fungal infection, but I ran out of it today. Can I get a refill?

Our online doctors can help you with your medical issues and give you prescriptions.
Efinaconazole topical solution 10 mg

Apply once daily for 48 weeks
Send Prescription
What is Efinaconazole and How to Take It
Efinaconazole is used to treat fungal infections of the toenail caused by Trichophyton rubrum, and Trichophyton mentagrophytes. It is a triazole antifungal medication sold under the brand name Jublia. Other drugs from the same therapeutic class include Ciclopirox, Fluconazole, Griseofulvin, Terbinafine, Itraconazole, and Amorolfine.
Effinaconazole is an anti-fungal that acts on a 14α-demethylase inhibitor to inhibit the synthesis of ergosterol, which is the main component of fungal cell walls. The inhibition of ergosterol helps in fighting the fungal infection in toenails.
Effinaconazole is applied topically once daily using the brush applicator and should be applied on the toenails, and it should not be used anywhere else. It is recommended to apply it for 48 weeks regularly.
Important Information About Efinaconazole
Efinaconazole is an anti-fungal medication. You will require a prescription for Efinaconazole. Here are some essential points that you should know about this drug:
Common side effects of Efinaconazole include redness at the site of application, swelling, blisters, redness at the application site, and burning or stinging. If you feel any of these side effects worsen or are persistent, seek medical help.




Serious side effects of Efinaconazole include ingrown toenails, pain, burning, stinging, and itching Always seek help from a registered medical practitioner if you notice any of these serious side effects.

Efinaconazole has no severe interactions reported with any other medications or health conditions. However, it is important to share your medication list with your doctor before start using Efinaconazole.
Is Jublia over the counter?
No, Jublia is not available for use over the counter. You can only get it with a doctor's prescription. You can talk to one of our qualified professionals online if you need an Eficonazole refill.
Does Jublia work on toenail fungus?
Yes, it is only recommended for use by a brush applicator on toenail fungal infections, and it is not recommended to use it elsewhere for any other infection. For any further questions about how to apply it, you can discuss it with your healthcare professional.
How long does Jublia take to work?
Jublia is required to be applied for 48 weeks, once daily. The desired results of Efinaconazole are usually achieved in about 72 weeks. If you do not get desired results in this duration, speak to your healthcare professionals.
How does Jublia kill fungus?
Jublia is the brand name of Efinaconazole. It is an azole antifungal that works by inhibiting the synthesis of ergosterol which is an essential component of fungal cell membranes.
What is the difference between Kerydin and Efinaconazole?
The difference between Kerydin and Effinaconazole is that they have different active ingredients and brand names. One has Tacabarole, and the other has Efinaconazole as an active ingredient.
This is the best app..You ask anything and the doctors answer you within minutes, i love it

-Phindile Mkhatshwa


It is a good app, it can be helpful with pictures and be very detailed.

-brooke snow


Wow, these people are such a blessing. Dey give accurate answered to questions asked. Its really too good

-Okiti Stephanie


Impressive work !! Connecting to a doctor was so quick. I am really impressed.

-ASIF Khan


Doctor was really great, fast at responding very helpful

-Chelsey


Chat with them the doctor that I chat with very helpful and answer all my questions I recommend to anyone

-edith bien aime


The best patient doctors that understand and give you useful information ..I'm really thankful.

-Lesego Thejane


Very informative and very detailed in explanations.Also pleasant and courteous.I would recommend to anyone.

-Stephanie Brown


Very helpful, very polite and answers every question in a well mannered way.

-kulwinder gill


I really rate this website a lot, you people don't stick and and im sure you try your best to take swift actions for your patients.

-Elijah Mark


Talk to online doctors now and get medical advice, online prescriptions, and referrals within minutes. On-demand healthcare services at your fingertips.