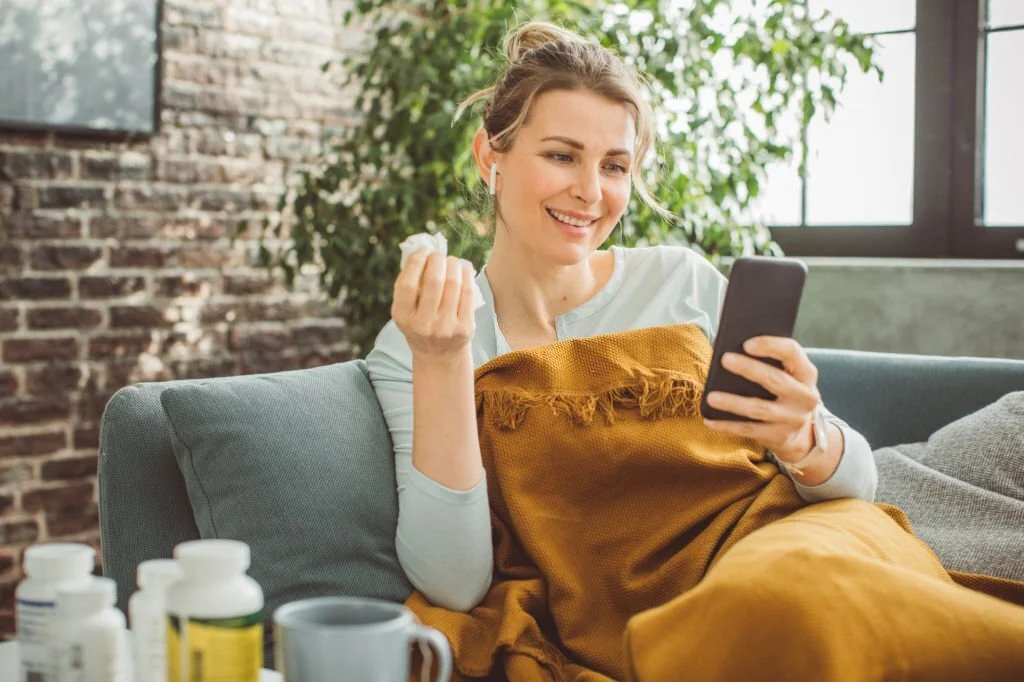 Get a Vlacyclovir Prescription Online
Valacyclovir (generic Valtrex) is a prescription for treating cold sores, genital herpes, and shingles. You can get a valacyclovir prescription online by connecting with our online doctor at Your Doctors Online, who will ask you to describe your symptoms to determine the best course of treatment. Then, if deemed necessary, they may recommend a follow-up appointment or a visit to a clinic. However, please note a prescription will only be provided after consultation with the doctor and if the treatment is considered suitable and safe for you. 
How to Connect with an Online Doctor?
Connect with a health care professional online in 3 easy steps.
Download our app, register and tell us about your medical issue to get started.
Sexual Health
Anemia
STD
UTI
Skin
Covid
Connect with a board-certified doctor. You can chat, send pictures and videos.
Hi I'm dr. Nicole. How may I help you?
Hi Dr. Nicole, I am immunocompromised and have developed a cold sore. Can I get some form of treatment, please?

Our online doctors can help you with your medical issues and give you prescriptions.
Valacyclovir, 1000mg, twice daily, 7 days

Xerese (acyclovir 5% and hydrocortisone 1% cream), 5 times a day, 7 days
Send Prescription
What is Valacyclovir and How to Take It
An antiviral valacyclovir drug treats herpes infections such as genital herpes, cold sores, and shingles. It is an oral prodrug of acyclovir, which means it is changed into acyclovir in the body and subsequently functions to prevent the herpes virus from replicating. In particular, valacyclovir works well in lessening the intensity and length of outbreaks, symptom relief, and stopping the virus's spread. It aids in the body's immune system's ability to control the infection by preventing the virus's capacity to multiply. It does not, however, treat herpes, and patients who have the virus may still experience sporadic outbreaks.
It's crucial to take valacyclovir precisely as prescribed by your doctor. Adults should take 2 grams orally every 12 hours daily to treat herpes outbreaks. A lesser dose of 1 gram per day may be given to suppress genital herpes. With or without food, take each dose with a full glass of water. As soon as symptoms emerge, begin treatment to ensure optimum effectiveness. If you forget to take a dose, do so as soon as you remember, but skip the missed dose once the next dose is practically due. Never take two doses to make up for one that was missed. To get the most outstanding results, finish the entire course.
Important Information About Valacyclovir
Following are some points that you should know about valacyclovir:
Other prescription and over-the-counter medicines include cimetidine (Tagamet), probenecid (Benemid), bacitracin, imipenem/cilastatin, sulbactam, talimogene laherparepvec, and some vitamins may interact with valacyclovir.

Individuals with a history of hypersensitivity to valacyclovir, acyclovir, or related medications may be at risk of cross-reactivity.

 Patients with kidney problems or compromised immune systems should be closely monitored, as valacyclovir's cross-reactivity may exacerbate their conditions.

Side effects of valacyclovir are generally uncommon but can still occur during treatment. The most common side effects, affecting approximately 10-35% of patients, include headaches, neutropenia, elevated AST, cold-like symptoms with nasal inflammation, nausea, and heightened ALT stomach pain.

Less common side effects, affecting 1-10% of patients, encompass painful periods, depression, joint stiffness, vomiting, dizziness, rash, runny nose, thrombocytopenia, and leukopenia.
FAQs About Valacyclovir )
Is Valtrex over-the-counter available?
Valacyclovir over the counter is not available. Valacyclovir helps relieve pain and discomfort and speeds healing, even if it cannot treat shingles or genital herpes. Valacyclovir without a doctor's prescription is not available.
You can get an online prescription for Valtrex without seeing a doctor in person by consulting with our online doctor at Your Doctors Online to get a Valtrex online prescription. After discussing our medical concerns and history, our online doctor can send your prescription to your preferred local pharmacy.
Is valacyclovir equivalent to acyclovir?
Valacyclovir and acyclovir are related antiviral drugs but are not precisely equivalent. A modified form of acyclovir called valacyclovir may require fewer doses since the body more readily absorbs it.
What is a substitute for valacyclovir?
Acyclovir can be used instead of valacyclovir since both antiviral drugs are used to treat herpes infections. Individual responses could differ, so speaking with a healthcare professional is essential to choosing the best action. In some circumstances, other antiviral medications like famciclovir may also be considered options.
Is it OK to take valacyclovir daily?
It is safe to take valacyclovir as directed by a doctor every day. For controlling genital herpes or preventing herpes virus reactivation in specific medical situations, daily use is frequently advised. Stay consistent with your doctor's recommendations, and consult a doctor before changing the dosage.
How long is it safe to take valacyclovir?
Only one day or a few days may be required for you to take the medication. You might need to take valacyclovir for up to a year to avoid recurrent genital herpes. Use this medication for the recommended period, even if your symptoms disappear quickly.
Can I take valacyclovir 500 mg twice daily for 3 days?
To treat recurring outbreaks of genital herpes: Adults: Take 500 mg twice daily for three days. Children: Your doctor should determine the use and dosage.
Can valacyclovir cause hair loss?
Although it wasn't noted as a side effect in valacyclovir research, taking the medication will likely cause hair loss. Also, Food and Drug Administration (FDA) has approved the medication, and hair loss has been listed as a potential side effect.
What's a typical starting dose of valacyclovir?
One gram (1000 mg) of valacyclovir administered twice daily with a 12-hour gap between doses is the typical starting dose for treating herpes infections.
Is valacyclovir a steroid?
Valacyclovir is not an anabolic steroid. It is a prescription antiviral drug used to treat herpes virus infections. Valacyclovir is a prodrug of acyclovir, which is changed into acyclovir in the body. It works by preventing the herpes virus from replicating. On the other hand, the anti-inflammatory characteristics of steroids make them a separate class of drug.
Who should not take Valtrex?
People with advanced HIV, allogenic bone marrow transplants, people taking certain drugs, kidney issues, or those dehydrated may not be able to use it. Some of valacyclovir's adverse effects may be more noticeable in older persons.
What happens if I take too much Valtrex?
Overdosing on Valtrex (valacyclovir) may result in symptoms like kidney troubles, neurological disorders, and gastrointestinal disturbances.
What happens if I miss a dose of Valtrex?
Take Valtrex (valacyclovir) as soon as you recall if you miss a dose. If the time for the next dose is approaching, skip the missed one dose and continue with your regular dosing regimen. To make up for a missing dose, keep the dose the same.
This is the best app..You ask anything and the doctors answer you within minutes, i love it

-Phindile Mkhatshwa


It is a good app, it can be helpful with pictures and be very detailed.

-brooke snow


Wow, these people are such a blessing. Dey give accurate answered to questions asked. Its really too good

-Okiti Stephanie


Impressive work !! Connecting to a doctor was so quick. I am really impressed.

-ASIF Khan


Doctor was really great, fast at responding very helpful

-Chelsey


Chat with them the doctor that I chat with very helpful and answer all my questions I recommend to anyone

-edith bien aime


The best patient doctors that understand and give you useful information ..I'm really thankful.

-Lesego Thejane


Very informative and very detailed in explanations.Also pleasant and courteous.I would recommend to anyone.

-Stephanie Brown


Very helpful, very polite and answers every question in a well mannered way.

-kulwinder gill


I really rate this website a lot, you people don't stick and and im sure you try your best to take swift actions for your patients.

-Elijah Mark


Talk to online doctors now and get medical advice, online prescriptions, and referrals within minutes. On-demand healthcare services at your fingertips.