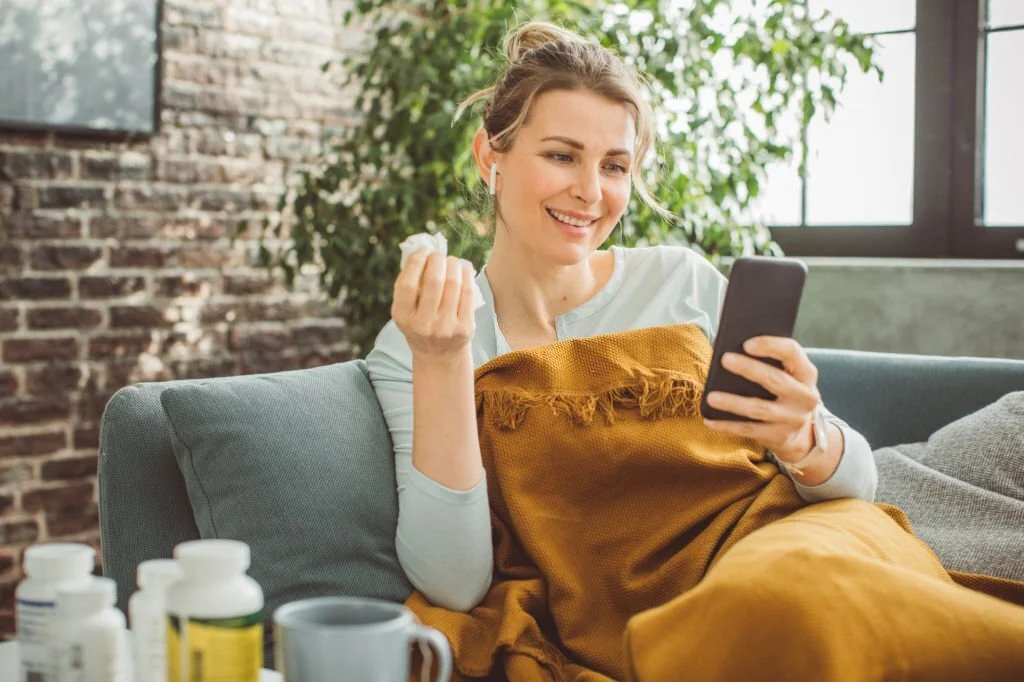 Get Bactrim DS (Trimethoprim-Sulfamethoxazole) prescription online
The sulfamethoxazole and trimethoprim combination is used to tackle bacterial infections such as urinary tract infections, ear infections, bronchitis, shigellosis, traveller's diarrhea, and pneumonia.
Getting a DS(Trimethoprim-Sulfamethoxazole) prescription online is very straightforward; you can connect with a doctor at any time and place of your choice at Your Doctors Online. However, please note that Bactrim DS(Trimethoprim-Sulfamethoxazole) Prescription online will only be provided after consultation with the doctor and if the treatment is suitable and safe for you.
Request Bactrim DS prescription online
Get online prescription for Bactrim DS in three easy steps.
Download our app, register and tell us about your medical issue to get started.
Connect with a board-certified doctor. You can chat, send pictures and videos.
Hi I'm Dr. Nicole. How may I help you?
Hi Dr. Nicole, I have pain and burning while urinating. Do I have a UTI? Can I get antibiotics for that, please?

Our online doctors can help you with your medical issues and give you prescriptions.
Trimethoprim-sulfamethoxazole, 160mg/800mg.

Take one tablet twice daily for 5 days, swallow it whole with water.
Send Prescription
Bactrim DS is a medication that belongs to the sulfonamide antibiotic class. It is a combination of two active ingredients, sulfamethoxazole and trimethoprim.
Sulfamethoxazole and trimethoprim work together to inhibit the growth and multiplication of bacteria, making Bactrim DS an effective treatment for various bacterial infections.
Bactrim DS is a brand name for the combination of Trimethoprim and Sulfamethoxazole. Septra is another brand name for the same combination. Bactrim DS is typically available in tablet form for oral administration.
Bactrim DS is a prescription medication, which means it is not available over the counter (OTC).
Important information about Bactrim DS
Common side effects like nausea, diarrhea, and skin rash.


Serious side effects include allergic reactions, blood disorders, liver problems, kidney issues, and severe skin reactions.
FAQs about Bactrim DS prescription online
Can you buy Trimethoprim over the counter?
You can't get trimethoprim otc or without a prescription. It is a prescription-only medication; hence, you will require a prescription from a licensed physician. You can get a prescription for Bactrim DS(trimethoprim-sulfamethoxazole) online by consulting with an online doctor at Your Doctors Online.
How to take Bactrim DS (Sulfamethoxazole / Trimethoprim)?
The medicine can be taken with or without food but should be swallowed with a whole glass of water. Bactrim DS for skin infection and Bactrim DS for UTI have different duration of treatment. Bactrim DS dose for adults depends on the severity and type of infection. Always follow instructions, take the prescribed dosage, and complete the entire course of medication. Always shake the bottle thoroughly if you are taking SMZ-TMP DS in liquid form.
What are the Intercation of BactrimD DS (Sulfamethoxazole / Trimethoprim?
Bactrim DS can interact with other forms of medication, including thiazides, medications for diabetes, warfarin, methotrexate, digoxin, phenytoin, leucovorin etc.
Does Bactrim treat ear infections?
Yes, it is prescribed to treat Otitis Media(middle ear infections).
Why drink water with Bactrim DS?
It is essential to stay hydrated while taking these pills as that will help prevent the crystallization of urine that may cause the formation of kidney stones as a side effect.
What should I avoid while taking Bactrim?
Sulfamethoxazole and Trimethoprim make you photosensitive. It is best to avoid sunlight exposure and to wear protective clothing. Also, make sure that you use sunscreen.
Can I drink alcohol with Trimethoprim?
Yes, it is safe to drink alcohol with Trimethoprim. Although, consumption in moderation is recommended.
What happens if you take Bactrim on an empty stomach?
You may experience nausea or vomiting if you take the pills on an empty stomach. However, taking Bactrim DS with food may help combat this problem.
Who should not take Bactrim DS?
It is best to avoid Bactrim DS if you are suffering from the following: Allergic reactions to Sulfamethoxazole or Trimethoprim, Kidney disease, Severe liver disease, Certain blood disorders: such as anemia, Bone marrow suppression.
What happens if I miss a dose of Bactrim DS?
You should take the missed dose as soon as you remember. However, if it is time to take your next dose, skip the missed dose and take the scheduled dose/pill.
What happens if I take too much Bactrim DS?
Taking too much Bactrim DS can lead to symptoms like nausea, vomiting, and serious complications, including allergic reactions or organ damage.
What is the normal prescription for Bactrim?
For adults, a common Bactrim prescription includes one DS tablet of 800 mg or two regular tablets of 400mg (taken every 12 hours) for 10 to 14 days.
How quickly does Bactrim work?
Bactrim is a fast-acting combination antibiotic, usually taking effect within 1 to 4 hours of ingestion, with its bactericidal action lasting for 12 hours. It often leads to noticeable improvement in urinary tract infection (UTI) symptoms within 3 days.
Which is better, Bactrim or amoxicillin?
Bactrim covers a broader range of bacteria, while amoxicillin is effective against a different spectrum. The choice between Bactrim (sulfamethoxazole/trimethoprim) and amoxicillin depends on the specific bacterial infection being treated and individual factors like allergies and antibiotic resistance patterns in your region. Both are effective antibiotics, but they have different spectra of activity.
Can Bactrim cure a UTI in 3 days?
Bactrim (sulfamethoxazole/trimethoprim) is often prescribed for the treatment of urinary tract infections (UTIs), and some individuals may experience improvement in their UTI symptoms within 3 days of starting the medication. However, the duration of treatment can vary based on factors such as the severity of the infection and individual response to the antibiotics.
This is the best app..You ask anything and the doctors answer you within minutes, i love it

-Phindile Mkhatshwa


It is a good app, it can be helpful with pictures and be very detailed.

-brooke snow


Wow, these people are such a blessing. Dey give accurate answered to questions asked. Its really too good

-Okiti Stephanie


Impressive work !! Connecting to a doctor was so quick. I am really impressed.

-ASIF Khan


Doctor was really great, fast at responding very helpful

-Chelsey


Chat with them the doctor that I chat with very helpful and answer all my questions I recommend to anyone

-edith bien aime


The best patient doctors that understand and give you useful information ..I'm really thankful.

-Lesego Thejane


Very informative and very detailed in explanations.Also pleasant and courteous.I would recommend to anyone.

-Stephanie Brown


Very helpful, very polite and answers every question in a well mannered way.

-kulwinder gill


I really rate this website a lot, you people don't stick and and im sure you try your best to take swift actions for your patients.

-Elijah Mark


Talk to online doctors now and get medical advice, online prescriptions, and referrals within minutes. On-demand healthcare services at your fingertips.