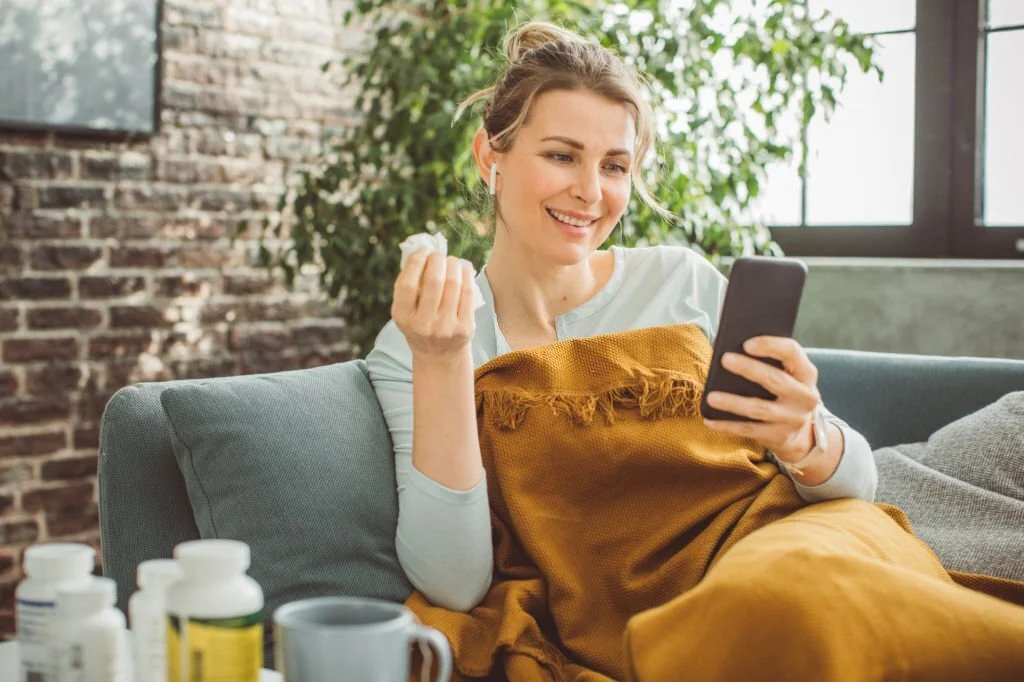 Get a Prescription for Cymbalta(Duloxetine) Online
Cymbalta (Duloxetine) is a medication for certain types of depression, anxiety, and pain syndromes. You can get a Cymbalta prescription online by connecting with our online doctor at Your Doctors Online, who will ask you to describe your symptoms to determine the best course of treatment. Then, if deemed necessary, they may recommend a follow-up appointment or a visit to a clinic.
However, please note a prescription will only be provided after consultation with the doctor and if the treatment is considered suitable and safe for you. 
How to Connect with an Online Doctor?
Connect with a health care professional online in 3 easy steps.
Download our app, register and tell us about your medical issue to get started.
Pain management and Mental Health
Anemia
STD
UTI
Skin
Covid
Connect with a board-certified doctor. You can chat, send pictures and videos.
Hi I'm dr. Nicole. How may I help you?
Hi Dr. Nicole, I have fibromyalgia and suffer from anxiety and depression. Can I get some form of treatment, please?

Our online doctors can help you with your medical issues and give you prescriptions.
Duloxetine,

30 mg, once daily
Send Prescription
What is Cymbalta and How to Take It
Cymbalta is a medication known as a selective serotonin and norepinephrine reuptake inhibitor antidepressant (SSNRI). Numerous diseases, including various forms of depression, neuropathic pain, generalized anxiety, fibromyalgia, and chronic musculoskeletal pain, are advised for duloxetine.
Cymbalta is the name under which duloxetine is most frequently marketed. Similar to the drugs citalopram (Celexa), desvenlafaxine (Pristiq), escitalopram (Lexapro), fluoxetine (Prozac), paroxetine (Paxil, Pexeva), and sertraline (Zoloft), Cymbalta( duloxetine) inhibits the reuptake of serotonin, increasing serotonin activity. Additionally, duloxetine prevents norepinephrine from being reabsorbed, which may be advantageous for some persons.
Duloxetine over the counter is not available. Cymbalta is available as a tablet or capsule form and can be taken with or without food once a day. Cymbalta (duloxetine) is taken orally as directed by your healthcare provider. The recommended initial dosage is typically 30 mg once daily. Swallow the capsule whole, avoiding crushing, chewing, or opening it. The medication may take several weeks to reach its full therapeutic effects, so be patient and consistent.
Inform your doctor about any other medicines or medical conditions before starting Cymbalta. Regular follow-ups are essential to monitor progress and address any concerns. Always adhere to the prescribed dosage to ensure the best outcomes while minimizing potential side effects.
Important Information About Cymbalta
Following are some points that you should know about Cymbalta:
Cymbalta may interact with other medications, such as MAO inhibitors, leading to severe and potentially life-threatening reactions. Inform your doctor about all current medicines before starting Cymbalta.

Abruptly stopping Cymbalta can cause withdrawal symptoms, including dizziness, nausea, irritability, and headache. Gradual dose reduction is essential when discontinuing the medication.

Constipation, dry mouth, sleepiness, and nausea are typical side effects. Suicidal thoughts, serotonin syndrome (agitation, hallucinations, rapid heartbeat), and liver issues are examples of more severe adverse effects. Any adverse effects that are concerning should be reported to a doctor.

Combining Cymbalta with other serotonergic medications can increase the risk of serotonin syndrome. Report any unusual symptoms immediately.

Cymbalta may raise the risk of bleeding, especially when taken with blood-thinning medications. Caution is advised if you have a bleeding disorder or are taking anticoagulants.
Can you get Cymbalta over the counter?
Cymbalta can only be dispensed by licenced physicians. Cymbalta over the counter is not available. Discuss any symptoms you have with your doctor before taking this drug and any previous histories of other mental and physical illnesses.
What is a similar drug to Cymbalta?
Effexor (venlafaxine), a medication similar to Cymbalta and also falls under the category of serotonin-norepinephrine reuptake inhibitors (SNRIs), is prescribed to treat depression, anxiety, and some types of pain.
Can an online doctor prescribe Cymbalta?
In some areas, telemedicine or online doctors may be able to prescribe drugs like Cymbalta. You can get a prescription for Cymbalta (Duloxetine) via telemedicine platforms like Your doctor online.
Is Cymbalta stronger than gabapentin?
Duloxetine does not outperform gabapentin in treating diabetic peripheral neuralgia, although it is substantially safer and has fewer adverse effects.
How can I refill my Cymbalta prescription?
You will need to consult with our online doctor at Your Doctors Online to refill your duloxetine prescription online. After discussing our medical concerns and history, our online doctor can send your prescription to your preferred local pharmacy.
Who should not take Cymbalta?
If you have an allergy to duloxetine, you shouldn't use it. In the five days following the use of an MAO inhibitor, such as linezolid, methylene blue injection, phenelzine, isocarboxazid or tranylcypromine, or in the fourteen days following the cessation of MAO inhibitor usage, duloxetine should not be consumed. There may be a harmful medication interaction.
What happens if I miss a dose of Cymbalta?
Take the missed Cymbalta medication as soon as you remember if you forget. Skip the missed dose if it is almost time for the next one, and take the following dose as scheduled. To make up for a missing dose, avoid taking two Cymbalta pills.
What happens if I take too much Cymbalta?
Taking too much Cymbalta (duloxetine) can lead to an overdose, causing symptoms such as severe dizziness, nausea, vomiting, increased heart rate, seizures, and loss of consciousness.
What is the typical starting dose of duloxetine?
Duloxetine (Cymbalta) is often started at 30 mg once daily, with or without food. This may be adjusted to patient symptoms and requirements.
Is Cymbalta more for pain or depression?
Cymbalta (duloxetine) is considered more helpful in treating depression than pain, as it is primarily classified as an antidepressant medication. However, it can also effectively manage certain types of chronic pain conditions.
Is Cymbalta a mood stabilizer or antidepressant?
Cymbalta (duloxetine) is an antidepressant medication, not a mood stabilizer. It belongs to the class of drugs known as serotonin-norepinephrine reuptake inhibitors (SNRIs), primarily used to treat depression and certain anxiety disorders.
This is the best app..You ask anything and the doctors answer you within minutes, i love it

-Phindile Mkhatshwa


It is a good app, it can be helpful with pictures and be very detailed.

-brooke snow


Wow, these people are such a blessing. Dey give accurate answered to questions asked. Its really too good

-Okiti Stephanie


Impressive work !! Connecting to a doctor was so quick. I am really impressed.

-ASIF Khan


Doctor was really great, fast at responding very helpful

-Chelsey


Chat with them the doctor that I chat with very helpful and answer all my questions I recommend to anyone

-edith bien aime


The best patient doctors that understand and give you useful information ..I'm really thankful.

-Lesego Thejane


Very informative and very detailed in explanations.Also pleasant and courteous.I would recommend to anyone.

-Stephanie Brown


Very helpful, very polite and answers every question in a well mannered way.

-kulwinder gill


I really rate this website a lot, you people don't stick and and im sure you try your best to take swift actions for your patients.

-Elijah Mark


Talk to online doctors now and get medical advice, online prescriptions, and referrals within minutes. On-demand healthcare services at your fingertips.