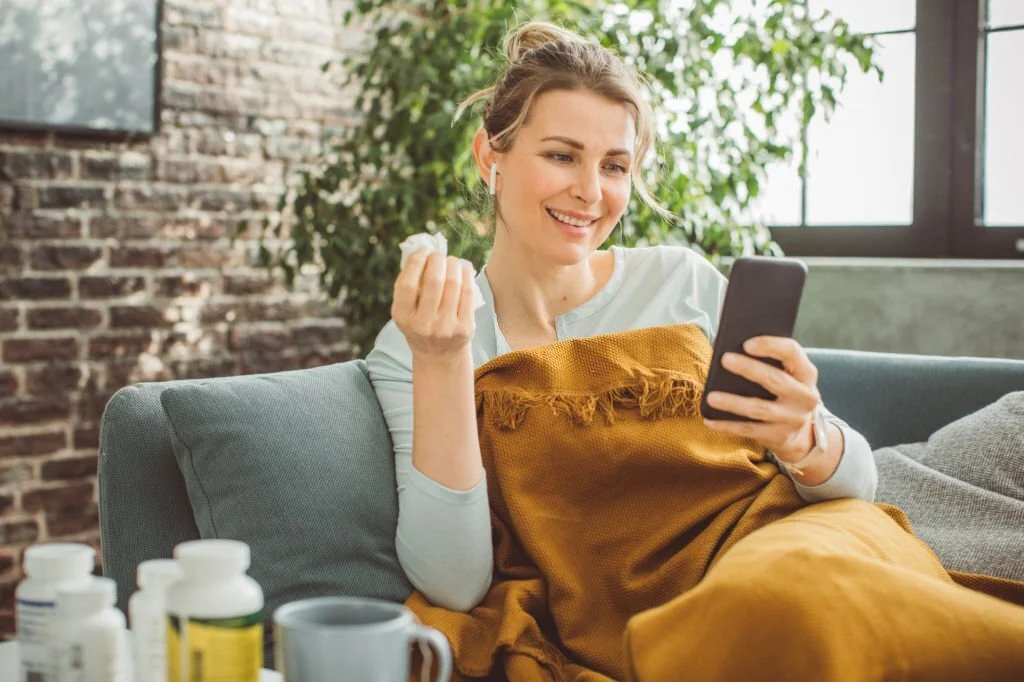 Get a Prescription for Imodium Online
An antidiarrheal called Imodium (loperamide) is used to treat diarrhea. It is also used to lessen stools in patients with ileostomies, which reroute the bowel via the stomach through a surgical incision. You can get an Imodium prescription online by connecting with our online doctor at Your Doctors Online, who will ask you to describe your symptoms in order to determine the best course of treatment. Then, if deemed necessary, they may recommend a follow-up appointment or a visit to a clinic.
However, please note a prescription of Loperamide will only be provided after consultation with the doctor and if the treatment is considered suitable and safe for you. 
How to Connect with an Online Doctor?
Connect with a health care professional online in 3 easy steps.
Download our app, register and tell us about your medical issue to get started.
Gastro
Anemia
STD
UTI
Skin
Covid
Connect with a board-certified doctor. You can chat, send pictures and videos.
Hi I'm dr. Nicole. How may I help you?
Hi Dr. Nicole; I am on chemotherapy and have had frequent diarrhea for the past two days. It's been tough to manage. Can I get some form of treatment, please?

Our online doctors can help you with your medical issues and give you prescriptions.
Loperamide, 4 mg starting dose,

Followed by 2 mg every two hours; maximum daily dose 16 mg.
Send Prescription
What is Imodium and How to Take It
Dr. Janssen created IMODIUM, which was released in 1973. Dr. Janssen was the first person to offer the qualities for which IMODIUM is now renowned: excellent relief for patients with diarrhea (including traveller's diarrhea) to lessen the uncomfortable disruptions. It works by slowing down how quickly the gut moves. As a result, the number of bowel movements decreases and the liquid content of the stool decreases.
Patients with ileostomies can also use loperamide to lessen the amount of outflow. It is also used in patients with inflammatory bowel disease to treat persistent diarrhea. Only the symptoms of diarrhea are treated by loperamide; the underlying cause, such as an infection, is not. 
When self-treating with the over-the-counter Imodium product, carefully review the instructions on the package. If your doctor prescribes, follow their guidance and the prescription label. Take the medication orally after each loose stool, adjusted based on your response and condition.
Imodium daily dose depends on age or weight: adults start with 4 mg and take 2 mg per loose stool (up to 16 mg/day). Children (9-11 years) start with 2 mg, then 1 mg per stool (up to 6 mg/day); (6-8 years) start with 2 mg, then 1 mg per stool (up to 4 mg/day). Use under two years is discouraged. Caution is advised due to possible drowsiness, and alcohol and certain foods should be avoided.
Important Information About Imodium
Following are some points that you should know about Imodium:
Imodium may interact with other medications, such as opioids, leading to increased central nervous system depression. It's essential to inform your doctor of all medicines you're taking.

Imodium should not be used if there's a history of allergic reactions to loperamide. Individuals with bacterial or parasitic infections or severe abdominal conditions should avoid it.

Common side effects include constipation, abdominal discomfort, and nausea.

Serious side effects might include allergic reactions, severe constipation, or toxic megacolon (a rare colon condition). Promptly report any unusual or severe symptoms to a healthcare professional.
Can I take pepto bismol and Imodium together?
One or more medications may become less effective due to interactions. They may also make you more susceptible to negative consequences. Imodium A-D and Pepto-Bismol shouldn't be taken concurrently because of this. Combining them will make them less effective for you.
How many days can you take Imodium?
Loperamide is often only required for 1 to 2 days per person. If you have diarrhea due to a bowel disorder such as Crohn's disease, ulcerative colitis, or short bowel syndrome, you may need to take it more extended.
How long after Pepto can I take Imodium?
It's generally advisable to wait at least 2 hours after taking Pepto Bismol before taking Imodium.
How long after taking Imodium can I eat?
After taking Imodium, you can generally eat within 1 to 2 hours. But it's crucial to adhere to the detailed directions on the drug label.
What are the alternatives to Imodium?
Lomotil, Pepto-Bismol, and Kaopectate are a few further popular medications for treating diarrhea.
What happens if you take Imodium on a full stomach?
Taking Imodium on a full stomach may delay its absorption and onset of action. Taking Imodium before or after a meal is generally recommended for optimal effectiveness.
Can I take Imodium and drink alcohol?
You run a higher risk of Imodium overdose if you combine it with alcohol. Alcohol can irritate the GI tract but won't prevent the loperamide from working. It can appear that the loperamide isn't working because that can make diarrhea problems worse.
Does Imodium help with gas and bloating?
Simethicone, a component of IMODIUM, eases excess gas in the intestines and relieves bloating and pain brought on by gas.
Children with diarrhea may be treated with Imodium. However, not all Imodium products are appropriate for kids. Additionally, Imodium should only be administered to children between 2 and 5 with a doctor's prescription. Imodium should also never be administered to children under the age of two.
What happens if you take too much Imodium?
You won't likely be hurt if you take one extra dose of loperamide. Higher dosages, however, can result in life-threatening heart issues. The symptoms include a rapid or erratic heartbeat.
This is the best app..You ask anything and the doctors answer you within minutes, i love it

-Phindile Mkhatshwa


It is a good app, it can be helpful with pictures and be very detailed.

-brooke snow


Wow, these people are such a blessing. Dey give accurate answered to questions asked. Its really too good

-Okiti Stephanie


Impressive work !! Connecting to a doctor was so quick. I am really impressed.

-ASIF Khan


Doctor was really great, fast at responding very helpful

-Chelsey


Chat with them the doctor that I chat with very helpful and answer all my questions I recommend to anyone

-edith bien aime


The best patient doctors that understand and give you useful information ..I'm really thankful.

-Lesego Thejane


Very informative and very detailed in explanations.Also pleasant and courteous.I would recommend to anyone.

-Stephanie Brown


Very helpful, very polite and answers every question in a well mannered way.

-kulwinder gill


I really rate this website a lot, you people don't stick and and im sure you try your best to take swift actions for your patients.

-Elijah Mark


Talk to online doctors now and get medical advice, online prescriptions, and referrals within minutes. On-demand healthcare services at your fingertips.