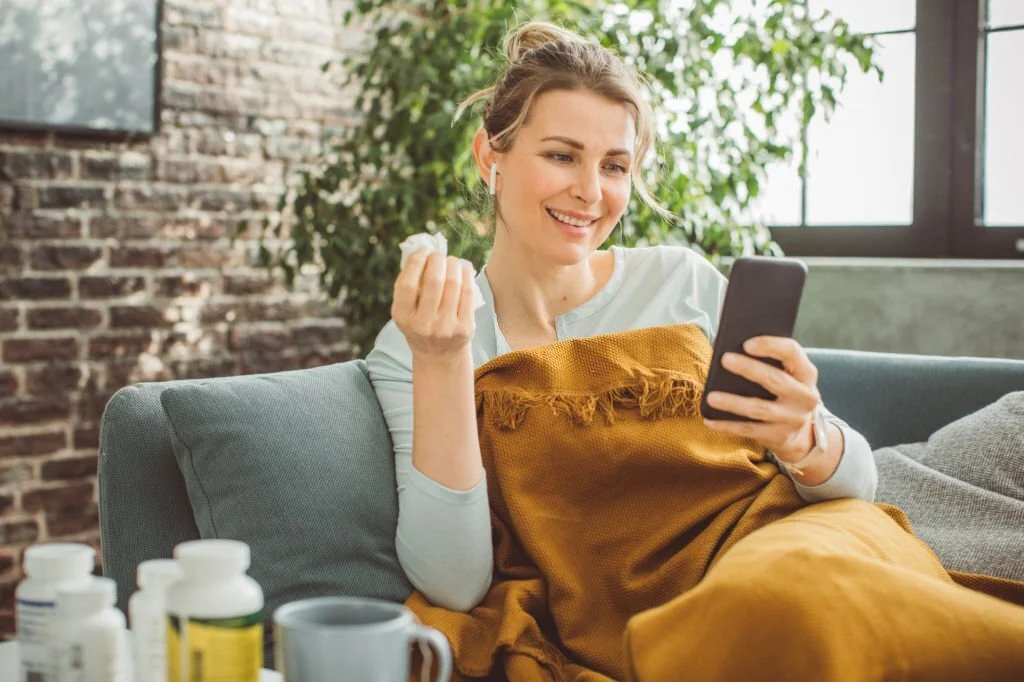 Get an Albendazole prescription online
Albendazole is a prescription medication for treating parasitic infections such as tapeworms.
You can get an Albendazole prescription online by connecting with our doctor at Your Doctors Online. Our online doctor will ask you to describe your symptoms to determine the best course of treatment that is considered suitable and safe for you.
Request Albendazole prescription online
Get an online prescription for Albendazole in three easy steps.
Download our app, register and tell us about your medical issue to get started.
Parasitic Infection

Anemia
STD
UTI
Skin
Covid
Connect with a board-certified doctor. You can chat, send pictures and videos.
Hi I'm Dr. Nicole. How may I help you?
Hi Dr Nicole, I have been experiencing nausea, loss of appetite and itching around the anal area at night. Can you prescribe something for relief?

Our online doctors can help you with your medical issues and give you prescriptions.
Albendazole Tablets, 400mg.
Take 1 tablet now and take one pill after two weeks.
Send Prescription
Albendazole, commonly available as Albenza, belongs to the antiparasitic class of drugs. This is similar to Mebendazole and praziquantel. This drug kills the intestinal worms by depriving them of the energy required for survival.
The tablets are typically available in the form of Albendazole 200 mg tablets. Albendazole for kids is also available as an oral suspension. Albendazole dosage and use will depend on the condition you are being treated for.
Important information about Albendazole
Common Albenza side effects include diarrhea, abdominal pain, nausea, loss of appetite, vomiting, and changes to liver blood tests,
Severe side effects include liver damage, tiredness, pale skin, unexplained bruising, headaches, vision changes, frequent fevers, ringing in the ears and seizures.
FAQs about Albendazole prescription online
Do I need a prescription for Albendazole?
Albendazole over-the-counter is not available in the US. You will require a prescription for this medication.
How to take Albendazole for deworming?
Take this medication as directed by your doctor; usually, a single dose of 400mg is recommended for deworming, which can be repeated after 2 weeks.
What foods should you avoid while taking Albendazole?
You should avoid consuming grapefruit/grapefruit juice while on this medication.
What to expect after taking Albendazole?
It can take time for Albendazole (Albenza) to kill the worms in the body. In the case of tapeworms located in the brain, it can take 7 days. For tapeworms in the liver, elimination can take up to 28 days. That is why the medicine is prescribed for different durations.
Who should not take Albendazole?
Individuals who are pregnant, those with liver disease and low blood counts or those who have had an allergic reaction to Albendazole or similar medicines should not take this drug.
What are the alternatives for Albendazole?
Depending on the condition you are being treated for, mebendazole, pyrantel pamoate or ivermectin can be given as Albendazole alternatives.
What is the starting dose of Albendazole?
The dose varies depending on the diagnosis. For tapeworm infections that lead to cysts in body organs, 400 milligrams (mg) 2 times a day, taken with meals for 28 days, is recommended. A 14-day break usually follows this, and then the medicine is continued for 3 cycles.
This is the best app..You ask anything and the doctors answer you within minutes, i love it

-Phindile Mkhatshwa


It is a good app, it can be helpful with pictures and be very detailed.

-brooke snow


Wow, these people are such a blessing. Dey give accurate answered to questions asked. Its really too good

-Okiti Stephanie


Impressive work !! Connecting to a doctor was so quick. I am really impressed.

-ASIF Khan


Doctor was really great, fast at responding very helpful

-Chelsey


Chat with them the doctor that I chat with very helpful and answer all my questions I recommend to anyone

-edith bien aime


The best patient doctors that understand and give you useful information ..I'm really thankful.

-Lesego Thejane


Very informative and very detailed in explanations.Also pleasant and courteous.I would recommend to anyone.

-Stephanie Brown


Very helpful, very polite and answers every question in a well mannered way.

-kulwinder gill


I really rate this website a lot, you people don't stick and and im sure you try your best to take swift actions for your patients.

-Elijah Mark


Talk to online doctors now and get medical advice, online prescriptions, and referrals within minutes. On-demand healthcare services at your fingertips.