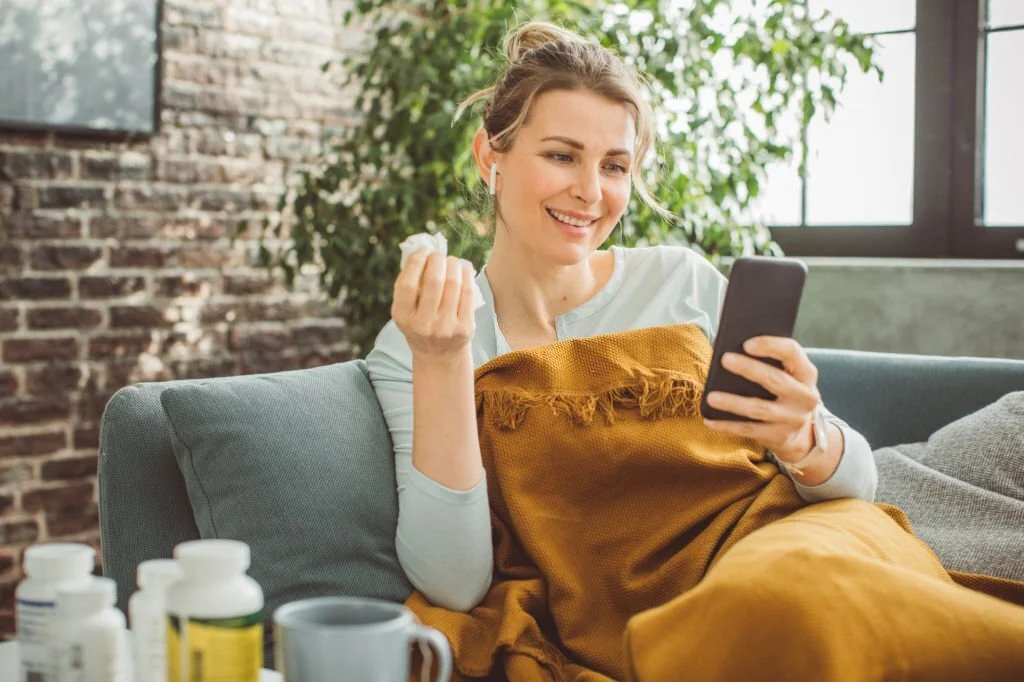 Get Itraconazole Prescription Online
Itraconazole is used to treat various fungal infections such as blastomycosis, aspergillosis, tinea corporis, histoplasmosis, and Pityriasis Versicolor. If you have these conditions, you can get an Itraconazole refill online. Obtaining an Itraconazole prescription online is simple; visit Your Doctors Online and connect with a doctor anytime, anywhere. Our online doctor will ask about your symptoms to determine treatment. They may suggest a follow-up appointment or clinic visit.
Please know that an Itraconazole refill will only be provided after a consultation with our doctor and if the medication is appropriate and safe.
How to Connect with an Online Doctor?
Connect with a health care professional online in 3 easy steps.
Download our app, register and tell us about your medical issue to get started.
Fungal Infection
Anemia
STD
UTI
Skin
Covid
Connect with a board-certified doctor. You can chat, send pictures and videos.
Hi I'm dr. Nicole. How may I help you?
Dr. Nicole, I have ringworm on my scalp; Can you prescribe something?

Our online doctors can help you with your medical issues and give you prescriptions.
Itraconazole 200mg tablet

Take one tablet once daily
Send Prescription
What is Itraconazole and how to take it
It is an anti-fungal azole medication that treats fungal infections of the toenails, lungs, mouth, and throat. You can find it in stores with the brand names Sporanox, Tolsura, and Onmel. Other drugs from the azoles class include ketoconazole, voriconazole, and fluconazole.
Itraconazole belongs to the azole class of antifungals, and it stops the growth of fungi by inhibiting ergosterol synthesis, which is involved in helping the fungi to maintain cell membranes. This is how Itraconazole helps cure the fungal infection.
It is recommended that tablets or capsules of itraconazole be taken in conjunction with a complete meal. Avoid taking the oral solution without a meal.
Important information about Itraconazole
Itraconazole is an anti-fungal drug. You will require a prescription for Itraconazole. Here are some essential points that you should know about this drug:

Itraconazole side effects may include nausea, vomiting, blurred vision, increased thirst, dry mouth, irregular heartbeat, fever, loss of appetite, mood changes, muscle pains, or cramps. Discuss with your doctor if any side effects persist before taking Itraconazole



In some rare cases, serious side effects may occur that include abdominal pain, mild diarrhea, cardiotoxicity, and hepatotoxicity. You can discuss with your doctor if any of these serious side effects persist or worsen.

Itraconazole has several drug interactions with various medications, including anti-psychotics, ergot medicines, corticosteroids, cholesterol-lowering medicines, and heart or blood pressure medicines. Before starting Itraconazole, tell your doctor about all your medications.
How long does Itraconazole take to work?
The duration it takes for Itraconazole to work may vary depending on your condition. For aspergillosis, it may take up to 6 to 12 months for other conditions the duration may vary.
How long does Itraconazole stay in your system?
Itraconazole takes 32-42 hours to eliminate half of the drug from the body. The effects of Itraconazole can stay up to 4 weeks even after you have stopped taking the drug.
How long should I wait to drink alcohol after taking Itraconazole?
It is recommended to avoid consumingalcohol while you are taking Itraconazole and wait at least three days after you have stopped taking Itraconazole before consuming alcohol again.
How can I refill my Sporanox (Itraconazole) prescription?
You can get a Soranox refill online by consulting one of our healthcare providers via our Your Doctors Online app.
Who should not use Itraconazole?
People who are hypersensitive to Itraconazole or any of its ingredients and who have a history of heart disease, liver or kidney disease should avoid taking this medication. Pregnant and breastfeeding women should avoid Itraconazole.
What happens if I miss a dose of Sporanox?
If you have missed a dose of Sporanox, avoid taking another dose if time for your next dose is almost here otherwise, take it as soon as you remember it.
What happens if I take too much Sporanox?
A Sporanox overdose can lead to the possibility of side effects such as confusion, ringing in the ears, blurred vision, numbness or tingling, fast heartbeat, and loss of bladder control.
How long should you take Sporanox?
Sporanox is used to treat various fungal infections such as blastomycosis, aspergillosis, tinea corporis, histoplasmosis, and Pityriasis Versicolor. The duration depends upon the condition and individual factors. It is usually recommended for about 6-12 months for most conditions mentioned.
Is Itraconazole a steroid?
No, it is not a steroid instead, it belongs to the triazoles group of medication. It works like other azoles.
This is the best app..You ask anything and the doctors answer you within minutes, i love it

-Phindile Mkhatshwa


It is a good app, it can be helpful with pictures and be very detailed.

-brooke snow


Wow, these people are such a blessing. Dey give accurate answered to questions asked. Its really too good

-Okiti Stephanie


Impressive work !! Connecting to a doctor was so quick. I am really impressed.

-ASIF Khan


Doctor was really great, fast at responding very helpful

-Chelsey


Chat with them the doctor that I chat with very helpful and answer all my questions I recommend to anyone

-edith bien aime


The best patient doctors that understand and give you useful information ..I'm really thankful.

-Lesego Thejane


Very informative and very detailed in explanations.Also pleasant and courteous.I would recommend to anyone.

-Stephanie Brown


Very helpful, very polite and answers every question in a well mannered way.

-kulwinder gill


I really rate this website a lot, you people don't stick and and im sure you try your best to take swift actions for your patients.

-Elijah Mark


Talk to online doctors now and get medical advice, online prescriptions, and referrals within minutes. On-demand healthcare services at your fingertips.