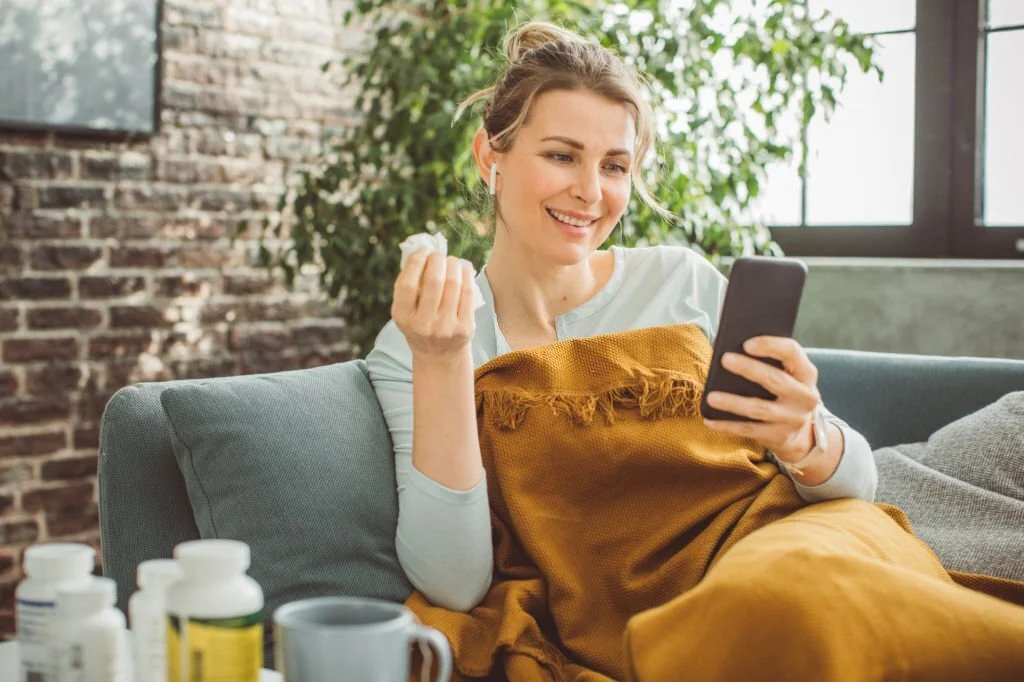 Get a Prescription Refill for Estradiol Online
Estradiol is used for contraception and hormone replacement therapy to treat menopause and osteoporosis. Estradiol treats gynecological conditions, hormone-sensitive cancers, osteoporosis, and delayed puberty with gender-affirming hormone therapy. Due to its effects and risks, especially in hormone therapy, it requires medical supervision. If you have these conditions, you can refill Estradiol online. Obtaining an Estradiol prescription online is simple; visit Your Doctors Online and connect with a doctor anytime, anywhere. Our online doctor will ask about your symptoms to determine treatment.
They may suggest a follow-up appointment or clinic visit. Please know that an Estradiol refill will only be provided after a consultation with our doctor and if the medication is appropriate and safe.
How to Connect with an Online Doctor?
Connect with a health care professional online in 3 easy steps.
Download our app, register and tell us about your medical issue to get started.
Osteoporosis
Anemia
STD
UTI
Skin
Covid
Connect with a board-certified doctor. You can chat, send pictures and videos.
Hi I'm dr. Nicole. How may I help you?
Dr. Nicole, I have Osteoporosis; I feel better after taking Estradiol. Can you give me an Estradiol refill?

Our online doctors can help you with your medical issues and give you prescriptions.
Estradiol 1 mg tablet,

Take one tablet once daily.
Send Prescription
What is Estradiol and How to Take It
Estradiol can be administered in a variety of ways, such as injections, patches, creams, gels, vaginal rings, and oral tablets. The doctor's instructions and the patient's condition will determine the exact formulation given.
Estradiol's dosing schedule differs from one dosage form to the next. Transdermal patches are typically changed every few days, while oral tablets can be taken once daily. Dosing for topical products like creams, gels, and vaginal rings can vary.
Regular application of transdermal patches requires smooth, unwrinkled skin; areas with excess hair or skin folds should be avoided. Vaginal rings, creams, and gels are used in accordance with a doctor's orders.
Important Information About Estradiol
Estradiol is an estrogen hormone drug. You will require a prescription for Estradiol. Here are some essential points that you should know about this drug:

Estradiol, a commonly prescribed medication, may potentially lead to certain side effects that patients should be aware of. These side effects, although generally mild and temporary, can include symptoms such as nausea, breast tenderness, headache, and fluid retention.Keep in mind that these negative reactions can vary in intensity and duration from person to person, and that not everyone will feel them. However, it is recommended to seek professional medical advice if any of these side effects continue or worsen over time.

Potentially life-threatening side effects include blood clots, stroke, heart attack, and some forms of cancer. These conditions can pose a grave threat to one's overall health and may require immediate medical attention. Therefore, it is crucial to carefully consider the potential risks and benefits associated with any medication or treatment before proceeding.

It is important to know that estradiol, a medication commonly used for hormone replacement therapy, can potentially interact with other medications. These interactions can have various effects, such as altering the efficacy of the medications or causing adverse effects. Potentially life-threatening side effects include blood clots, stroke, heart attack, and some forms of cancer.
Can you get estradiol over the counter?
No, in order to obtain Estradiol, a prescription from a qualified healthcare provider is necessary. This requirement ensures that individuals who are prescribed Estradiol receive appropriate medical guidance and supervision throughout their treatment journey.
How long does it take for estradiol to work?
The onset of action for Estradiol oral tablets is about 2-4 weeks. The time it takes for a medication to start working can vary based on factors such as the specific dosage form being used and how an individual's body responds to the medication. It is possible to experience relief from menopause symptoms within a few weeks of initiating treatment.
What is the typical starting dose of estradiol?
Starting doses typically fall within the 1-2 mg per day range. The diagnosis and dosage form will determine the initial dose. For specific dosing advice, please speak with your healthcare provider.
Who should not take estradiol?
Estradiol should generally be avoided by people who have had certain types of cancer, blood clots, liver disease, or uncontrolled hypertension in the past. If it's safe for you to do so, your doctor will tell you.
What happens if I miss a dose of Estradiol?
It is crucial to adhere to the instructions provided by your healthcare provider. By doing so, you are ensuring that you are receiving the most effective and appropriate care for your specific health needs. Your healthcare provider possesses the knowledge and expertise to guide you toward optimal health outcomes.
What happens if I take too much Estradiol?
It is important to be aware that consuming an excessive amount of Estradiol can result in the manifestation of overdose symptoms. These symptoms may include but are not limited to nausea, vomiting, and vaginal bleeding. Therefore, it is crucial to adhere to the prescribed dosage and consult with a healthcare professional if any concerns or questions arise regarding the appropriate usage of this medication.
This is the best app..You ask anything and the doctors answer you within minutes, i love it

-Phindile Mkhatshwa


It is a good app, it can be helpful with pictures and be very detailed.

-brooke snow


Wow, these people are such a blessing. Dey give accurate answered to questions asked. Its really too good

-Okiti Stephanie


Impressive work !! Connecting to a doctor was so quick. I am really impressed.

-ASIF Khan


Doctor was really great, fast at responding very helpful

-Chelsey


Chat with them the doctor that I chat with very helpful and answer all my questions I recommend to anyone

-edith bien aime


The best patient doctors that understand and give you useful information ..I'm really thankful.

-Lesego Thejane


Very informative and very detailed in explanations.Also pleasant and courteous.I would recommend to anyone.

-Stephanie Brown


Very helpful, very polite and answers every question in a well mannered way.

-kulwinder gill


I really rate this website a lot, you people don't stick and and im sure you try your best to take swift actions for your patients.

-Elijah Mark


Talk to online doctors now and get medical advice, online prescriptions, and referrals within minutes. On-demand healthcare services at your fingertips.