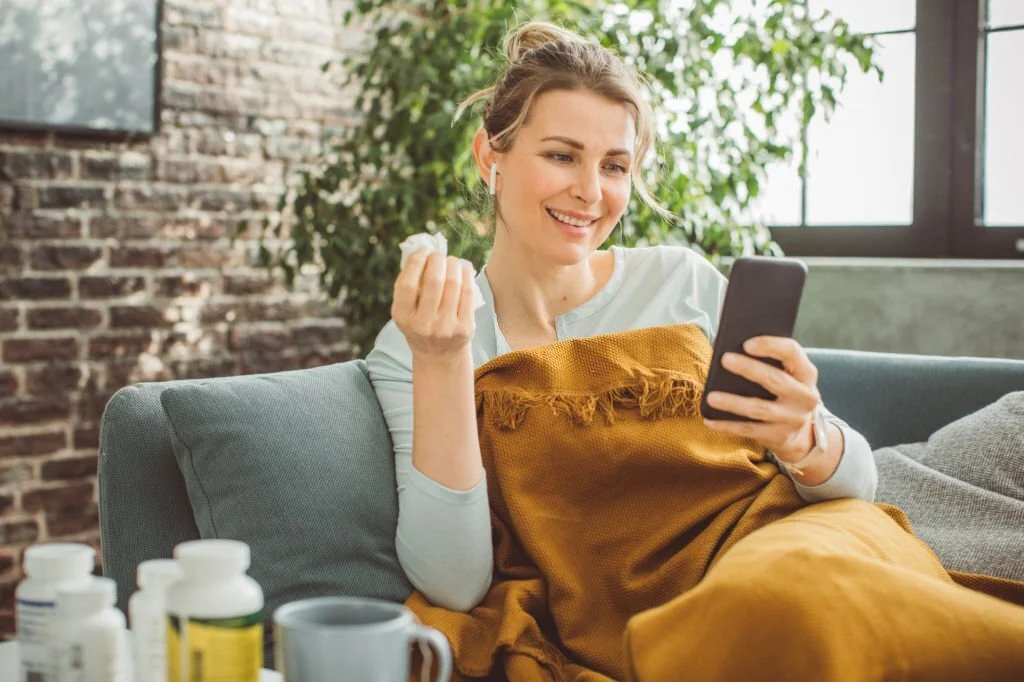 Get a Prescription for Albuterol Online
Ventolin is an inhaler drug used to treat and prevent bronchospasm in some patients with asthma. You can get an Albuterol inhaler prescription online by connecting with our online doctor at Your Doctors Online, who will ask you to describe your symptoms to determine the best course of treatment. Then, if deemed necessary, they may recommend a follow-up appointment or a visit to a clinic. However, please note a prescription will only be provided after consultation with the doctor and if the treatment is considered suitable and safe for you. 
How to Connect with an Online Doctor?
Connect with a health care professional online in 3 easy steps.
Download our app, register and tell us about your medical issue to get started.
Asthma
Anemia
STD
UTI
Skin
Covid
Connect with a board-certified doctor. You can chat, send pictures and videos.
Hi I'm dr. Nicole. How may I help you?
Hi Dr. Nicole, I have asthma and currently have shortness of breath. Can I get some form of treatment, please?

Our online doctors can help you with your medical issues and give you prescriptions.
Salbutamol,  100 mcg/ pump actuation,

1 puff as per need for one month.

Do not exceed 4 puffs in a day.
Send Prescription
What is Albuterol and How to Take It
Albuterol, or salbutamol, is a prescription medication for Ventolin HFA, ProAir HFA, and Proventil. It targets beta2-adrenergic receptors in the airways, increasing cyclic AMP levels and activating protein kinase A, which leads to reduced calcium concentrations in cells. As a result, the smooth muscles around the airways relax, alleviating bronchospasm in asthma or reversible airway conditions. Albuterol acts rapidly, making it effective during acute asthma attacks. It is essential to adhere to prescribed dosages and usage instructions and be aware of potential side effects like increased heart rate or muscle tremors. It differs from Xopenex (levalbuterol), another bronchodilator with a distinct active ingredient. Combining albuterol with ipratropium (Atrovent) may be recommended in cases requiring additional bronchodilation.
Albuterol is commonly administered through inhalers or nebulizers to treat bronchospasm and asthma symptoms. With an albuterol inhaler, one must shake it well before use, remove the mouthpiece cap, and exhale fully before inhaling slowly and deeply through the mouth while pressing the canister to release the medication. Holding the breath for about 10 seconds allows the drug to reach the lungs before exhaling slowly. For a nebulizer, a liquid form of albuterol is turned into a fine mist that can be inhaled through a mask or mouthpiece. The nebulizer machine handles the conversion process, making it easier for individuals with difficulty using an inhaler. A Ventolin HFA inhaler containing albuterol is essential for managing bronchospasm and asthma symptoms. It is typically prescribed as one inhalation every 4-6 hours, and priming the inhaler before first use or after extended periods of non-use ensures accurate dosing. Priming involves shaking the inhaler and releasing test sprays away from the face. Always follow the specific instructions healthcare professionals provide for safe and effective use.
Important Information About Albuterol
Following are some points that you should know about Albuterol:
It interacts with other medications, such as beta-blockers, MAO inhibitors, and diuretics, potentially causing adverse effects or reducing effectiveness.

Albuterol may cross-react with other sympathomimetic drugs, leading to increased side effects or allergic reactions.

Common side effects of albuterol include tremors, rapid heart rate, headache, dizziness, and muscle cramps.

Severe but rare side effects may include chest pain, irregular heart rhythm, high blood pressure, and allergic reactions such as rash or swelling.

Albuterol should be used cautiously in individuals with heart disease, diabetes, and hyperthyroidism.

Overusing albuterol can lead to decreased effectiveness and increased risk of side effects. 
Can you get an inhaler prescription online?
You will need to consult our online doctor at Your Doctors Online for a prescription or an albuterol refill of your Albuterol online prescription. After discussing our medical concerns and history, our online doctor can send your prescription to your preferred local pharmacy.
Is Primatene Mist as good as albuterol?
Primatene Mist (epinephrine) and albuterol (ProAir, Ventolin, Proventil) differ. Albuterol is thought to be more effective and widely used for asthma treatment than Primatene Mist, which contains epinephrine.
How can I refill my Ventolin HFA prescription?
You will need to consult with our online doctor at Your Doctors Online to refill your Ventolin HFA online prescription. After discussing our medical concerns and history, our online doctor can send your prescription to your preferred local pharmacy.
Who should not take Ventolin HFA?
Ventolin is not recommended for children under the age of four. Individuals allergic to albuterol sulphate or any of the chemicals in Ventolin HFA and those with a history of hypersensitivity responses to sympathomimetic amines should not use Ventolin HFA. It is to be used with caution in patients with cardiovascular diseases.
What happens if you don't rinse your mouth after using an inhaler?
If you don't rinse your mouth after using an inhaler, a common side effect is the potential for developing oral thrush or a fungal infection in the mouth. Rinsing your mouth will prevent irritation and inflammation in the mouth that the corticosteroid can cause.
What happens if I take too much Ventolin?
Taking too much Ventolin (albuterol) can lead to an overdose, which may cause rapid or irregular heartbeat, chest pain, tremors, nervousness, headache, and dizziness. Additionally, your heart may beat faster than expected, making you feel shaky. In severe cases, Ventolin overdose can result in dangerously high blood pressure, cardiac arrhythmias, and even seizures.
What happens if I miss a dose of Ventolin?
If you forget to take a dose, take it as soon as you remember. If the next dose time is near, skip the missing dose. Take your next dose at your usual time.
How do I get instant relief from wheezing?
To get instant relief from wheezing, use a prescribed rescue inhaler (e.g., albuterol) as directed. Sit up straight, take deep breaths, take slow and remain calm. Drinking warm liquids, inhaling moist air, and using herbs such as vasaka, tulsi, ginger, and mulethi may also help soothe your airways.
This is the best app..You ask anything and the doctors answer you within minutes, i love it

-Phindile Mkhatshwa


It is a good app, it can be helpful with pictures and be very detailed.

-brooke snow


Wow, these people are such a blessing. Dey give accurate answered to questions asked. Its really too good

-Okiti Stephanie


Impressive work !! Connecting to a doctor was so quick. I am really impressed.

-ASIF Khan


Doctor was really great, fast at responding very helpful

-Chelsey


Chat with them the doctor that I chat with very helpful and answer all my questions I recommend to anyone

-edith bien aime


The best patient doctors that understand and give you useful information ..I'm really thankful.

-Lesego Thejane


Very informative and very detailed in explanations.Also pleasant and courteous.I would recommend to anyone.

-Stephanie Brown


Very helpful, very polite and answers every question in a well mannered way.

-kulwinder gill


I really rate this website a lot, you people don't stick and and im sure you try your best to take swift actions for your patients.

-Elijah Mark


Talk to online doctors now and get medical advice, online prescriptions, and referrals within minutes. On-demand healthcare services at your fingertips.