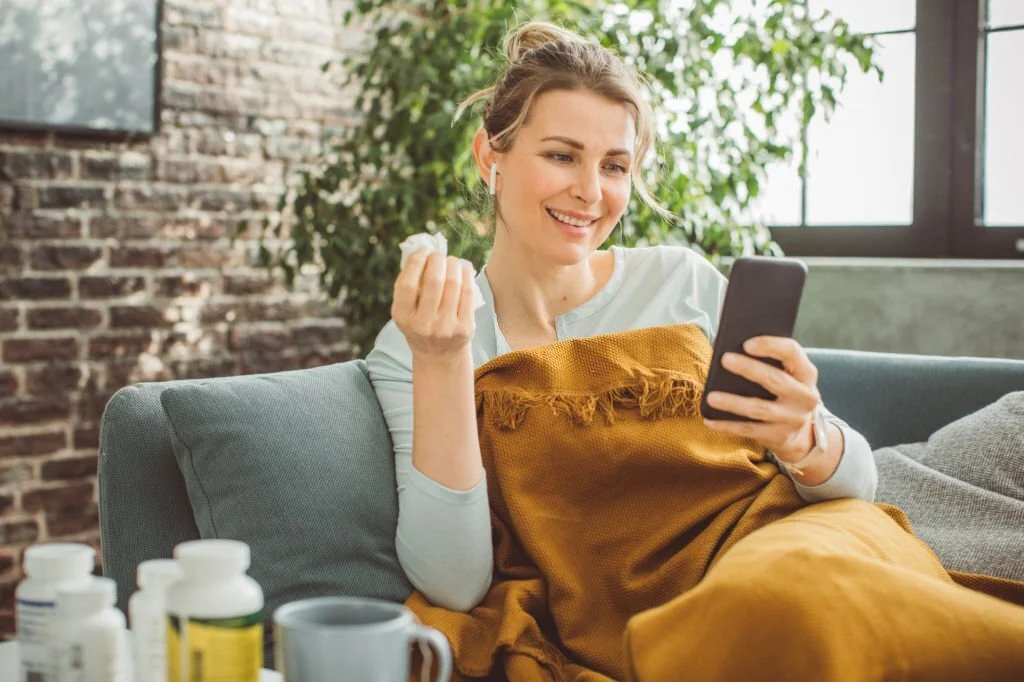 Get Voltaren (Diclofenac) Prescription Refill Online
Voltaren (Diclofenac) is a type of medication called a nonsteroidal anti-inflammatory drug (NSAID). Voltaren is available both as a gel and tablet that can help relieve joint pain from arthritis. If you have these conditions, you can refill Voltaren online. Obtaining a Voltaren prescription online is simple; visit Your Doctors Online and connect with a doctor anytime, anywhere. Our online doctor will ask about your symptoms to determine treatment. They may suggest a follow-up appointment or clinic visit.
Please know that a Voltaren refill will only be provided after a consultation with our doctor and if the medication is appropriate and safe.
How to Connect with an Online Doctor?
Connect with a health care professional online in 3 easy steps.
Download our app, register and tell us about your medical issue to get started.
Joint Pain
Anemia
STD
UTI
Skin
Covid
Connect with a board-certified doctor. You can chat, send pictures and videos.
Hi I'm dr. Nicole. How may I help you?
Dr. Nicole, I am feeling severe joint pain Can you give me a Voltaren refill?

Our online doctors can help you with your medical issues and give you prescriptions.
Voltaren 50 mg tablet

Taken thrice daily

 
Send Prescription
What is Voltaren (Diclofenac Sodium) and How to Take It
Voltaren reduces pain and inflammation in the body. Voltaren comes in different forms, including pills and gel that you can apply to your skin. In the stores, it is available as Voltaren Arthritis Pain Gel, Voltaren Emulgel, and Voltaren Tablets. Ibuprofen, Naproxen, Ketoprofen, and Sulindac are similar drugs.
Voltaren temporarily blocks the production of pain-signaling molecules called prostaglandins. Diclofenac sodium is the active ingredient in Voltaren, a nonsteroidal anti-inflammatory drug (NSAID). Voltaren is absorbed through the skin and effectively reaches the inflamed tissues near the joints. The medication comes in different forms, like pills you swallow and gel you can apply on your skin.
Take the entire tablet with a glass of water. It is advised to refrain from masticating or chewing the tablet. The tablets are administered in two or three divided doses throughout the course of the day. The gel should be applied to the cleansed and dried skin within the oblong region, using a dosage of 2 to 4 grams. It is advised to refrain from applying the product to damaged, injured, or bruised skin.
Important Information About Voltaren
Voltaren is an antihypertensive drug. You will require a prescription for Voltaren. Here are some essential points that you should know about this drug:
Common side effects of Voltaren include stomach pain, nausea, and diarrhea, while the severe side effects of Voltaren include allergic reactions, heart attack, and stroke.



Voltaren can interact with other medications such as Benazepril, Lisinopril, Losartan, Valsartan, Furosemide, and other SSRIs. You should always share the medications you are currently taking with your healthcare provider.


In some rare cases, Voltaren can cause liver disease. Seek immediate medical help if you experience dark urine, persistent fatigue, nausea, or yellowing of the skin.
How long does it take for Diclofenac 75mg to work?
The duration for Diclofenac effectiveness varies with different dosage forms. It usually shows effectiveness within one week, but it may take up to two weeks for complete relief. It usually takes Diclofenac 1 to 4.5 hours for the onset of action.
Are Diclofenac pills over the counter available?
Diclofenac pills are prescription medications and are not available over the counter. It requires a doctor's prescription to obtain Diclofenac pills. However, Diclofenac gel is available over the counter without a prescription.
Is Diclofenac sodium a controlled substance?
No, Diclofenac Sodium is not a controlled substance. Although, it is a prescription medicine available only with a doctor's prescription.
Can I take tizanidine with Diclofenac?
Yes, there are no interactions between Tizanidine and Diclofenac, and hence can be taken together.
How can I refill my Voltaren prescription?
You can get a Voltaren prescription refill online by connecting with one of our qualified doctors via the Your Doctors Online app.
How long does Voltaren take to reduce inflammation?
It can take Voltaren Emulgel, Voltaren Gel, and Voltaren Tablets for up to seven days to reduce inflammation and provide complete relief. However, the Voltaren gel provides quick relief from pain, while tablets usually take longer to work.
How long can you safely use Voltaren?
You can safely use Voltaren for up to seven days; after that, you should consult your doctor. The duration of use varies depending on the individual and the severity of the condition.
When should Voltaren not be used?
Voltaren should not be used in case of allergic reactions to any of its ingredients, breastfeeding, pregnancy, serious skin reactions, gastrointestinal bleeding, asthma, or heart disease.
What happens if I miss a dose of Voltaren?
Usually, it is okay if you have accidentally missed a dose of Voltaren. However, you should follow the persistent dosing schedule and avoid double dosing if your next dose is almost there.
What happens if I take too much Voltaren?
Voltaren overdose can lead tostomach problems (nausea, vomiting, diarrhea), kidney problems, heart problems, liver problems, and allergic reactions.
What is the typical starting dose of Diclofenac sodium?
The dose varies with different dosage forms and individual conditions however, generally, Diclofenac delayed-release tablets, enteric-coated tablets, and immediate-release tablets can be taken as50 mg, 150 mg, and 100 mg, respectively.
This is the best app..You ask anything and the doctors answer you within minutes, i love it

-Phindile Mkhatshwa


It is a good app, it can be helpful with pictures and be very detailed.

-brooke snow


Wow, these people are such a blessing. Dey give accurate answered to questions asked. Its really too good

-Okiti Stephanie


Impressive work !! Connecting to a doctor was so quick. I am really impressed.

-ASIF Khan


Doctor was really great, fast at responding very helpful

-Chelsey


Chat with them the doctor that I chat with very helpful and answer all my questions I recommend to anyone

-edith bien aime


The best patient doctors that understand and give you useful information ..I'm really thankful.

-Lesego Thejane


Very informative and very detailed in explanations.Also pleasant and courteous.I would recommend to anyone.

-Stephanie Brown


Very helpful, very polite and answers every question in a well mannered way.

-kulwinder gill


I really rate this website a lot, you people don't stick and and im sure you try your best to take swift actions for your patients.

-Elijah Mark


Talk to online doctors now and get medical advice, online prescriptions, and referrals within minutes. On-demand healthcare services at your fingertips.