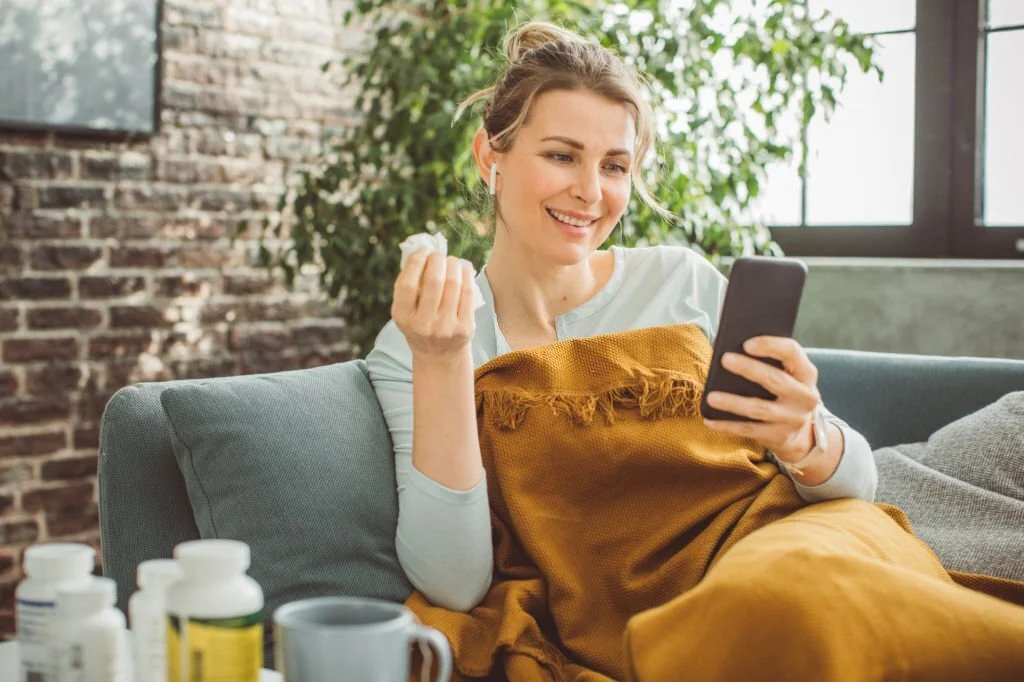 Get a Prescription for Saxenda (Liraglutide) Online
Saxenda is a weight management medication containing liraglutide to control appetite and food intake. If you have these conditions, you can refill Saxenda(Liraglutide) online. Obtaining a Saxenda(Liraglutide) prescription online is simple; visit Your Doctors Online and connect with a doctor anytime, anywhere. Our online doctor will ask about your symptoms to determine treatment. They may suggest a follow-up appointment or clinic visit.
Please know that a Saxenda(Liraglutide) refill will only be provided after a consultation with our doctor and if the medication is appropriate and safe.
How to Connect with an Online Doctor?
Connect with a health care professional online in 3 easy steps.
Download our app, register and tell us about your medical issue to get started.
Weight Management
Anemia
STD
UTI
Skin
Covid
Connect with a board-certified doctor. You can chat, send pictures and videos.
Hi I'm dr. Nicole. How may I help you?
Dr. Nicole, I've been using Saxenda, and it's been effective in helping me lose weight. Can you give me a Saxenda(Liraglutide) refill?

Our online doctors can help you with your medical issues and give you prescriptions.
Saxenda(Liraglutide) 0.6 mg-3mg over a period of several weeks.
Send Prescription
What is Saxenda (Liraglutide) and How to Take It
Liraglutide is a GLP-1 receptor agonists that is used for type 2 diabetes and weight management. The brand names for liraglutide are Saxenda and Victoza.Saxenda comes in a prefilled pen as a solution for subcutaneous injection. The pen allows for doses of 0.6 mg, 1.2 mg, 1.8 mg, 2.4 mg, or 3 mg to be delivered.Some other medications in the same class as liraglutide(Victoza and Saxenda) include exenatide(Byetta, Bydureon) and dulaglutide(Trulicity) and semaglutide(Ozempic).
Saxenda (liraglutide) mimics a hormone called glucagon-like peptide-1 (GLP-1) in the body. It helps to regulate blood sugar levels by stimulating insulin release, reducing appetite, and slowing down the emptying of the stomach. This can lead to weight loss in individuals with obesity or overweight.
Saxenda is available as a solution for subcutaneous injection. You can take it once daily with an initial recommended dose of 0.6 mg per day for the first week. After that, the dose is increased every week to the maintenance dose of 3 mg. It's essential to follow the prescribed dosing schedule as directed by your healthcare provider.
Important Information About Saxenda (Liraglutide)
Saxenda(Liraglutide) is an antihypertensive drug. You will require a prescription for Saxenda(Liraglutide). Here are some essential points that you should know about this drug:

Some common side effects of Saxenda (liraglutide) may include nausea, diarrhea, vomiting, constipation, and decreased appetite. If the side effects persist or worsen, it's always a good idea to contact your doctor for further guidance.



Serious side effects of Saxenda are rare, but they can occur. It's important to be aware of potentially serious side effects such as pancreatitis, gallbladder problems, thyroid tumors, and allergic reactions.




Some medications that may interact with Saxenda include insulin, oral diabetes medications, and other medications that affect blood sugar. Others include atorvastatin, omeprazole, tramadol, vitamin B12, etc.
Is Saxenda a controlled substance?
Saxenda is not a controlled substance. It is used for weight management and has no potential for abuse or addiction. Discuss with your doctor if you have any specific concerns about Saxenda.
What are the alternatives to Saxenda?
There are a few alternatives to Saxenda for weight management. Some options include Orlistat, Phentermine, and Contrave. It's important to consult with a healthcare professional to determine the best alternative for your specific needs.
What to avoid with Saxenda?
You should avoid high-fat meals with Saxenda as they may increase the risk of gastrointestinal side effects. Additionally, it's recommended to avoid alcohol while using Saxenda, as it may interact with the medication. Seek help from Your Doctors online app from the comfort of your house.
Do you need a prescription for Saxenda?
Saxenda is a prescription medication. It can only be obtained with a prescription from a healthcare professional. To get an online prescription, schedule your appointment via our app. You can consult our doctors online anytime, anywhere, from the comfort of your home.
How can I refill my Saxenda prescription?
To get an online prescription refill, you can schedule an appointment with our online qualified doctors. Discuss your symptoms in detail with our qualified doctors. They can provide you with a prescription if deemed necessary.
Who should not take Saxenda?
Saxenda should be avoided in pregnancy and breastfeeding. Children under 12 years of age or those allergic to liraglutide should not take it either. It's important to discuss your specific situation with a healthcare professional. Get help from our online qualified doctors.
Does Saxenda work immediately?
Saxenda doesn't work immediately, but it can start showing its effects within two weeks of use. To get the best results, it's recommended also to adopt healthy habits like eating low-calorie food and staying active. These lifestyle changes can work together with Saxenda to help you achieve your goals in minimum time.
How quickly do you lose weight with Saxenda?
The speed at which you shed pounds with Saxenda can differ from person to person. Our online doctors are one step away if you need professional advice. Download our app, describe your issues, and get a personalized prescription.
What happens if I take too much Saxenda?
If you happen to take too much Saxenda, it could potentially lead to complications like dehydration, hypoglycemia, and nausea. It's crucial to stick to the prescribed dosage and follow your healthcare provider's instructions to minimize the risk of these side effects. If you experience any worrisome symptoms, make sure to reach out to your doctor for guidance and support.
What is the typical starting dose of Liraglutide?
The starting dose for Saxenda is 0.6 mg, and it is gradually increased to 3 mg over a period of several weeks. Your doctor will determine the accurate dose for you to follow as prescribed by your doctor.
This is the best app..You ask anything and the doctors answer you within minutes, i love it

-Phindile Mkhatshwa


It is a good app, it can be helpful with pictures and be very detailed.

-brooke snow


Wow, these people are such a blessing. Dey give accurate answered to questions asked. Its really too good

-Okiti Stephanie


Impressive work !! Connecting to a doctor was so quick. I am really impressed.

-ASIF Khan


Doctor was really great, fast at responding very helpful

-Chelsey


Chat with them the doctor that I chat with very helpful and answer all my questions I recommend to anyone

-edith bien aime


The best patient doctors that understand and give you useful information ..I'm really thankful.

-Lesego Thejane


Very informative and very detailed in explanations.Also pleasant and courteous.I would recommend to anyone.

-Stephanie Brown


Very helpful, very polite and answers every question in a well mannered way.

-kulwinder gill


I really rate this website a lot, you people don't stick and and im sure you try your best to take swift actions for your patients.

-Elijah Mark


Talk to online doctors now and get medical advice, online prescriptions, and referrals within minutes. On-demand healthcare services at your fingertips.