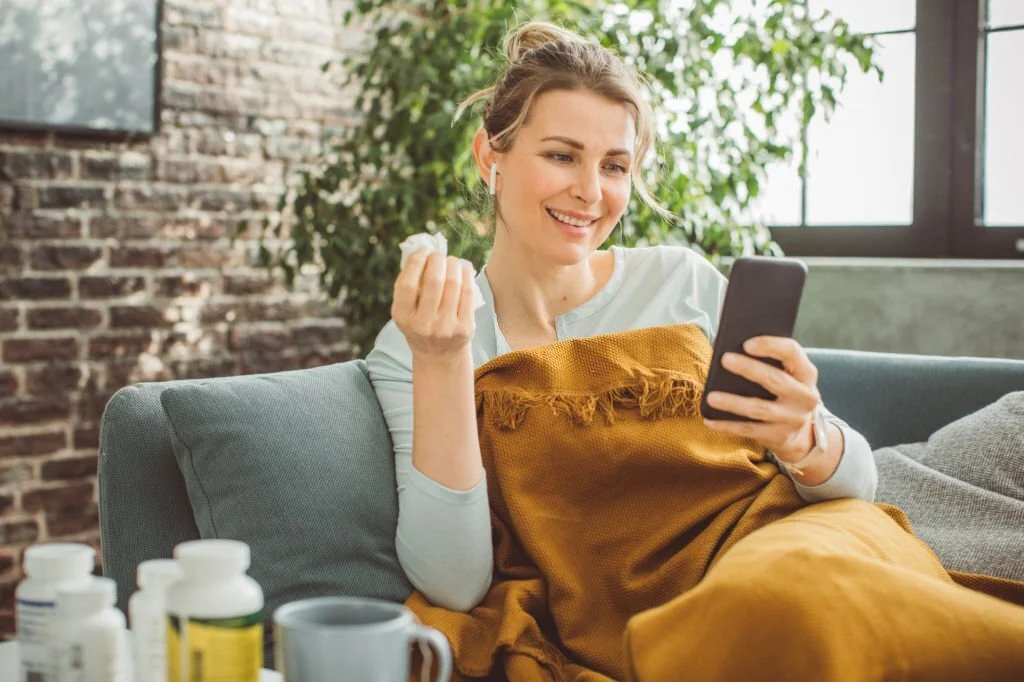 Get Bisoprolol prescription refill online
You can get a Bisoprolol (Zebeta) prescription refilled online to treat hypertension or high blood pressure, with or without other drugs.
Getting a Bisoprolol (Zebeta) online is very straightforward; you can connect with a doctor anytime via Your Doctors Online. However, please note that Bisoprolol will only be refilled online after consultation with the doctor and if the treatment is suitable and safe for you.
Request Bisoprolol prescription refill
Get a prescription refill for Bisoprolol online in three easy steps.
Download our app, register and tell us about your medical issue to get started.
High Blood Pressure
Anemia
STD
UTI

Infections

Covid
Connect with a board-certified doctor. You can chat, send pictures and videos.
Hi I'm Dr. Nicole. How may I help you?
Hi, Dr. Nicole. I have hypertension. Can I get a Zebeta medication refill, please?

Our online doctors can help you with your medical issues and give you prescriptions.
Bisoprolol 5 mg once daily, 30 days.
Send Prescription
What is Bisoprolol (Zebeta)?
Bisoprolol is a medication that falls under the class of beta-blockers. It is prescribed to treat various cardiovascular conditions, such as hypertension, angina (chest pain), and heart failure. Bisoprolol works by blocking the action of certain hormones, like epinephrine, on the heart and blood vessels. This results in reduced heart rate and decreased force of heart contractions, which, in turn, lowers blood pressure and reduces the heart's oxygen demand. Bisoprolol is available by prescription only and typically comes in oral tablets or capsules with various dosage strengths. It is not available over the counter and should be taken as directed by a healthcare provider to ensure proper dosing and monitoring.
Important information about Bisoprolol
Common side effects of Zebeta( Bisoprolol) include decreased heart rate, diarrhea, weakness, fatigue, dizziness, alterations in sexual drive or performance, nausea, dry or burning eyes, headache, cold or flu-like symptoms, and swelling in various body regions.

Serious side effects of Bisoprolol (Zebeta) can include itching, hives, skin rash and swelling of the face, lips, or tongue.
FAQs about Bisoprolol prescription refill
Can I get Bisoprolol over the counter?
Without a prescription, bisoprolol cannot be purchased over the counter. This is so that your doctor can determine whether or not bisoprolol is right for you to take.
How long does Bisoprolol take to work?
After around two hours, Bisoprolol begins to lower high blood pressure; however, it may take up to six weeks to fully effect.
How can I fill my Zebeta prescription?
Schedule a telemedicine appointment at Your Doctors Online, discuss your medical history and symptoms, and receive an electronic Zebeta prescription refill, which can be sent to your pharmacy for pickup or delivery, making the process quick and convenient.
Does Bisoprolol cause erectile dysfunction?
One potential adverse effect of prescribing Bisoprolol to a patient is erectile dysfunction. As a result, some patients begin taking Viagra in addition to Bisoprolol. Leydig cells may release their testosterone when exposed to bisoprolol. It lessens the hepatic clearance of Viagra, which intensifies its effects on your body.
How does Bisoprolol work?
Like other beta blockers, Bisoprolol alters how your body reacts to certain nerve impulses, particularly in the heart. It lowers your heart rate and facilitates the heart's blood circulation throughout your body.
What are the Alternatives for Bisoprolol?
Other beta-blockers, such as metoprolol, calcium channel blockers, and amlodipine, and treatments for hypertension or heart-related disorders, such as ACE inhibitors or ARBs, are alternatives to the beta-blocker bisoprolol.
What is the starting dose for Bisoprolol?
For hypertension, Zebeta dosage is 5 mg once daily. The initial dose is typically lower in heart failure, at 1.25 mg once daily.
Who should avoid Bisoprolol?
Bisoprolol should be avoided by those with known hypersensitivity or allergies to the medication, uncontrolled heart failure or cardiogenic shock, and severe bradycardia or certain heart rhythm disorders.
What should I avoid while taking Bisoprolol?
Bisoprolol lowers blood pressure when alcohol is consumed, which might cause lightheadedness or dizziness. It is advisable to reduce alcohol during the first few days of taking bisoprolol or when your dose is increased to observe how the medication affects you.
Does Bisoprolol cause weight gain?
Because beta blockers reduce overall daily energy expenditure, they may contribute to weight gain. Furthermore, beta-blockers lower heart rate, which might increase the difficulty and exhaustion of physical activity. This could make someone less inclined to work out going forward.
This is the best app..You ask anything and the doctors answer you within minutes, i love it

-Phindile Mkhatshwa


It is a good app, it can be helpful with pictures and be very detailed.

-brooke snow


Wow, these people are such a blessing. Dey give accurate answered to questions asked. Its really too good

-Okiti Stephanie


Impressive work !! Connecting to a doctor was so quick. I am really impressed.

-ASIF Khan


Doctor was really great, fast at responding very helpful

-Chelsey


Chat with them the doctor that I chat with very helpful and answer all my questions I recommend to anyone

-edith bien aime


The best patient doctors that understand and give you useful information ..I'm really thankful.

-Lesego Thejane


Very informative and very detailed in explanations.Also pleasant and courteous.I would recommend to anyone.

-Stephanie Brown


Very helpful, very polite and answers every question in a well mannered way.

-kulwinder gill


I really rate this website a lot, you people don't stick and and im sure you try your best to take swift actions for your patients.

-Elijah Mark


Talk to online doctors now and get medical advice, online prescriptions, and referrals within minutes. On-demand healthcare services at your fingertips.