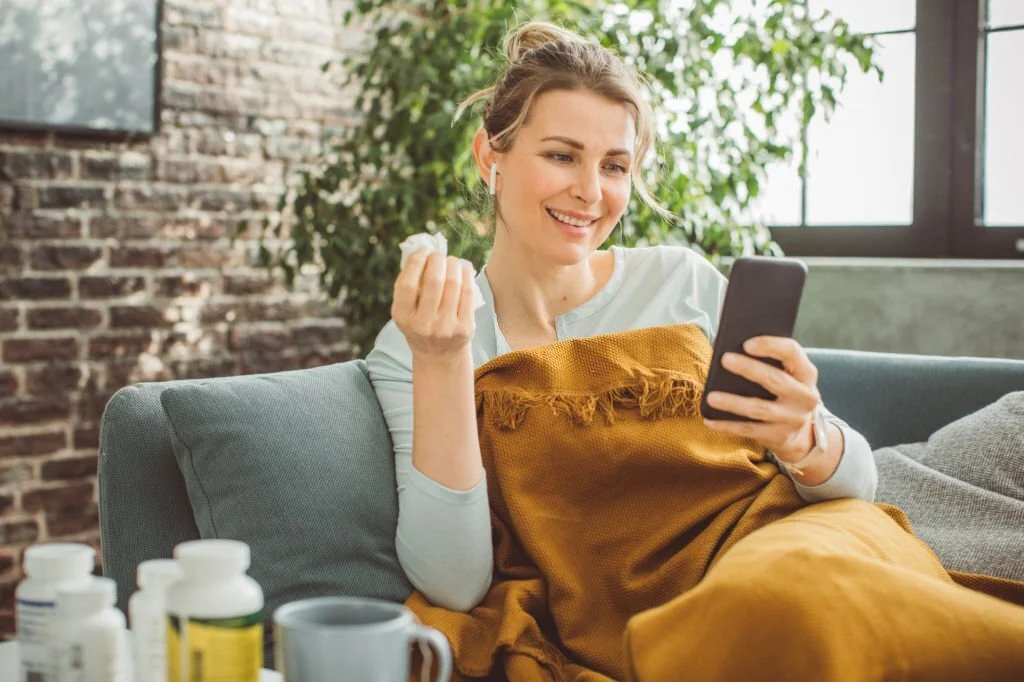 Get a Prescription for Ofloxacin Eye Drops
Ofloxacin is an antibiotic used to treat various bacterial infections, such as respiratory, urinary tract, ear and skin infections. You can get a prescription for ofloxacin eye drops online by connecting with our online doctor at Your Doctors Online, who will ask you to describe your symptoms to determine the best course of treatment.
Then, if deemed necessary, they may recommend a follow-up appointment or a visit to a clinic. However, please note a prescription will only be provided after consultation with the doctor and if the treatment is considered suitable and safe for you.
How to Connect with an Online Doctor?
Connect with a health care professional online in 3 easy steps.
Download our app, register and tell us about your medical issue to get started.
Ophthalmology
Anemia
STD
UTI
Skin
Covid
Connect with a board-certified doctor. You can chat, send pictures and videos.
Hi I'm dr. Nicole. How may I help you?
Hi Dr. Nicole, I wear contact lenses, and I have pink eyes. Can I get some form of treatment, please?

Our online doctors can help you with your medical issues and give you prescriptions.
Ofloxacin, ophthalmic solution, 0.3%, 2 drops

4 times a day for 5-7 days
Send Prescription
What is Ofloxacin Eye Drops and How to Take It
Ofloxacin is a member of the fluoroquinolone drug class along with ciprofloxacin (Cipro), levofloxacin (Levaquin), and moxifloxacin (Avelox, Vigamox). Ofloxacin is an antibiotic that, more specifically, should only be used to treat illnesses known to be brought on by infectious agents sensitive to ofloxacin and its activity. Bactericidal ofloxacin has been shown to affect gram-negative and gram-positive bacteria that are both anaerobic and aerobic.
The medicine ofloxacin is considered to function by obstructing the enzymes bacteria need for DNA synthesis and repair. Ofloxacin should only be used sparingly because, similar to other fluoroquinolones, some resistance to its effects has been noted.
Ofloxacin eye drops over the counter is not available. Start by carefully cleansing your hands before administering ofloxacin eye drops to prevent introducing any bacteria. To ensure that the medication is distributed evenly, gently shake the bottle. Lean back and draw the lower eyelid down to form a little pocket.
Squeeze the required number of drops into the pocket without contacting the dropper to your eye or any other surface. To allow the medicine to be absorbed, close your eye and hold it closed for one to two minutes.
Wipe away any extra liquid with a fresh tissue if there is any. Applying different eye drops should be spaced out by at least five to ten minutes. Always adhere to your doctor's dose and schedule recommendations. Stop usage if you have any adverse effects.
Important Information About Ofloxacin Eye Drops
Following are some points that you should know about ofloxacin eye drops:
Inform the doctor about all medications, vitamins, and herbal supplements, as some drugs may interact with ofloxacin eye drops.

Avoid using ofloxacin eye drops if you have a history of hypersensitivity to fluoroquinolones or any ingredients in the product.

Avoid using ofloxacin with alcohol. 

Do not use the drops for longer than prescribed. Please do not share the medication with others, as it is named for specific conditions.
FAQs About Ofloxacin Eye Drops
Can you use ofloxacin for pink eye?
Conjunctivitis (pink eye) and corneal ulcers are among the bacterial infections of the eye that are treated with ofloxacin ophthalmic.
How can I refill my Ocuflox prescription?
You will need to consult with our online doctor at Your Doctors Online to get your Ofloxacin eye drops online prescription or refill. After discussing our medical concerns and history, our online doctor can send your prescription to your preferred local pharmacy.
Who should not take Ocuflox?
If you are allergic to ofloxacin or other fluoroquinolones (such as ciprofloxacin, gemifloxacin, levofloxacin, moxifloxacin, norfloxacin, and others), you shouldn't use Ocuflox. This medication should not be used to treat an eye virus or fungal infection. Only bacterial eye infections may be treated with Ocuflox.
What happens if I miss a dose of Ocuflox?
Apply Ocuflox (ofloxacin ophthalmic solution) as soon as you remember if you miss a dose. If your next dose time is around, omit the missed one and carry on with your regular dosing plan. A double application to make up for the missing one should be avoided.
What happens if I take too much Ocuflox?
You can have eye pain, burning, stinging, tearing, itching, and burning after using too many OCUFLOX eye drops.
What is ofloxacin used to treat?
Pneumonia, eye, infections of the skin, reproductive organs, bladder, ear and prostate (a male reproductive gland) are among the illnesses treated with ofloxacin.
No, Ocuflox (ofloxacin ophthalmic solution) is not a steroid. It is an antibiotic eye drop that contains the active ingredient ofloxacin, which belongs to the fluoroquinolone class of antibiotics.
How long does Ocuflox take to work?
It functions immediately since ofloxacin (Ocuflox) is applied directly to the infection or ulcer. When treating pink eye with ofloxacin (Ocuflox), your symptoms should improve within a few days. Corneal ulcers typically take longer to heal, with most people needing approximately 11 days to see improvement.
This is the best app..You ask anything and the doctors answer you within minutes, i love it

-Phindile Mkhatshwa


It is a good app, it can be helpful with pictures and be very detailed.

-brooke snow


Wow, these people are such a blessing. Dey give accurate answered to questions asked. Its really too good

-Okiti Stephanie


Impressive work !! Connecting to a doctor was so quick. I am really impressed.

-ASIF Khan


Doctor was really great, fast at responding very helpful

-Chelsey


Chat with them the doctor that I chat with very helpful and answer all my questions I recommend to anyone

-edith bien aime


The best patient doctors that understand and give you useful information ..I'm really thankful.

-Lesego Thejane


Very informative and very detailed in explanations.Also pleasant and courteous.I would recommend to anyone.

-Stephanie Brown


Very helpful, very polite and answers every question in a well mannered way.

-kulwinder gill


I really rate this website a lot, you people don't stick and and im sure you try your best to take swift actions for your patients.

-Elijah Mark


Talk to online doctors now and get medical advice, online prescriptions, and referrals within minutes. On-demand healthcare services at your fingertips.