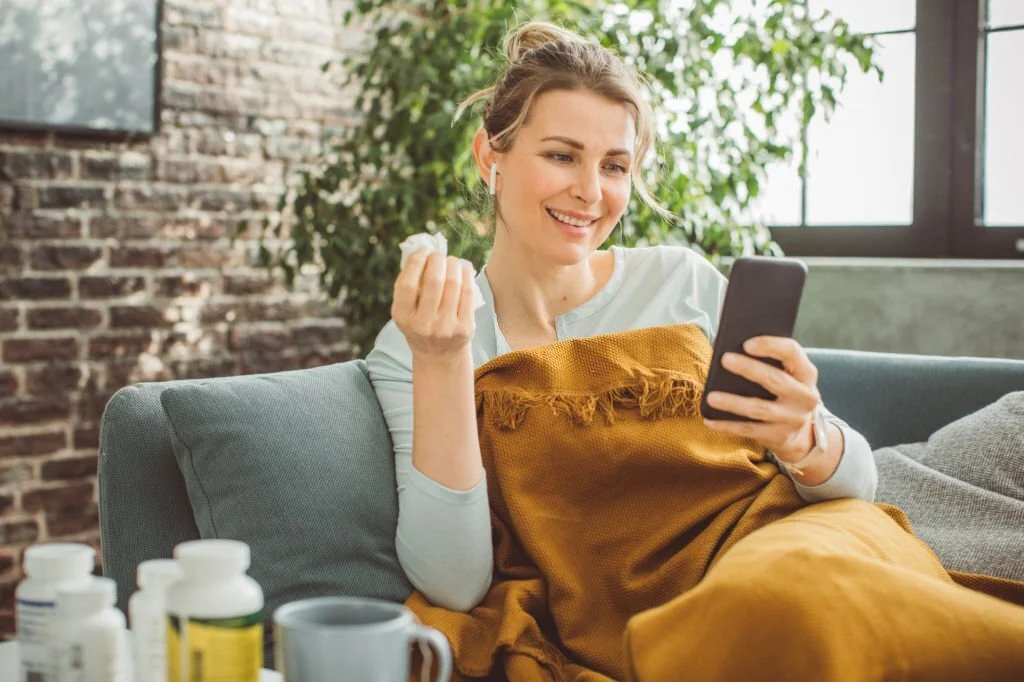 Get a Prucalopride prescription refill online
You can get a Prucalopride prescription refilled online to treat chronic idiopathic constipation (CIC).
Getting a Prucalopride refill online is very straightforward; you can connect with a doctor anytime via Your Doctors Online. However, please note that the Prucalopride refill medication will only be refilled online after consultation with the doctor and if the treatment is suitable and safe for you.
Request Prucalopride prescription refill
Get a prescription refill for Prucalopride online in three easy steps.
Download our app, register and tell us about your medical issue to get started.
Gastroenterology
Anemia
STD
UTI

Infections

Covid
Connect with a board-certified doctor. You can chat, send pictures and videos.
Hi I'm Dr. Nicole. How may I help you?
Hi, Dr. Nicole, I am suffering from Chronic idiopathic constipation. Can I get my prucalopride dosage refill, please?

Our online doctors can help you with your medical issues and give you prescriptions.
Prucalopride 2mg once daily
Send Prescription
Prucalopride is a medication classified as a selective serotonin-4 (5-HT4) receptor agonist used to treat chronic constipation, particularly in women. Its mechanism of action involves stimulating the 5-HT4 receptors in the gastrointestinal tract, leading to increased motility and efficient movement of stool through the bowels. Prucalopride is not typically available over the counter, requiring a prescription due to its specific use and potential side effects. It is commonly found in oral tablet form and is designed for daily administration, offering an effective solution for individuals experiencing chronic constipation, particularly when other treatments have proven insufficient.
Important information about Prucalopride
Common side effects of Prucalopride include headache, nausea, abdominal pain, diarrhea, flatulence (gas), and vomiting.

Serious side effects of Prucalopride can include severe abdominal pain, fainting, rapid or irregular heartbeat, severe diarrhea, and signs of a severe allergic reaction. Seek immediate medical attention if these occur.
FAQs about Prucalopride prescription refill
Does motegrity cause hair loss?
No, Motegrity does not cause hair loss. Hair loss, along with constipation, may have other medical reasons and might require investigations.
How long does motegrity stay in your system?
The duration of drug retention in your system is determined by its half-life. The half-life of motegrity is roughly one day. Furthermore, your body typically needs five half-lives to clear a drug from your system entirely. Therefore, following your last dose, Motegrity remains in your body for about five days.
How long does it take for motegrity to start working?
The time it takes for Motegrity (Prucalopride) to start working varies from 3-7 days. Still, it may alleviate symptoms of chronic constipation within a few days to a week of consistent use. Full therapeutic benefits may take a few weeks.
Does prucalopride cause weight gain?
Currently, no research has examined the potential impact of Motegrity on weight. Some people may attempt to reduce their weight by using constipation medications.
When is the best time of day to take prucalopride?
It is necessary to take prucalopride on an empty stomach. Take it whenever is most convenient for you, but try to take it at roughly the same time every day. One tablet of 2 mg once a day is the usual dosage. If the daily dosage is too powerful for you, you should take it every few days.
Who should not take prucalopride?
Patients with stomach or intestine perforations (holes), blockages, or swelling (such as obstructive ileus, ulcerative colitis, Crohn's disease, toxic megacolon, or megarectum) shouldn't use this medication.
Does prucalopride soften stool?
Prucalopride shortens the duration of the first bowel movement, lessens straining, and softens feces throughout the entire digestive tract.
What happens when you stop taking prucalopride?
Your constipation symptoms can return if you stop taking prucalopride.
Is prucalopride an antidepressant?
No, Prucalopride is not an antidepressant. It is a medication primarily used to treat chronic constipation, particularly in cases where other treatments have not been effective. Prucalopride works by promoting bowel movements and enhancing gastrointestinal motility by acting on specific serotonin receptors in the digestive system.
Does prucalopride affect mood?
Suicidal or depressive thoughts may arise with this medicine. This includes abrupt shifts in attitude, actions, or ideas. Although they can occur at any moment, these modifications are more frequent after starting a treatment or following a dosage adjustment.
What are Prucalopride alternatives?
Alternative medications for chronic constipation, when Prucalopride is not practical or suitable, may include over-the-counter laxatives, dietary and lifestyle modifications, and other prescription medications like Linaclotide and Lubiprostone.
This is the best app..You ask anything and the doctors answer you within minutes, i love it

-Phindile Mkhatshwa


It is a good app, it can be helpful with pictures and be very detailed.

-brooke snow


Wow, these people are such a blessing. Dey give accurate answered to questions asked. Its really too good

-Okiti Stephanie


Impressive work !! Connecting to a doctor was so quick. I am really impressed.

-ASIF Khan


Doctor was really great, fast at responding very helpful

-Chelsey


Chat with them the doctor that I chat with very helpful and answer all my questions I recommend to anyone

-edith bien aime


The best patient doctors that understand and give you useful information ..I'm really thankful.

-Lesego Thejane


Very informative and very detailed in explanations.Also pleasant and courteous.I would recommend to anyone.

-Stephanie Brown


Very helpful, very polite and answers every question in a well mannered way.

-kulwinder gill


I really rate this website a lot, you people don't stick and and im sure you try your best to take swift actions for your patients.

-Elijah Mark


Talk to online doctors now and get medical advice, online prescriptions, and referrals within minutes. On-demand healthcare services at your fingertips.