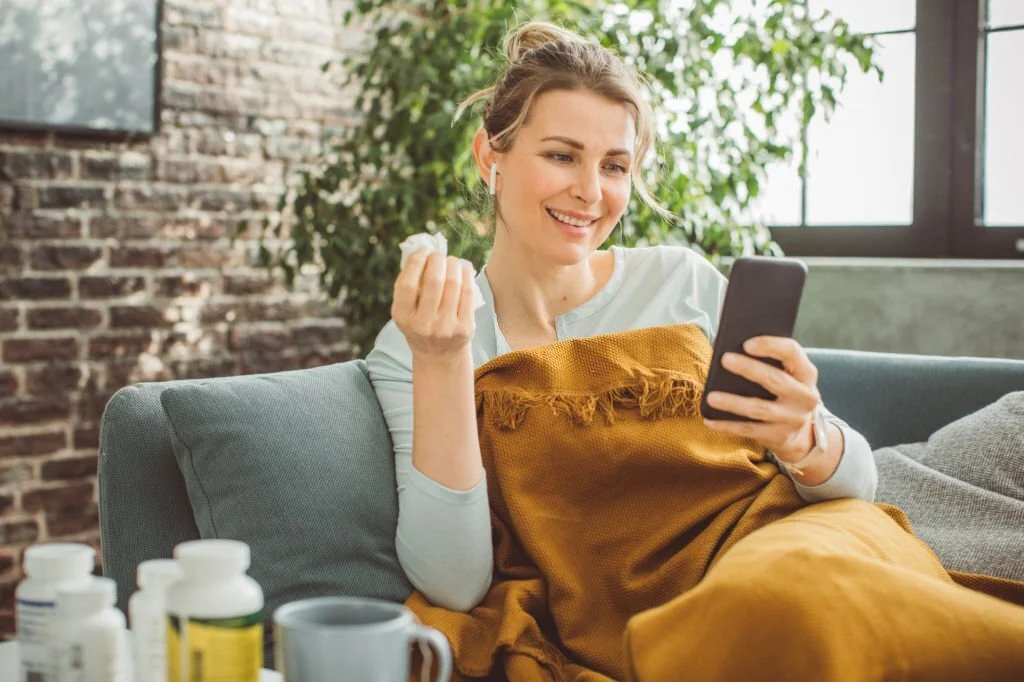 Get a Prescription for Advair Online
Advair is a brand-name medication for managing asthma, bronchitis, chronic obstructive pulmonary disease (COPD) or other breathing difficulties. You can get a prescription for Advair online by connecting with our online doctor at Your Doctors Online, who will ask you to describe your symptoms to determine the best course of treatment. Then, if deemed necessary, they may recommend a follow-up appointment or a visit to a clinic.
However, please note a prescription will only be provided after consultation with the doctor and if the treatment is considered suitable and safe for you.
How to Connect with an Online Doctor?
Connect with a health care professional online in 3 easy steps.
Download our app, register and tell us about your medical issue to get started.
Pulmonology
Anemia
STD
UTI
Skin
Covid
Connect with a board-certified doctor. You can chat, send pictures and videos.
Hi I'm dr. Nicole. How may I help you?
Hi Dr. Nicole, I have Asthma and breathing difficulty. Can I get some form of treatment, please?

Our online doctors can help you with your medical issues and give you prescriptions.
Fluticasone Propionate, 250mcg/spray

2 puffs, twice a day
Send Prescription
What is Advair and How to Take It
Fluticasone propionate, a corticosteroid that lessens airway inflammation, and salmeterol, a long-acting beta-agonist that aids in relaxing airway muscles, are the two active ingredients in Advair. Taken twice daily through an inhaler, Advair provides consistent symptom relief by addressing inflammation and bronchial constriction.
Proper inhaler technique, mouth rinsing after use, and monitoring for side effects like throat irritation or thrush are essential. Advair is part of a comprehensive respiratory treatment plan, requiring medical consultation to determine suitability and dosage based on individual health conditions. Remember that Advair is not a rescue medication because it does not act quickly enough to treat an asthma attack or bronchospasm.
Advair Over the counter is not available. Follow these procedures to take Advair, a prescription drug for COPD and asthma: Before usage, give the inhaler a good shake. Gently exhale away from the inhaler, then put the mouthpiece between your teeth and seal your lips over it while you exhale.
Start pressing down firmly and take long, deep breaths through your mouth. To ensure that the drug enters your lungs, keep taking deep breaths. Hold your breath for about 10 seconds to allow absorption, then gently let it out. To avoid adverse effects, rinse your mouth with water after usage. Fluticasone, which decreases airway inflammation, is combined with salmeterol, which relaxes airway muscles; Advair is typically used twice daily and provides efficient symptom management. 
Important Information About Advair
Following are some points that you should know about Advair:
Advair may interact with certain medications, like beta-blockers or other bronchodilators. Inform your doctor about all your medicines.

It should not be used as a rescue inhaler during sudden breathing problems; a short-acting inhaler is for that purpose.

Possible side effects include throat irritation, headache, and oral candidiasis (thrush). Severe effects like increased breathing difficulty or rapid heart rate require immediate medical attention.

Rarely, Advair can cause allergic reactions with symptoms like rash, itching, severe dizziness, swelling and difficulty breathing.

Prolonged use may increase the risk of osteoporosis, glaucoma, cataracts, and adrenal suppression. Discuss risks with your doctor.

Regular medical check-ups are necessary to monitor effectiveness and manage any adverse effects.
How long does it take for Advair to work?
You might not experience the full benefits of this medication for up to a week. It is essential to follow the instructions.
What medications should not be taken with Advair?
You shouldn't typically take certain medications for asthma or COPD, which Advair treats. For instance, aspirin, ibuprofen (Advil, Motrin), or naproxen (Aleve)-containing drugs may trigger an asthma attack or exacerbate breathing issues.
Yes, Advair contains the corticosteroid fluticasone, making it a combination drug with a steroid component for lowering airway inflammation.
How long after advair can I take Albuterol?
You can use rescue medications such as albuterol anytime during your Advair treatment. If needed, you can use your rescue medication right after taking a dose of Advair.
How should I use Advair Diskus?
To use Advair Diskus, exhale gently, place mouthpiece, inhale quickly, hold breath for 10 seconds, exhale slowly, then rinse mouth. Use twice daily for long-term control as directed by your healthcare provider.
How to stop taking Advair?
Consult your doctor before stopping the use of Advair. They will offer a strategy for progressively lowering the dosage to avoid any potential symptom flare-ups. Stopping abruptly may make your problem worse. For a safe cessation, always abide by your doctor's instructions.
How long does Advair stay in your system?
Fluticasone and salmeterol, the active ingredients in Advair, have different half-lives; fluticasone's is roughly 14 hours, while salmeterol's is approximately 5.5 hours. After stopping these medications, your body often takes a few days to eliminate them from your system.
Does Advair cause weight gain?
Weight gain is not a frequent Advair adverse effect. However, individual reactions to drugs can differ, and some people may suffer weight changes due to fluid retention or metabolism. In clinical investigations, 1% to 3% of those who used Advair HFA saw a weight increase.
Who should not take Advair?
People should not take Advair if they have severe allergies to milk proteins or any chemicals in Advair Diskus or suddenly develop breathing issues.
What happens if I miss a dose of Advair?
When taking Advair Diskus, skip the missed dose and take the subsequent amount at the scheduled time. Avoid taking two Advair Diskus pills to make up for a missing one.
What happens if I take too much advair?
Fluticasone and salmeterol, two of Advair's main components, can be overdosed if used in excess. This could result from increased heart rate, tremors, headache, nausea, and more severe effects.
How can I refill my Advair Diskus prescription?
Schedule a virtual appointment with a board-certified Your Doctors online medical professional to refill your Advair Diskus prescription. Our doctors can send an electronic prescription to your neighbourhood pharmacy after assessing your symptoms.
What is an alternative to Advair?
Advair alternatives and Symbicort alternatives are Dulera (mometasone/formoterol), Breo (fluticasone furoate/vilanterol trifenatate) and Flovent (fluticasone propionate).
This is the best app..You ask anything and the doctors answer you within minutes, i love it

-Phindile Mkhatshwa


It is a good app, it can be helpful with pictures and be very detailed.

-brooke snow


Wow, these people are such a blessing. Dey give accurate answered to questions asked. Its really too good

-Okiti Stephanie


Impressive work !! Connecting to a doctor was so quick. I am really impressed.

-ASIF Khan


Doctor was really great, fast at responding very helpful

-Chelsey


Chat with them the doctor that I chat with very helpful and answer all my questions I recommend to anyone

-edith bien aime


The best patient doctors that understand and give you useful information ..I'm really thankful.

-Lesego Thejane


Very informative and very detailed in explanations.Also pleasant and courteous.I would recommend to anyone.

-Stephanie Brown


Very helpful, very polite and answers every question in a well mannered way.

-kulwinder gill


I really rate this website a lot, you people don't stick and and im sure you try your best to take swift actions for your patients.

-Elijah Mark


Talk to online doctors now and get medical advice, online prescriptions, and referrals within minutes. On-demand healthcare services at your fingertips.