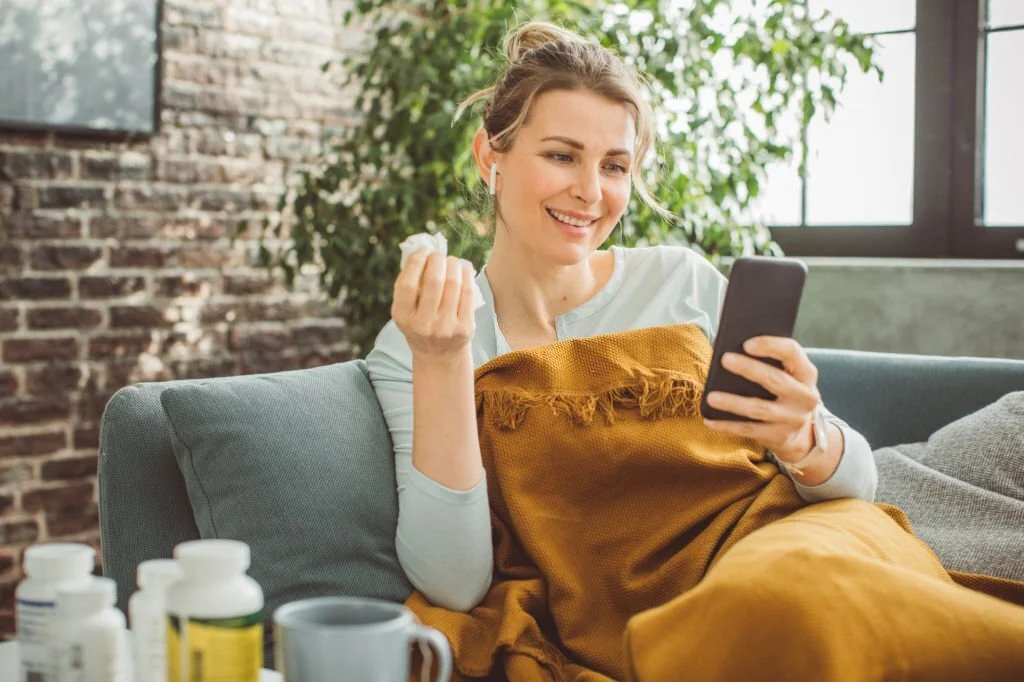 Get a Nitrofurantoin (Macrobid) Prescription Online
Nitrofurantoin is typically used to treat urinary tract infections. If you have a UTI, you can get a Macrobid prescription online. Getting Nitrofurantoin online is very straightforward; you can connect with a doctor at any time and place of your choice at Your Doctors Online. Our online doctor will ask you to describe your symptoms in order to determine the best course of treatment. Then, if deemed necessary, they may recommend a follow-up appointment or a visit to a clinic.
However, please note that a Macrobid online prescription will only be provided after consultation with the doctor and if the treatment is considered suitable and safe for you. 
How to Connect with an Online Doctor?
Connect with a health care professional online in 3 easy steps.
Download our app, register and tell us about your medical issue to get started.
UTI
Cardiovascular
Anemia
STD
Skin
Covid
Connect with a board-certified doctor. You can chat, send pictures and videos.
Hi I'm dr. Nicole. How may I help you?
Hi Dr Nicole, I have pain and burning while urinating. Do I have a UTI? Can I get antibiotics for that, please?

Our online doctors can help you with your medical issues and give you prescriptions.
Nitrofurantoin ( Macrobid), 100mg.

Take one tablet twice daily/every 12 hours for 5 days, with food and water.
Send Prescription
What is Nitrofurantoin (Macrobid) and How to Take It
Nitrofurantin is prescribed to treat a urinary tract infection. Nitrofurantoin is classified as a nitrofuran antibiotic. Commonly it is available under the brand names such as Macrobid, Macrodantin or Furadantin.
Nitrofurantoin mode of action involves stopping the bacteria by interfering with processes, such as cell wall formation and synthesis of DNA and RNA. As the process can no longer take place, the bacteria die. Nitrofurantoin specifically targets the bacteria in the urine and is quite solute in urine. Similar to Macrodantin, Macrobid pills contain two forms of Nitrofurantoin (active ingredient). This combination mainly aids in the release of the drug into the body.
Nitrofurantoin dosage for UTI is 100 mg every 12 hours for 7 days. Nitrofurantoin should be taken with food and water to avoid undesirable effects and maximise absorption. 
Although, the duration of treatment can vary and depends on the severity and type of infection. Always follow instructions, take the prescribed dosage, and complete the entire course of medication. Nitrofurantoin in pregnancy is not prescribed at the end of pregnancy/last trimester to prevent any harm to the baby.
Important Information About Nitrofurantoin (Macrobid)
Macrobid over-the-counter is not an option. You will require a prescription for Nitrofurantoin (Macrobid).
Here are some essential points that you should know:
Some of the most common side effects include nausea, vomiting, diarrhea, and loss of appetite.

If you experience symptoms such as drowsiness, skin rash, hives, mood swings, tingling and numbness in the hands and feet, severe diarrhea, fever, joint pain, yellowing of eyes or skin, vision changes or trouble breathing, seek immediate medical help. 
If you have a history of any of the following, inform our doctor:

Allergic reaction 

Kidney disease

Liver disease

Thyroid disease

G6PD deficiency

Diabetes

Anemia

Nitrofurantoin may turn your urine into a dark yellowish color. This is harmless and will normalize once the medication is stopped.
Nitrofurantoin (Macrobid) can interact with other forms of medication, including Antacids containing magnesium trisilicate, probenecid, ciprofloxacin, lomefloxacin, norfloxacin, ofloxacin and sulfinpyrazone.
FAQs About Nitrofurantoin (Macrobid)
How long does Nitrofurantoin take to work on a UTI?
After starting this medication, it can take 1-2 days for symptoms to improve. Always ensure that you finish your pills so that the infection is completely eradicated.
Can I get macrobid over the counter?
You can't get Macrobid without a prescription. It is a prescription-only medication; hence, you will require a prescription from a licensed physician. You can get macrobid online by consulting an online doctor at Your Doctors Online.
Will macrobid treat a sinus infection?
Macrobid does not treat other bacterial infections like strep throat or sinus infections.
Can you drink alcohol with Macrobid?
No, it is not advisable to consume alcohol while taking Macrobid. Alcohol may not only reduce the effectiveness of this antibiotic but can also trigger and worsen stomach pain, nausea and vomiting.
Can Macrobid cause anxiety?
Mood changes and worsening anxiety have been reported in some individuals taking Macrobid.
What foods to avoid while taking Nitrofurantoin?
Reducing the consumption of fried foods and fatty meats while taking Macrobid may be a good idea to ensure maximum drug absorption.
This is the best app..You ask anything and the doctors answer you within minutes, i love it

-Phindile Mkhatshwa


It is a good app, it can be helpful with pictures and be very detailed.

-brooke snow


Wow, these people are such a blessing. Dey give accurate answered to questions asked. Its really too good

-Okiti Stephanie


Impressive work !! Connecting to a doctor was so quick. I am really impressed.

-ASIF Khan


Doctor was really great, fast at responding very helpful

-Chelsey


Chat with them the doctor that I chat with very helpful and answer all my questions I recommend to anyone

-edith bien aime


The best patient doctors that understand and give you useful information ..I'm really thankful.

-Lesego Thejane


Very informative and very detailed in explanations.Also pleasant and courteous.I would recommend to anyone.

-Stephanie Brown


Very helpful, very polite and answers every question in a well mannered way.

-kulwinder gill


I really rate this website a lot, you people don't stick and and im sure you try your best to take swift actions for your patients.

-Elijah Mark


Talk to online doctors now and get medical advice, online prescriptions, and referrals within minutes. On-demand healthcare services at your fingertips.