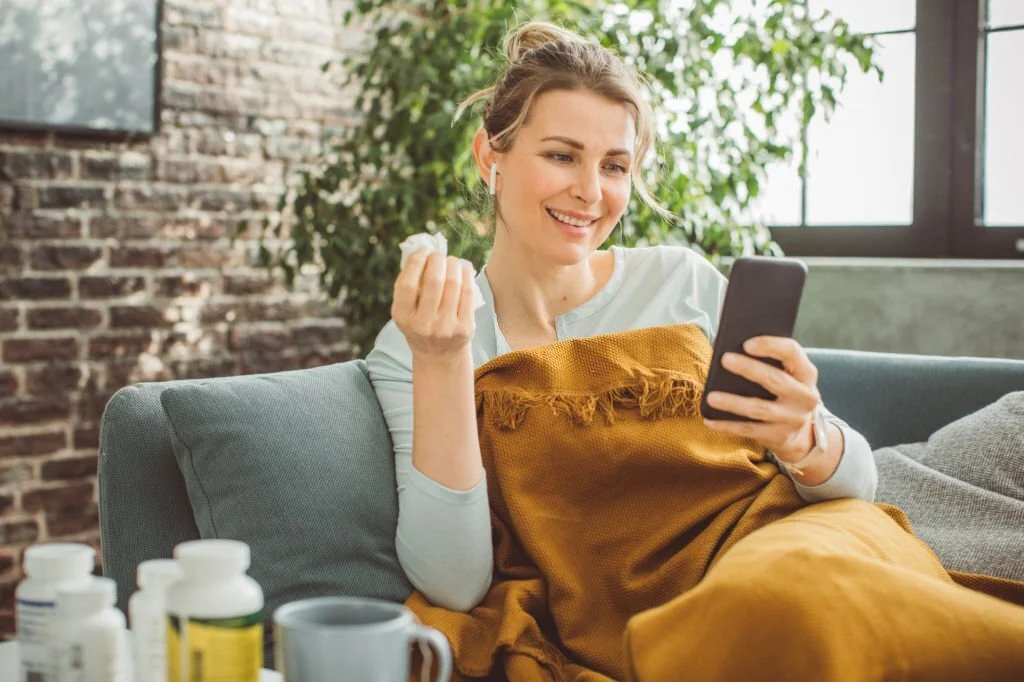 Get a Prescription for Cetirizine Online
Cetirizine is a pharmaceutical agent with therapeutic effects in mitigating allergic symptoms, including sneezing, pruritus, and rhinorrhea. If you have these conditions, you can refill Cetirizine online. Obtaining a Cetirizine prescription online is simple; visit Your Doctors Online and connect with a doctor anytime, anywhere. Our online doctor will ask about your symptoms to determine treatment. They may suggest a follow-up appointment or clinic visit.
Please know that a Cetirizine refill will only be provided after a consultation with our doctor and if the medication is appropriate and safe.
How to Connect with an Online Doctor?
Connect with a health care professional online in 3 easy steps.
Download our app, register and tell us about your medical issue to get started.
Antihistamine
Anemia
STD
UTI
Skin
Covid
Connect with a board-certified doctor. You can chat, send pictures and videos.
Hi I'm dr. Nicole. How may I help you?
Dr. Nicole, I have a runny nose; I feel better after taking Cetirizine. Can you give me something that can help?

Our online doctors can help you with your medical issues and give you prescriptions.
Cetirizine 10 mg tablet; take one tablet once daily.
Send Prescription
What is Cetirizine and How to Take It
Cetirizine, marketed under the Zyrtec brand, is classified as an antihistamine. The medication is available in various formulations, such as tablets and oral solutions. Other drugs that are included in the cetirizine class are desloratadine, fexofenadine, and levocetirizine.
Cetirizine exerts its pharmacological effects through the process of binding to and subsequently inhibiting the H1 receptors, which play a pivotal role in mediating allergic reactions. The medication exhibits selective action on peripheral histamine-1 (H-1) receptors, which are histamine receptors situated in regions outside of the central nervous system, such as the brain and spinal cord. This action effectively inhibits the physiological effects of histamine. This intervention aids in alleviating symptoms such as sneezing, pruritus, and rhinorrhea.
Cetirizine is offered in various pharmaceutical formulations, including tablets and oral solutions, such as syrup. Taking cetirizine 10mg once daily for 3 to 5 days is a commonly recommended dosage regimen for relieving allergy symptoms. Cetirizine may be administered with or without food. It is advisable to consume the tablets in conjunction with a beverage, such as water. This helps ensure smooth ingestion.
Important Information About Cetirizine
Cetirizine is an anti-allergic drug. You will not require a prescription for Cetirizine. Here are some essential points that you should know about this drug:

Sedation, dry mouth, and blocked nose are common side effects of cetirizine. It's important to be cautious when taking cetirizine, especially if you need to be alert or operate machinery. If you have any concerns or questions, consulting with our online doctor via the Your Doctor Online app can provide personalized guidance.



Anaphylaxis is a grave and potentially life-threatening hypersensitivity reaction that may occur on rare occasions subsequent to the administration of Cetirizine. After taking this medication, if you experience symptoms such as difficulty breathing, swelling of the face or throat, or a rapid heartbeat, it's crucial to seek immediate medical attention.




A certain number of drugs can interact with cetirizine; a few of them are linezolid, clobazam, and phenelzine. Consult our online doctors to discuss all the medications you are already taking so they can review your specific medical history and medications to determine if there are any potential interactions with cetirizine.
How long does it take cetirizine to work?
The onset of action of cetirizine is usually around 30 minutes to one hour, and it provides relief from allergy symptoms for about 24 hours.
Can you buy cetirizine over the counter?
Cetirizine is an over-the-counter medication, which means you can buy it without a prescription. It's readily available at most pharmacies and drugstores. So, you can conveniently get cetirizine for your allergy relief needs.
Is cetirizine a controlled substance?
Cetirizine is not classified as a controlled substance. The medication in question is easily accessible for purchase without the requirement of a prescription, as it is classified as an over-the-counter medication.
How many Zyrtecs can I take in a day?
Zyrtec is designed to provide 24-hour relief, so taking a 10mg dose once a day is the recommended dosage for alleviating allergy symptoms. If you have any more questions or need personalized advice, you can consult our online doctor from the convenience of your own home.
How long does cetirizine stay in your system?
Cetirizine usually remains in your system for about 40 to 50 hours before it is fully cleared. Seeking advice from a healthcare professional or pharmacist is advisable in order to obtain personalized guidance.
What is cetirizine hydrochloride?
Cetirizine hydrochloride is the active ingredient in cetirizine, which is an antihistamine used to alleviate allergy symptoms. The mechanism of action involves the inhibition of histamine, a naturally occurring substance in the body, resulting in the attenuation of symptoms such as sneezing, itching, lacrimation, and rhinorrhea.
How long after taking cetirizine can I drink alcohol?
To ensure caution, it is advisable to observe a minimum waiting period of 24 hours after the consumption of cetirizine before engaging in alcohol consumption. Mixing the two can intensify drowsiness dizziness, and affect coordination.
What is the difference between cetirizine and loratadine?
The term "onset of action" pertains to the speed at which a medication initiates its therapeutic effects. In the case of loratadine, it may take a bit longer to feel its effects compared to cetirizine. However, both medications are effective in relieving allergy symptoms.
What are the alternatives for cetirizine?
Loratadine, desloratadine, and levocetirizine are all great alternatives to cetirizine. These medications are classified as antihistamines and function similarly to alleviate allergy symptoms. You can consider trying any of these alternatives with the guidance of a healthcare professional.
Who should not take cetirizine?
If someone has an allergy to cetirizine or is pregnant or breastfeeding, they must consult a doctor before taking it. Seeking medical advice is the best approach in these situations.
What to avoid with cetirizine?
To minimize the risk of drowsiness, it's recommended to avoid consuming alcohol, sedatives, and tranquilizers while taking cetirizine. Until you become accustomed to the medication, it's best to refrain from activities that require mental alertness.
This is the best app..You ask anything and the doctors answer you within minutes, i love it

-Phindile Mkhatshwa


It is a good app, it can be helpful with pictures and be very detailed.

-brooke snow


Wow, these people are such a blessing. Dey give accurate answered to questions asked. Its really too good

-Okiti Stephanie


Impressive work !! Connecting to a doctor was so quick. I am really impressed.

-ASIF Khan


Doctor was really great, fast at responding very helpful

-Chelsey


Chat with them the doctor that I chat with very helpful and answer all my questions I recommend to anyone

-edith bien aime


The best patient doctors that understand and give you useful information ..I'm really thankful.

-Lesego Thejane


Very informative and very detailed in explanations.Also pleasant and courteous.I would recommend to anyone.

-Stephanie Brown


Very helpful, very polite and answers every question in a well mannered way.

-kulwinder gill


I really rate this website a lot, you people don't stick and and im sure you try your best to take swift actions for your patients.

-Elijah Mark


Talk to online doctors now and get medical advice, online prescriptions, and referrals within minutes. On-demand healthcare services at your fingertips.