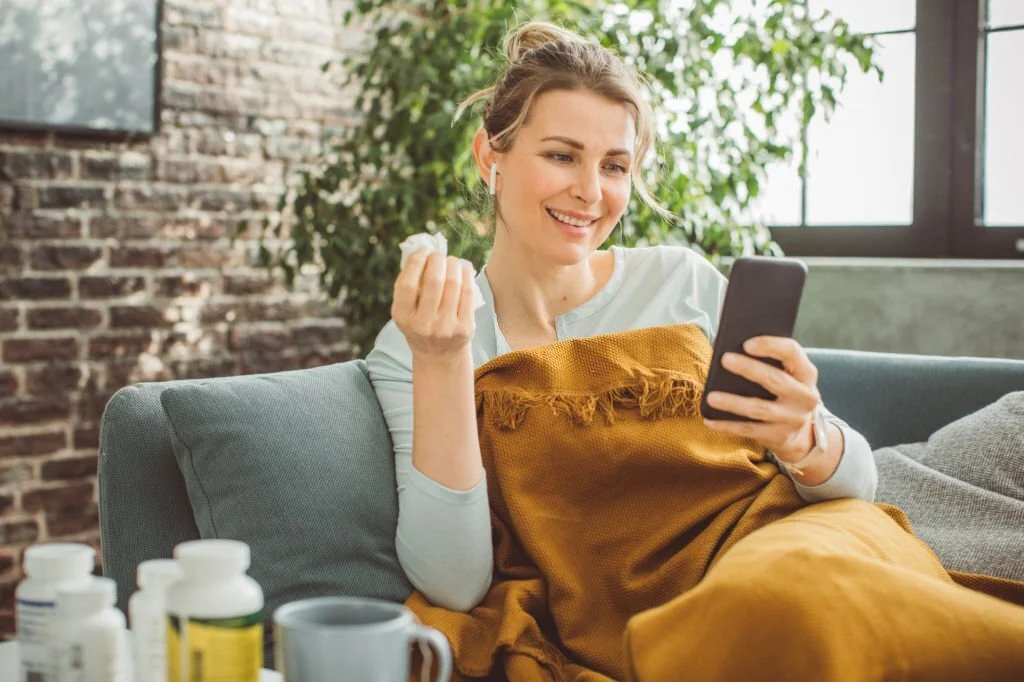 Get a Prescription for Zantac Online
An ulcer drug called ranitidine (Zantac) treats stomach and intestinal ulcers or helps prevent them from recurring once they have healed. You can get a Zantac prescription online by connecting with our online doctor at Your Doctors Online, who will ask you to describe your symptoms in order to determine the best course of treatment. Then, if deemed necessary, they may recommend a follow-up appointment or a visit to a clinic. However, please note a prescription will only be provided after consultation with the doctor and if the treatment is considered suitable and safe for you. 
How to Connect with an Online Doctor?
Connect with a health care professional online in 3 easy steps.
Download our app, register and tell us about your medical issue to get started.
Ulcers
Anemia
STD
UTI
Skin
Covid
Connect with a board-certified doctor. You can chat, send pictures and videos.
Hi I'm dr. Nicole. How may I help you?
Hi Dr. Nicole, I have acid reflux, and it is really bad. Can I get some form of treatment, please?

Our online doctors can help you with your medical issues and give you prescriptions.
Zantac

Zantac 150 mg once daily
Send Prescription
Uses of Zantac and How to Take It
Zantac, also referred to by its generic name ranitidine, is a histamine H2-receptor antagonist drug class member. It is frequently used to treat and prevent diseases like gastroesophageal reflux disease (GERD), peptic ulcers, and heartburn linked to too much stomach acid production. Zantac reduces the amount of acid produced in the stomach and relieves symptoms like acid reflux and indigestion by inhibiting histamine receptors in the gut. Zantac has been used extensively for years, but safety concerns arose when residues of a possible carcinogen were discovered in several formulations, causing recalls and withdrawals in several regions. Doctors now use alternative drugs to treat diseases linked to acidity.
Zantac comes in the following forms: tablets, capsules, liquid-filled capsules, syrup, powder to mix with liquid, and liquid for oral suspension. These are all meant to be consumed orally.
Although most places sell ranitidine over the counter, if your doctor thinks you require a more significant dose, they might prescribe Zantac.
Always abide by the dosage and usage guidelines in the box or the directions provided with your prescription. Ranitidine may occasionally be administered intravenously through IV or injection. This wouldn't be provided in this form for prescription use at home; instead, it would only be administered by a qualified healthcare professional at an accredited healthcare facility.
Important Information About Zantac
Following are some points that you should know about Zantac:
Zantac may interact with certain drugs, including blood thinners, anti-seizure medications, and antacids, affecting their effectiveness or causing adverse reactions.

Avoid using Zantac alongside other H2-blockers like famotidine or cimetidine, as it can lead to over-suppression of stomach acid and potential health issues.

Common side effects include headache, dizziness, and diarrhea. Rare but severe reactions may have allergic reactions, liver problems, and changes in heart rhythm.

Some formulations of Zantac contained low levels of N-nitroso dimethylamine (NDMA), a potential carcinogen, leading to recalls and discontinuation in certain regions.

Extended usage of Zantac may increase the risk of certain nutrient deficiencies and fractures, so it should be used under medical supervision.
Most people have no adverse effects after taking a dose of Zantac 360 since it is so well tolerated. Greater than or equal to 1% of participants in famotidine clinical research complained of headache, vertigo, or constipation. Severe but less frequent negative consequences could include Fever. Some formulations of Zantac contained low levels of N-nitroso dimethylamine (NDMA), a potential carcinogen, leading to recalls and discontinuation in certain regions.
Does Zantac cause cancer?
A person's likelihood of acquiring cancer may rise if they use Zantac, which was created using ranitidine tainted with NDMA, a possible human carcinogen. Zantac plus ranitidine can lead to certain cancers, including bladder, colon, and prostate—Doctor Daniel A. Landau's medical review.
What are the alternatives to Zantac?
The FDA has provided a list of several Ranitidine alternate, including Prevacid (lansoprazole), Prilosec (omeprazole), Pepcid (famotidine)
Can you take Zantac while pregnant?
Obstetricians with Norton Women's Care advise pregnant women who take Zantac to treat heartburn and acid reflux to stop using it and think about other options. Ranitidine is a widely used treatment for heartburn, which affects pregnant women frequently.
Who should not take ranitidine (Zantac)?
If not prescribed by a doctor, do not administer this drug to children under 12. Older adults may be more sensitive to this medication's adverse effects, including disorientation. This drug should only be taken during pregnancy if necessary.
When should Zantac not be used?
You run a higher chance of developing pneumonia if you take Zantac. Fever, shortness of breath, chest pain and coughing up green or yellow mucus are all signs of pneumonia.
What happens if I miss a dose of Zantac?
Take the missed dose as soon as you remember if you can. Take only that dose if your next dose is about to expire. Never take two or more doses.
What happens if I take too much Zantac?
The signs of an overdose can include dizziness, lack of coordination, and fainting.
What is the typical starting dose of Zantac?
The typical starting dose of Zantac for adults and adolescents for conditions like gastroesophageal reflux disease (GERD) and peptic ulcers is typically 150 mg of Zantac, taken twice daily (total daily dose of 300 mg).
This is the best app..You ask anything and the doctors answer you within minutes, i love it

-Phindile Mkhatshwa


It is a good app, it can be helpful with pictures and be very detailed.

-brooke snow


Wow, these people are such a blessing. Dey give accurate answered to questions asked. Its really too good

-Okiti Stephanie


Impressive work !! Connecting to a doctor was so quick. I am really impressed.

-ASIF Khan


Doctor was really great, fast at responding very helpful

-Chelsey


Chat with them the doctor that I chat with very helpful and answer all my questions I recommend to anyone

-edith bien aime


The best patient doctors that understand and give you useful information ..I'm really thankful.

-Lesego Thejane


Very informative and very detailed in explanations.Also pleasant and courteous.I would recommend to anyone.

-Stephanie Brown


Very helpful, very polite and answers every question in a well mannered way.

-kulwinder gill


I really rate this website a lot, you people don't stick and and im sure you try your best to take swift actions for your patients.

-Elijah Mark


Talk to online doctors now and get medical advice, online prescriptions, and referrals within minutes. On-demand healthcare services at your fingertips.