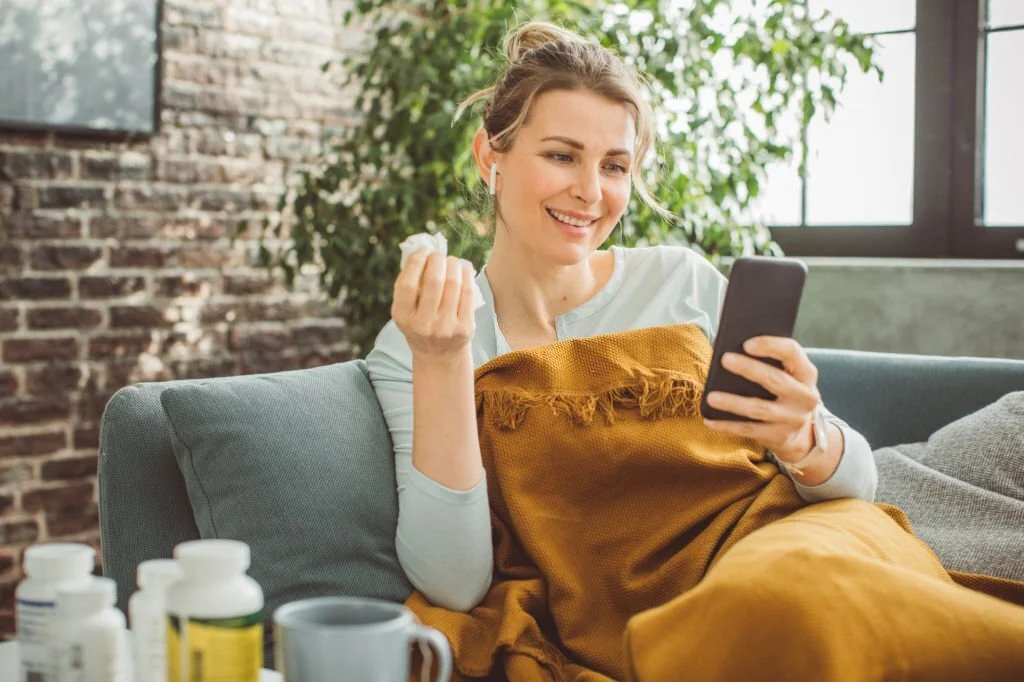 Get a Prescription for Trelegy Online
Trelegy is prescribed to treat chronic obstructive pulmonary disease (COPD). It serves as a long-term maintenance medication aimed at enhancing respiratory function and alleviating COPD-related symptoms like breathlessness, coughing, and wheezing. If you have these conditions, you can refill Trelegy online. Obtaining a Trelegy prescription online is simple; visit Your Doctors Online and connect with a doctor anytime, anywhere. Our online doctor will ask about your symptoms to determine treatment. They may suggest a follow-up appointment or clinic visit.
Please know that a Trelegy refill will only be provided after a consultation with our doctor and if the medication is appropriate and safe.
How to Connect with an Online Doctor?
Connect with a health care professional online in 3 easy steps.
Download our app, register and tell us about your medical issue to get started.
COPD
Anemia
STD
UTI
Skin
Covid
Connect with a board-certified doctor. You can chat, send pictures and videos.
Hi I'm dr. Nicole. How may I help you?
Dr. Nicole, I feel difficulty in breathing; I feel better after taking Trelegy. Can you give me a Trelegy refill?

Our online doctors can help you with your medical issues and give you prescriptions.
Trelegy one inhalation, once daily.
Send Prescription
What is Trelegy and How to Take It
Trelegy is prescribed for managing chronic obstructive pulmonary disease (COPD). It consists of a combination of three active ingredients: fluticasone furoate, umeclidinium, and vilanterol. It falls into the therapeutic category of long-acting muscarinic antagonists (LAMA), long-acting beta-agonists (LABA), and inhaled corticosteroids (ICS). It is marketed under the brand name Trelegy Ellipta and is available as an inhalation powder.
Trelegy operates through a comprehensive approach, combining three distinct medications to address the complex nature of chronic obstructive pulmonary disease (COPD). The first component, fluticasone furoate, is an inhaled corticosteroid (ICS), primarily reducing airway inflammation and promoting easier breathing.
The second, umeclidinium, classified as a long-acting muscarinic antagonist (LAMA), focuses on relaxing the muscles encircling the airways, diminishing bronchoconstriction, and enhancing airflow. Lastly, vilanterol, a long-acting beta-agonist (LABA), complements the mechanism by relaxing airway muscles, further facilitating smoother and more efficient respiration. This threefold synergy results in a reduction of COPD symptoms and an enhancement of overall lung function in affected individuals.
Trelegy is an inhalation powder and is generally administered once daily utilizing the Ellipta inhaler device. Adhering to the prescribed dosing guidelines from your healthcare provider is crucial. It should be taken consistently at the same time daily, and the powder must be inhaled through the mouth. It is essential to emphasize that Trelegy should never be ingested.
Important Information About Trelegy
Commonly reported side effects of Trelegy include upper respiratory tract infections, headaches, back pain, and episodes of thrush, which are yeast infections affecting the mouth and throat. Additionally, pneumonia is another side effect associated with the use of Trelegy. It is crucial to be aware of these possible side effects and to consult with your healthcare provider if you experience any of them or have concerns.

While serious side effects associated with Trelegy are infrequent, it is essential to be aware of their potential occurrence. These rare but severe side effects may encompass allergic reactions, alterations in blood pressure and heart rate, paradoxical bronchospasm, which results in worsened breathing, as well as conditions like osteoporosis with an increased risk of bone fractures. Consult online doctors via our app for further guidance.




Among the medications that may have interactions with Trelegy are certain antifungal drugs, beta-blockers, and tricyclic antidepressants. To ensure your safety and optimize the effectiveness of your treatment, it's crucial to provide your healthcare provider with a comprehensive list of all substances you are using.
Trelegy Ellipta contains fluticasone, which is an inhaled corticosteroid (ICS). This corticosteroid component is included in the medication to help reduce inflammation in the airways.
How long does it take for Trelegy to work?
The onset of action may vary among individuals, but some improvement in COPD symptoms can be observed within a few days to weeks of starting Trelegy. It is essential to use it regularly for the best results.
Who should avoid Trelegy?
Trelegy should be avoided by individuals with known allergies to its components or severe hypersensitivity reactions to milk proteins. It is also not recommended for those taking another medication containing long-acting beta-agonists (LABA), individuals with heart issues, or those with bladder problems.
What are the Trelegy alternatives?
Alternative treatments for COPD to consider include other combination inhalers, individual medications such as LABAs, LAMAs, or ICS, as well as non-pharmacological strategies like pulmonary rehabilitation and lifestyle adjustments. It's advisable to seek guidance from your healthcare provider for personalized recommendations.
Is it safe to take Trelegy with prednisone?
Taking Trelegy (fluticasone, umeclidinium, and vilanterol) with prednisone should only be done under the supervision and guidance of a healthcare provider. Both medications can have potential interactions and side effects, and the decision to use them together should be based on your specific medical condition and the recommendations of your healthcare team.
Can Trelegy cause hair loss?
Hair loss is not a commonly reported side effect of Trelegy (fluticasone, umeclidinium, and vilanterol). They can evaluate your specific situation and determine if the medication could be a contributing factor or if there might be other underlying causes for your hair loss.
How long does Trelegy stay in your system?
The duration of action of Trelegy is approximately 24 hours. However, the duration of how long Trelegy (fluticasone, umeclidinium, and vilanterol) stays in your system can vary from person to person.
Can I take Trelegy with Albuterol?
Yes, Trelegy can be taken with albuterol. In fact, some healthcare providers may prescribe both medications to manage COPD or asthma symptoms effectively. Always follow your healthcare provider's guidance and prescription instructions when using these medications together.
Can I take Trelegy every other day?
No, Trelegy should not be taken every other day unless specifically directed by your healthcare provider. Changing the dosing frequency without your doctor's approval may affect its effectiveness in controlling your condition.
This is the best app..You ask anything and the doctors answer you within minutes, i love it

-Phindile Mkhatshwa


It is a good app, it can be helpful with pictures and be very detailed.

-brooke snow


Wow, these people are such a blessing. Dey give accurate answered to questions asked. Its really too good

-Okiti Stephanie


Impressive work !! Connecting to a doctor was so quick. I am really impressed.

-ASIF Khan


Doctor was really great, fast at responding very helpful

-Chelsey


Chat with them the doctor that I chat with very helpful and answer all my questions I recommend to anyone

-edith bien aime


The best patient doctors that understand and give you useful information ..I'm really thankful.

-Lesego Thejane


Very informative and very detailed in explanations.Also pleasant and courteous.I would recommend to anyone.

-Stephanie Brown


Very helpful, very polite and answers every question in a well mannered way.

-kulwinder gill


I really rate this website a lot, you people don't stick and and im sure you try your best to take swift actions for your patients.

-Elijah Mark


Talk to online doctors now and get medical advice, online prescriptions, and referrals within minutes. On-demand healthcare services at your fingertips.