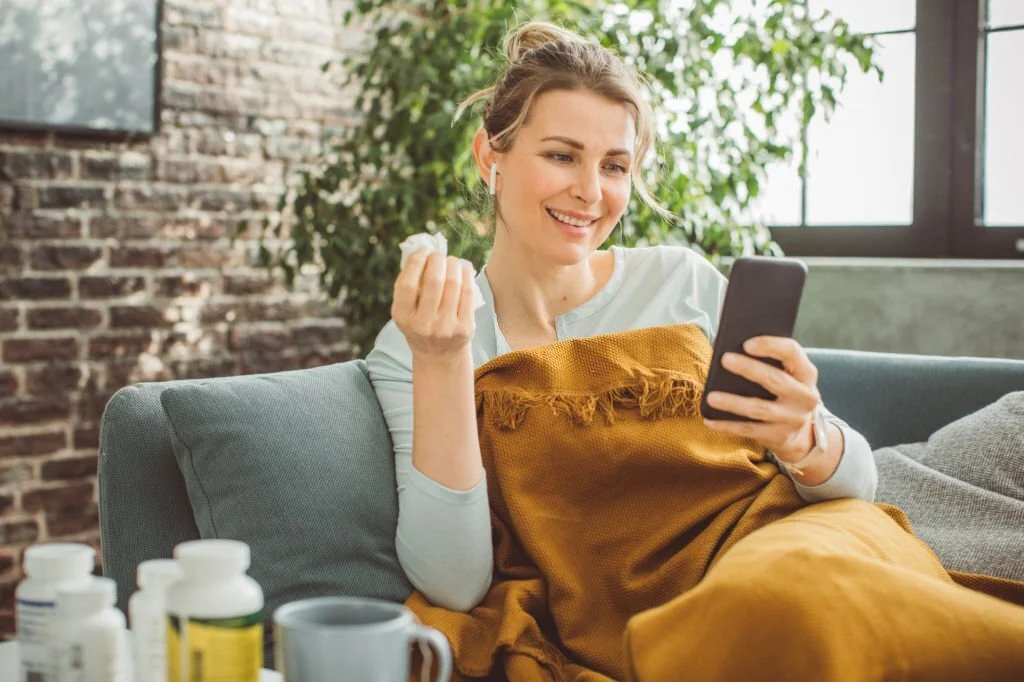 Get Hydroquinone prescription refill online
You can get a Hydroquinone prescription online to treat hyperpigmentation of skin like Melasma.
Getting Hydroquinone online is very straightforward; you can connect with a doctor at any time and place of your choice at Your Doctors Online. However, please note that Hydroquinone online will only be provided after consultation with the doctor and if the treatment is suitable and safe for you.
Request Hydroquinone prescription refill
Get a prescription refill for Hydroquinone online in three easy steps.
Download our app, register and tell us about your medical issue to get started.
Hyperpigmentation
Anemia
STD
UTI
Skin
Covid
Connect with a board-certified doctor. You can chat, send pictures and videos.
Hi I'm dr. Nicole. How may I help you?
Dr. Nicole, I feel a big difference in my skin after taking a hydroquinone. Can you give me a hydroquinone refill?

Our online doctors can help you with your medical issues and give you prescriptions.
Hydroquinone 4% cream/lotion,gels

Apply 2 times daily for the best results for 8 weeks
Send Prescription
Hydroquinone (Hyderquin) is a dermatological skin-lightening agent used to treat dark spots, hyperpigmentation, uneven skin tone, melasma, freckles, and acne scars.
It comes in Cream, lotions or gels from 2%,4% and 8% preparations. Hydroquinone works by inhibiting an enzyme, tyrosinase, involved in melanin production. Applied topically, it penetrates the skin, targets melanocytes, and reduces melanin production, lightening dark areas.
Important information about Hydroquinone
Common side effects of hydroquinone may include skin irritation, redness, itching, and a stinging sensation. These are usually temporary.
Serious side effects such as severe skin irritation, blistering, or a paradoxical skin darkening in treated areas can occur, though they are less common. Prolonged and excessive hydroquinone use can lead to a condition known as ochronosis, characterized by darkened and thickened skin, which can be challenging to treat.
Do you need a prescription for hydroquinone?
Yes, hydroquinone in any dosage form including creams, gels or lotions needs a prescription to be dispensed.You can get the consultation and prescription of Hydroquinone from our doctors online as FDA no longer approved its over-the-counter dispensing for its observed side effects ranging from Ochronosis ( darkening of skin) to Depigmentation of the skin.
What happens when you stop using hydroquinone cream?
There is no such withdrawal effect of hydroquinone, although the hyperpigmentation for which you were using medication can come back or it might become a bit darker with temporary redness if exposed to sunlight. It's important to discuss it with your healthcare provider if you are willing to start or stop using hydroquinone.
Hydroquinone is applied topically to the skin. Follow your healthcare provider's or product label instructions carefully. Do a spot test: Pat dry skin, apply a small amount and gently massage the product into the affected area until fully absorbed.
Who cannot use hydroquinone?
Hydroquinone could aggravate such conditions if you already have dry or sensitive skin. It should be avoided in pregnant women and children Below 12 years. As your skin gets used to the substance, this typically stops. Normal or oily skin individuals are less likely to suffer these adverse effects.
What is hydroquinone 4% cream used for?
Skin disorders like hyperpigmentation, melasma, age spots, dark patches brought on by exposure to the sun, hormonal fluctuations, or skin injuries are frequently treated with hydroquinone 4% cream. It prevents the skin's melanin from being produced, reducing dark spots and evening skin tone.
How Long Does it Take For Hydroquinone to Work?
Patients taking hydroquinone shouldn't anticipate immediate, dramatic outcomes. Before dark spots diminish, it can take 4-6 weeks of regular (or even twice daily) hydroquinone use. The best improvements should start to show after 8 to 12 weeks, and the general skin tone will balance out.
Can I ask my dermatologist for hydroquinone?
Yes, You definitely can, If you want a cure for any hyperpigmented area or dark spots . A dermatologist will examine the area and will give the proper prescription along with mentioning the correct dosage,frequency and dosage form.
Why is my skin darker after using hydroquinone?
This condition is called "Ochronosis" defined as the darkening of the skin after the prolonged or more frequent usage of hydroquinone.
How many times a day can I apply hydroquinone?
It's mostly prescribed to apply 2 times in a single day. It's good to follow the prescribed amount till recommended time to have maximum results without any side effects.
How much hydroquinone can I take?
The maximum dose for hydroquinone is 8% topical cream or lotion 2 times a day. Take the fact into consideration that only take the prescribed preparation of hydroquinone for the recommended period as it can possess serious side effects if taken without prescription.
This is the best app..You ask anything and the doctors answer you within minutes, i love it

-Phindile Mkhatshwa


It is a good app, it can be helpful with pictures and be very detailed.

-brooke snow


Wow, these people are such a blessing. Dey give accurate answered to questions asked. Its really too good

-Okiti Stephanie


Impressive work !! Connecting to a doctor was so quick. I am really impressed.

-ASIF Khan


Doctor was really great, fast at responding very helpful

-Chelsey


Chat with them the doctor that I chat with very helpful and answer all my questions I recommend to anyone

-edith bien aime


The best patient doctors that understand and give you useful information ..I'm really thankful.

-Lesego Thejane


Very informative and very detailed in explanations.Also pleasant and courteous.I would recommend to anyone.

-Stephanie Brown


Very helpful, very polite and answers every question in a well mannered way.

-kulwinder gill


I really rate this website a lot, you people don't stick and and im sure you try your best to take swift actions for your patients.

-Elijah Mark


Talk to online doctors now and get medical advice, online prescriptions, and referrals within minutes. On-demand healthcare services at your fingertips.