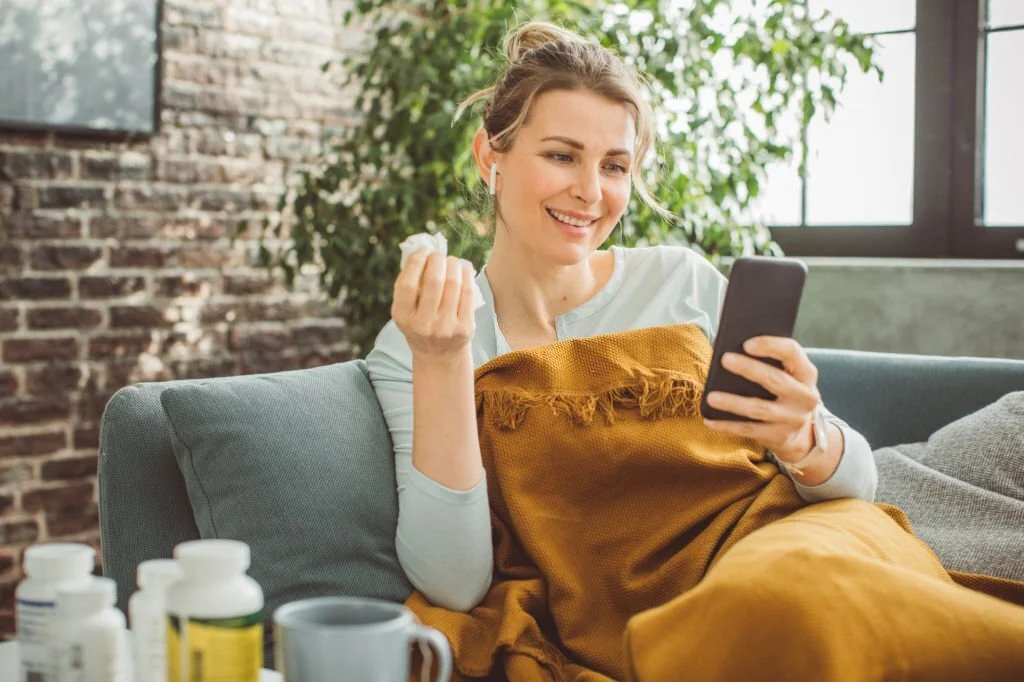 Get a Prescription for Betahistine Online
BETAHISTINE treats symptoms such as ringing in your ears (tinnitus), dizziness, vertigo, loss of balance, and hearing loss associated with Meniere's disease. You can get a prescription for Betahistine online by connecting with our online doctor at Your Doctors Online, who will ask you to describe your symptoms in order to determine the best course of treatment. Then, if deemed necessary, they may recommend a follow-up appointment or a visit to a clinic.
However, please note a prescription will only be provided after consultation with the doctor and if the treatment is considered suitable and safe for you.
How to Connect with an Online Doctor?
Connect with a health care professional online in 3 easy steps.
Download our app, register and tell us about your medical issue to get started.
Vertigo (ENT)
Anemia
STD
UTI
Skin
Covid
Connect with a board-certified doctor. You can chat, send pictures and videos.
Hi I'm dr. Nicole. How may I help you?
Hi Dr. Nicole, I have vertigo, and it is really bad. Can I get some form of treatment, please?

Our online doctors can help you with your medical issues and give you prescriptions.
Betahistine, 16mg,

Thrice daily, for 8 days.
Send Prescription
What is Betahistine and How to Take It
BETAHISTINE belongs to the class of drugs known as "antihistamine anti-vertigo medications," primarily used to treat Meniere's illness. Meniere's disease is an illness that affects the inner ear and is brought on by an accumulation of excess fluid there. A person with vertigo believes they are moving or spinning, but this is just a feeling. A patient with tinnitus experiences buzzing or ringing in their ears. BETAHISTINE comprises Betahistine, which improves blood flow to the ear's damaged area and decreases the fluid quantity there. This medication also lessens the potential for assaults.
Betahistine is available in 8mg and 16mg tablet forms. Typically, the initial dose is 16mg, thrice daily, with intervals of 6 to 8 hours between doses. Once symptoms are managed, the dosage might decrease to 8mg daily. The tablets should be swallowed whole with water to minimize stomach discomfort, preferably after a meal. Long-term usage, spanning months or years, may be necessary for Ménière's disease prevention.
When missed a dose, skip it and continue with the next scheduled dose; never double up. For those with forgetfulness, setting alarms or seeking advice from a pharmacist may aid in adherence. Overdosing can induce nausea, drowsiness, and abdominal pain.
Important Information About Betahistine
Following are some points that you should know about Betahistine:
Betahistine may interact with other medications, so inform your doctor about all drugs you're taking, including supplements and herbal products. Consult your healthcare provider before combining medications.

Caution is advised in people with Asthma

Betahistine's effects can vary among individuals. If you experience adverse reactions like drowsiness or dizziness, avoid activities requiring alertness, such as driving or operating heavy machinery.

Rashes, headaches, and upset stomach are examples of frequent adverse effects. Although rare, serious side effects can include allergic responses or changes in blood pressure.
How long should I take Betahistine for vertigo?
To stop the signs of Ménière's illness, you might need to take betahistine for a long time, perhaps several months or years.
How long does it take for Betahistine to work?
Typically, you'll take Betahistine thrice daily, with six to eight hours between each dose. It could take a few weeks after you start taking Betahistine before you begin to feel better.
Is betahistine an antihistamine?
It is, indeed. A histamine analogue is a class of medication that includes betahistine. It amplifies the effects of histamine, a naturally occurring chemical, in your inner ear. Antihistamines operate by preventing histamine from impacting your body's cells.
What is the difference between betahistine hydrochloride and betahistine dihydrochloride?
Betahistine hydrochloride and dihydrochloride are the same active substance and are interchangeable. Both entail producing a salt version of betahistine by mixing it with hydrochloric acid. When it comes to the therapeutic benefits or medicinal applications, there is no clinically meaningful difference between the two.
Is there an over-the-counter betahistine?
No, betahistine is not available over-the-counter. It requires a prescription from a medical professional.
What is an alternative to betahistine for vertigo?
Betahistine 16 mg was found to be non-inferior and superior to the fixed combination of cinnarizine 20 mg and dimenhydrinate 40 mg in treating peripheral vestibular vertigo.
How long can you stay on Betahistine?
The duration of Betahistine usage varies, but it can be long-term, spanning several months to years, based on the individual's medical condition and response to treatment.
Does Betahistine work immediately?
Before you see any changes, it could take a few weeks. To prevent your symptoms from returning, your doctor may advise you to continue taking the pills for a while, even after you start to feel better.
Is it safe to take Betahistine every day?
Yes, Betahistine is generally safe for daily use when prescribed by a doctor. Following the recommended dosage and instructions your healthcare provider provides is essential. Regular monitoring and communication with your doctor ensure safe and effective usage.
What drugs should not be taken with betahistine?
Betahistine may interact with any of the following substances: antihistamines (such as chlorpheniramine, diphenhydramine, and cetirizine), beta-2 agonists (such as salmeterol, fenoterol, formoterol, and salbutamol).
Does betahistine affect blood pressure?
If you take more Betahistine than is recommended. You may experience tachycardia (rapid pulse), hypotension (low blood pressure), bronchospasm (shortness of breath with a feeling of suffocation), and edema (fluid retention in the tissues). After consuming huge amounts, seizures can happen.
Does betahistine cause weight gain?
No, weight gain is not typically associated with betahistine usage.
Does betahistine reduce anxiety?
Betahistine's primary purpose is to treat vertigo and related inner ear conditions. At the same time, some individuals might experience reduced anxiety due to improved symptoms.
This is the best app..You ask anything and the doctors answer you within minutes, i love it

-Phindile Mkhatshwa


It is a good app, it can be helpful with pictures and be very detailed.

-brooke snow


Wow, these people are such a blessing. Dey give accurate answered to questions asked. Its really too good

-Okiti Stephanie


Impressive work !! Connecting to a doctor was so quick. I am really impressed.

-ASIF Khan


Doctor was really great, fast at responding very helpful

-Chelsey


Chat with them the doctor that I chat with very helpful and answer all my questions I recommend to anyone

-edith bien aime


The best patient doctors that understand and give you useful information ..I'm really thankful.

-Lesego Thejane


Very informative and very detailed in explanations.Also pleasant and courteous.I would recommend to anyone.

-Stephanie Brown


Very helpful, very polite and answers every question in a well mannered way.

-kulwinder gill


I really rate this website a lot, you people don't stick and and im sure you try your best to take swift actions for your patients.

-Elijah Mark


Talk to online doctors now and get medical advice, online prescriptions, and referrals within minutes. On-demand healthcare services at your fingertips.