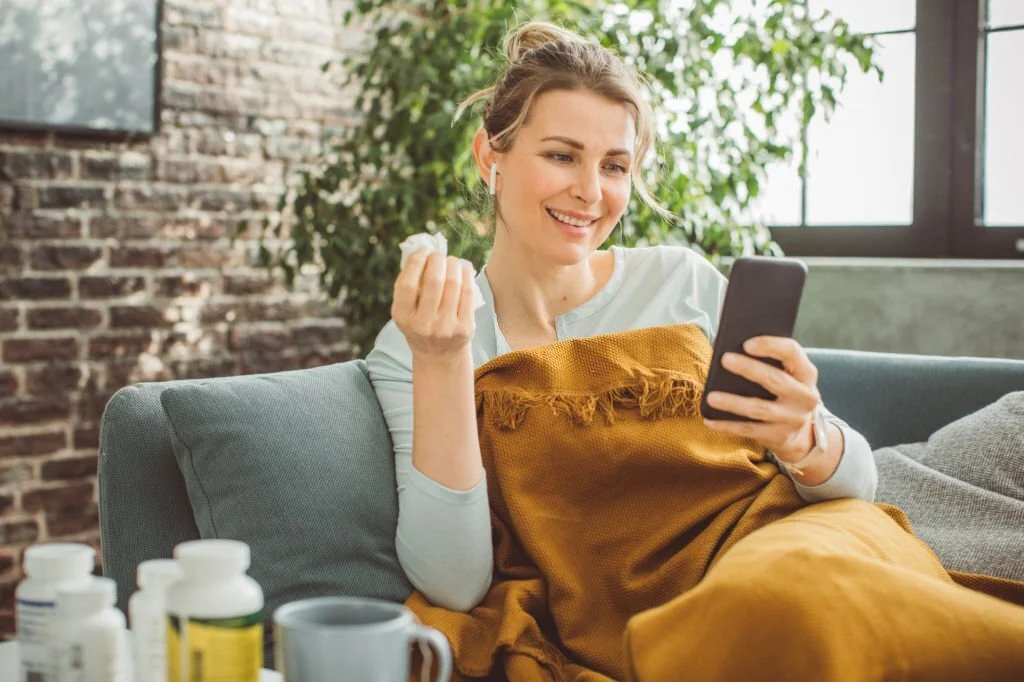 Get a Tazarotene (Tazorac) prescription refill online
You can get a Tazarotene (Tazorac)  prescription refilled online to treat Plaque psoriasis and acne in up to twenty percent of the skin area involved. 
Getting a Tazarotene (Tazorac) refill online is very straightforward; you can connect with a doctor anytime via Your Doctors Online. However, please note that the Tazarotene (Tazorac) medication will only be refilled online after consultation with the doctor and if the treatment is suitable and safe for you.
Request Tazarotene prescription refill
Get a prescription refill for Tazarotene online in three easy steps.
Download our app, register and tell us about your medical issue to get started.
Dermatology
Anemia
STD
UTI

Infections

Covid
Connect with a board-certified doctor. You can chat, send pictures and videos.
Hi I'm Dr. Nicole. How may I help you?
Hi, Dr. Nicole, I am suffering from Psoriasis. Can I get a Tazarotene cream refill, please?

Our online doctors can help you with your medical issues and give you prescriptions.
Tazorac cream/gel 0.1%
Apply once daily in the evening to psoriatic lesions using enough (2 mg/cm2) to cover only the lesion with a thin film.
Send Prescription
What is Tazarotene (Tazorac)?
Tazarotene, marketed under the brand name Tazorac, is a medication classified as a topical retinoid. It is primarily used in dermatology to treat various skin conditions, including acne and psoriasis.
Tazarotene's mechanism of action involves modulating skin cell turnover and reducing inflammation. It normalizes the growth of skin cells, preventing the formation of acne comedones and promoting the shedding of psoriatic plaques. Tazorac is not available over the counter and requires a prescription due to its potential side effects and the need for precise dosing. It is mainly offered in topical creams, gels, or foams, making it a versatile choice for dermatological conditions, particularly those involving hyperkeratotic skin disorders.
Important information about Tazarotene (Tazorac)
Common side effects of Tazarotene (Tazorac) include dryness, peeling, redness, itching, burning, and irritation at the application site.

Serious side effects of Tazarotene (Tazorac) can include severe skin irritation, allergic reactions, severe sunburn, changes in skin pigmentation, and severe skin dryness or cracking.
FAQs about Tazarotene prescription refill
Can you get Tazarotene without a prescription?
No, Tazarotene (Tazorac) is not available without a prescription. It is a prescription medication due to its potency and the potential for side effects.
How long does it take for Tazarotene to work?
When taking tazarotene for acne, you should see improvement in around four weeks. When taking tazarotene for psoriasis, you should see improvement in your symptoms within one to four weeks.
What are the Tazarotene alternatives?
Alternatives to Tazarotene for the treatment of skin conditions such as acne, psoriasis, or photoaging include other topical retinoids like adapalene and tretinoin, as well as non-retinoid options like topical antibiotics, salicylic acid, and corticosteroids.
What can interact with Tazarotene?
Tazarotene may interact with certain medications, such as other topical retinoids or benzoyl peroxide products, which can increase skin irritation. Using abrasive or exfoliating skin products may exacerbate side effects. Avoid exposure to excessive sunlight or UV rays, as Tazarotene can make the skin more sensitive and potentially lead to sunburn.
How to use Tazarotene for better results?
Both before and after taking this medication, wash your hands. Before putting a small layer of this medication on the afflicted area before bed, dry your skin. You can use a lotion or cream to soften or moisturize your skin for an hour before applying Tazorac® gel for psoriasis.
How long does Tazarotene take to work on warts?
Tazarotene may take several weeks to months to work on warts. The exact duration varies depending on the size, type, and location of the warts, as well as the individual's response to treatment. Consistency and patience are essential when using Tazarotene for wart removal.
How long can you use Tazarotene for acne?
Most users of tazarotene report a 50% improvement in psoriasis symptoms after just one to four weeks of treatment. It could take longer for skin redness to improve. Gains continue for up to three months. Acne treatment typically gets better after using tazarotene for around four weeks.
This is the best app..You ask anything and the doctors answer you within minutes, i love it

-Phindile Mkhatshwa


It is a good app, it can be helpful with pictures and be very detailed.

-brooke snow


Wow, these people are such a blessing. Dey give accurate answered to questions asked. Its really too good

-Okiti Stephanie


Impressive work !! Connecting to a doctor was so quick. I am really impressed.

-ASIF Khan


Doctor was really great, fast at responding very helpful

-Chelsey


Chat with them the doctor that I chat with very helpful and answer all my questions I recommend to anyone

-edith bien aime


The best patient doctors that understand and give you useful information ..I'm really thankful.

-Lesego Thejane


Very informative and very detailed in explanations.Also pleasant and courteous.I would recommend to anyone.

-Stephanie Brown


Very helpful, very polite and answers every question in a well mannered way.

-kulwinder gill


I really rate this website a lot, you people don't stick and and im sure you try your best to take swift actions for your patients.

-Elijah Mark


Talk to online doctors now and get medical advice, online prescriptions, and referrals within minutes. On-demand healthcare services at your fingertips.