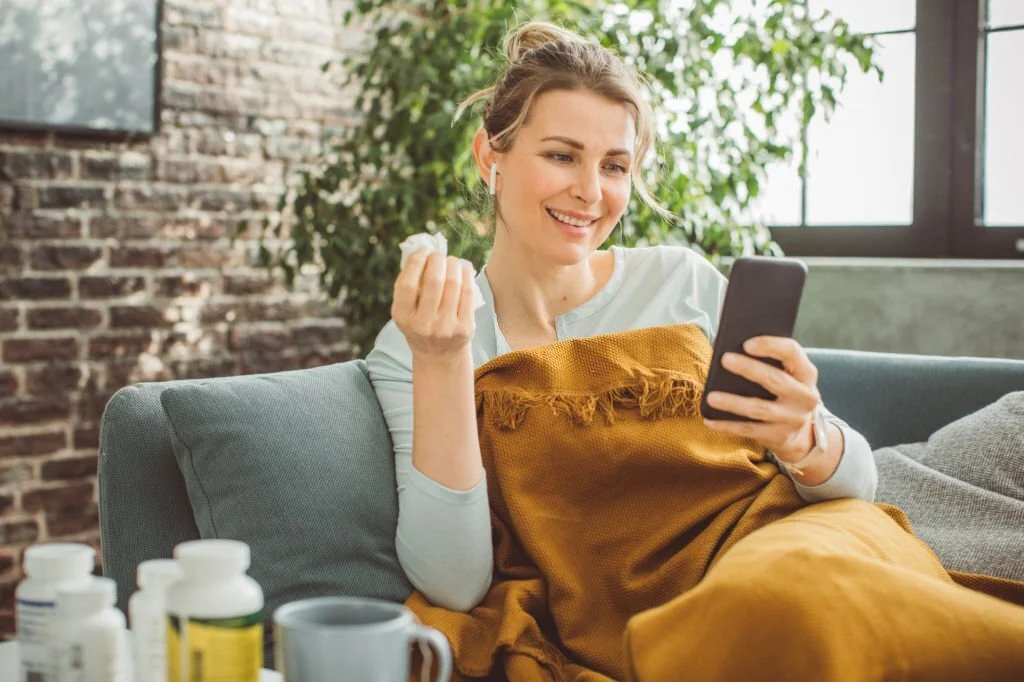 Get a Prescription Refill for Progesterone Online
Progesterone is a natural female hormone that treats endometriosis, uterine lining overgrowth, and menopausal symptoms. You can get a prescription for Progesterone online by connecting with our online doctor at Your Doctors Online, who will ask you to describe your symptoms to determine the best course of treatment. Then, if deemed necessary, they may recommend a follow-up appointment or a visit to a clinic. However, please note a prescription will only be provided after consultation with the doctor and if the treatment is considered suitable and safe for you. 
How to Connect with an Online Doctor?
Connect with a health care professional online in 3 easy steps.
Download our app, register and tell us about your medical issue to get started.
Dermatological Issues
Anemia
STD
UTI
Skin
Covid
Connect with a board-certified doctor. You can chat, send pictures and videos.
Hi I'm dr. Nicole. How may I help you?
Hi Dr. Nicole, I have been struggling with hormonal imbalances. Can I get my progesterone prescription refill?

Our online doctors can help you with your medical issues and give you prescriptions.
Progesterone

Progesterone 200 mg daily
Send Prescription
What is Progesterone and How to Take It
Progesterone is a naturally occurring hormone primarily generated in the ovaries, with minor amounts produced in the adrenal glands and placenta. It is essential in the female reproductive system, regulating the menstrual cycle, promoting pregnancy, and preparing the uterus for potential fertilized egg implantation. Natural progesterone aids in maintaining the uterine lining during pregnancy, reducing shedding and promoting placental growth. It also regulates mood, aids breast growth, and promotes bone health. Progesterone is a medicine that can be used to treat hormonal imbalances, support fertility therapies, control menopausal symptoms, and treat other reproductive health disorders.
Over-the-counter progesterone is not available. Depending on the specified treatment, progesterone can be given in various forms. Oral tablets or capsules are taken with water in the prescribed quantity. Applicators are used to introduce vaginal suppositories or inserts into the vagina, allowing progesterone to be slowly delivered into the vaginal tissues. Progesterone is administered intramuscularly, typically in the buttocks or thighs. Transdermal creams or gels are administered topically to the skin to aid absorption.
This drug is usually used only once each day. Please do not use more of this product or use it more frequently than suggested. It is not recommended to take this medication with food. It should be taken on an empty stomach, one hour before or two hours after eating. This information does not apply when this medicine is given vaginally for infertility treatments or during pregnancy.
Important Information About Progesterone
Following are some points that you should know about progesterone:
Progesterone may interact with certain medications, including anticoagulants, corticosteroids, and anticonvulsants. Consult with a healthcare professional to assess potential interactions before starting progesterone.

Other central nervous system depressants, such as alcohol or sedatives, can be exacerbated by progesterone. The combination of these substances may cause drowsiness and poor coordination.

Common side effects of progesterone may include drowsiness, breast tenderness, headache, mood changes, bloating, and breakthrough bleeding.

Rare but severe side effects may include allergic reactions, chest pain, dizziness, headache, and sudden vision changes. Seek medical attention if any of these occur.
What is the progesterone range or levels?
Normal progesterone levels in the luteal phase of the menstrual cycle range from 5 to 20 ng/mL. Progesterone levels rise dramatically throughout pregnancy, with a usual range of 10 to 290 ng/mL. Progesterone levels often fall below one ng/mL during menopause when ovarian function declines.
Can you get progesterone over the counter?
No, progesterone is not available over the counter. It is a prescription medication that requires a healthcare professional's guidance and prescription. Progesterone should be used under medical supervision to ensure proper dosage, administration, and monitoring of its effects and potential side effects.
What are the normal progesterone levels in women?
0.1 to 0.7 ng/mL during the follicular stage of the menstrual cycle. During luteal phase of the menstrual cycle it is 2 to 25 ng/mL . Progesterone levels during the early pregnancy range from 10 to 44 ng/mL. During the second trimester of pregnancy, the level ranges from 19.5 to 82.5 ng/mL.
What are the signs of too much bioidentical progesterone?
Increased drowsiness or fatigue, mood swings, irritability, depression, breast tenderness, swelling and changes in breast size are signs of too much bioidentical progesterone.
Does progesterone cause weight gain?
Yes, progesterone can cause weight gain by increasing your hunger. Women taking progesterone are encouraged to eat more healthily and to exercise regularly.
What does progesterone do during pregnancy?
Because it thickens the uterine lining, progesterone is essential for pregnancy support. A thick uterine lining aids the development of a fertilized egg into an embryo and, subsequently, into a fetus. During pregnancy, progesterone levels continue to climb. While pregnant, high progesterone levels hinder your body from ovulating.
What happens when you take progesterone pills?
Progesterone is used to assist in avoiding uterine (womb) abnormalities in women who take conjugated estrogens after menopause. It is also used to regulate the menstrual cycle and treat irregular periods (amenorrhea) in women who are still menstruation.
What happens if I take progesterone every day?
Taking progesterone daily without medical guidance can disrupt hormonal balance and lead to potential side effects such as bloating, breast tenderness, mood changes, and irregular bleeding.
Should every woman take progesterone?
No, not every woman requires progesterone. Individual circumstances, such as monthly irregularities, reproductive concerns, menopausal symptoms, or specific medical diseases, may necessitate progesterone supplements.
What to avoid while using progesterone?
While using progesterone, it is advisable to avoid smoking and limit alcohol consumption as they can have potential interactions and risks. Additionally, grapefruit juice should be avoided as it may interfere with progesterone's effectiveness.
What does progesterone do for women?
Progesterone's most significant role in a woman's biology is to thicken the uterine wall to receive and retain a fertilized egg. During pregnancy, progesterone levels remain high.
How do I know if I need progesterone?
Progesterone is a sex hormone that promotes menstruation and pregnancy in women and persons born female (AFAB). Low progesterone levels produce symptoms such as irregular periods, mood swings, and difficulty conceiving.
How to get a Progesterone prescription refill without going to a doctor?
You will need to consult with our online doctor at Your Doctors Online to refill your progesterone online prescription. After discussing our medical concerns and history, our online doctor can send your prescription to your preferred local pharmacy.
This is the best app..You ask anything and the doctors answer you within minutes, i love it

-Phindile Mkhatshwa


It is a good app, it can be helpful with pictures and be very detailed.

-brooke snow


Wow, these people are such a blessing. Dey give accurate answered to questions asked. Its really too good

-Okiti Stephanie


Impressive work !! Connecting to a doctor was so quick. I am really impressed.

-ASIF Khan


Doctor was really great, fast at responding very helpful

-Chelsey


Chat with them the doctor that I chat with very helpful and answer all my questions I recommend to anyone

-edith bien aime


The best patient doctors that understand and give you useful information ..I'm really thankful.

-Lesego Thejane


Very informative and very detailed in explanations.Also pleasant and courteous.I would recommend to anyone.

-Stephanie Brown


Very helpful, very polite and answers every question in a well mannered way.

-kulwinder gill


I really rate this website a lot, you people don't stick and and im sure you try your best to take swift actions for your patients.

-Elijah Mark


Talk to online doctors now and get medical advice, online prescriptions, and referrals within minutes. On-demand healthcare services at your fingertips.