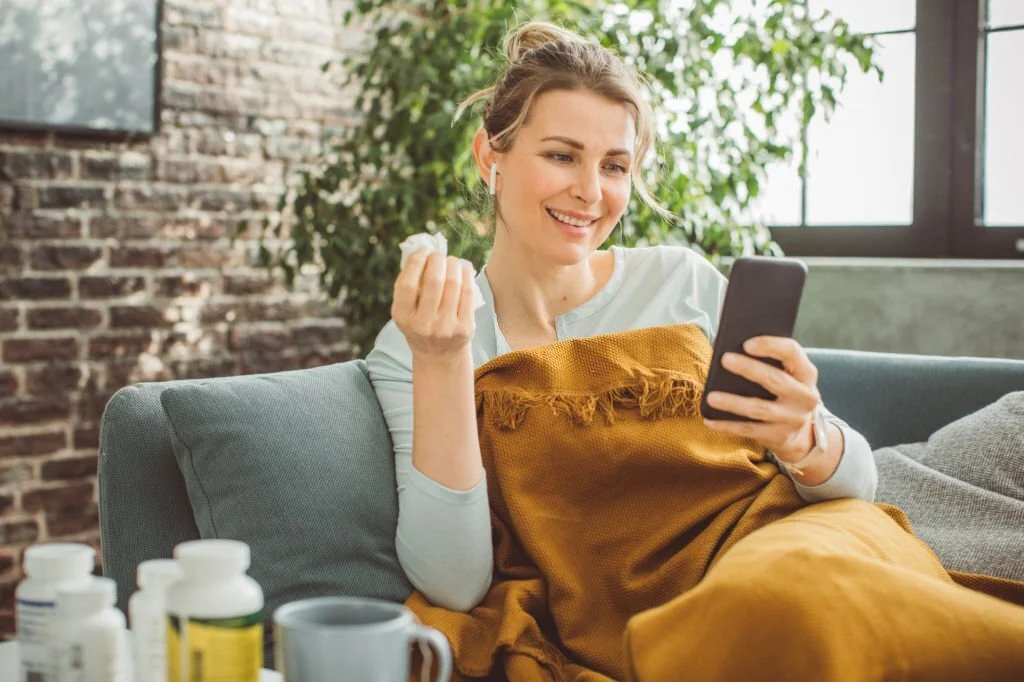 Get a Prescription for Doxylamine(Pyridoxine) Online
Doxylamine/pyridoxine is a combination medication used to treat nausea and vomiting during pregnancy, commonly known as morning sickness. You can get a doxylamine/pyridoxine prescription online by connecting with our online doctor at Your Doctors Online, who will ask you to describe your symptoms to determine the best treatment. Then, if deemed necessary, they may recommend a follow-up appointment or a visit to a clinic. However, please note a prescription will only be provided after consultation with the doctor and if the treatment is considered suitable and safe for you.
How to Connect with an Online Doctor?
Connect with a health care professional online in 3 easy steps.
Download our app, register and tell us about your medical issue to get started.
Obs/ Gyn
Anemia
STD
UTI
Skin
Covid
Connect with a board-certified doctor. You can chat, send pictures and videos.
Hi I'm dr. Nicole. How may I help you?
Hi Dr. Nicole, I'm 6 weeks pregnant and have morning sickness with nausea and vomiting. Can you please suggest some treatment?

Our online doctors can help you with your medical issues and give you prescriptions.
Doxylamine/pyridoxine, 10/10 mg

Taken twice daily for 7 days.
Send Prescription
What is Doxylamine (Pyridoxine) and How to Take It
Doxylamine and pyridoxine are the two components of this combination drug. It is used to stop or lessen pregnancy-related nausea and vomiting. Your health and nutrition throughout pregnancy may improve if your nausea and vomiting are reduced. Doxylamine is an antihistamine that may exert its effects indirectly through the body's endogenous chemicals (acetylcholine and serotonin) or directly through the brain. A B vitamin necessary for healthy health is pyridoxine. Most people consume adequate pyridoxine. However, deficiencies in this vitamin might occur due to specific medical circumstances (such as pregnancy, a poor diet, and alcoholism).
There are oral delayed-release (releases the drug in the gut to delay when the medication starts working) and extended-release (long-acting) tablets for doxylamine and pyridoxine. Doxylamine is taken for morning sickness in combination with pyridoxine. It is taken on an empty stomach (at least one hour before or two hours after a meal) with a full glass of water. Your doctor would suggest you start by taking it once daily at bedtime. If your symptoms of nausea and vomiting do not subside, your doctor may advise you to take the delayed-release tablet twice daily or the extended-release tablet twice daily.
The delayed-release or extended-release tablets should be swallowed whole; do not split, chew, or crush them.
Cefuroxime can be administered in different forms, including oral tablets, extended-release tablets, and as an injectable form for intravenous (IV) or intramuscular (IM) use. Generic Cefuroxime comes as cefuroxime 500 mg and cefuroxime 250 mg tablets. As your doctor directs, take the specified dosage for 5 to 10 days, either as oral pills or in extended-release form. Cefuroxime oral pills may be taken with or without food. Taking them with food is usually preferable if they cause stomach trouble when taken on an empty stomach. For pills containing extended-release cefuroxime, there may be different instructions. While specific extended-release formulations can be taken with food, others may need to be taken on an empty stomach. In clinical settings, injections are given by medical professionals. Even if your symptoms improve, complete the course of medication to prevent antibiotic resistance.
Important Information About Doxylamine (Pyridoxine)
Following are some points that you should know about doxylamine/pyridoxine:
Doxylamine/Pyridoxine may interact with alcohol and other sedative medications, leading to increased drowsiness and impaired coordination.

Using other medications with sedative effects or central nervous system, depressants is not recommended.

Drowsiness, wooziness, dry mouth, and blurred eyesight are typical side effects.

Allergic reactions, urinating difficulties, and abnormal heartbeats are uncommon but dangerous adverse effects.

Due to the possibility of sedation, caution should be used when using machinery or driving.
FAQs About Doxylamine (Pyridoxine)
Can I take 50 mg of doxylamine?
The recommended maximum dose of doxylamine is 25 mg daily for adults, so 50 mg may exceed the safe dosage and should be avoided.
Is doxylamine available by prescription?
Doxylamine alone is available over the counter. It is commonly found in sleep aids and cold and flu medications due to its sedative and antihistamine properties. However, Doxylamine / Pyridoxine combination is only available on prescription.
Doxylamine is not addictive like opioids or benzodiazepines. It is an antihistamine with sedative properties commonly used for sleep aid, but prolonged use can lead to tolerance, where higher doses may be needed for the same effect.
Does doxylamine cause memory loss?
There is a potential for doxylamine to cause short-term memory impairment in some individuals, especially at higher doses. However, the effects are usually temporary and improve once the drug is out of the system.
Doxylamine can be effective for short-term sleep aid but may cause side effects like drowsiness, dry mouth, and cognitive impairment when used as directed. Avoid prolonged use or exceeding recommended dosages.
Can doxylamine damage kidneys?
Doxylamine succinate overdose symptoms: drowsiness, coma, seizures, mydriasis, tachycardia, psychosis, and rhabdomyolysis. Serious complication: rhabdomyolysis with potential renal impairment and acute renal failure.
Does doxylamine reduce anxiety?
While doxylamine succinate is primarily known for its sedating effects and use as a sleep aid, it can also have mild anxiolytic (anti-anxiety) properties. Additionally, its muscle-relaxing products can contribute to a sense of relaxation and sleepiness. However, it is not a first-line treatment for anxiety, and other medications designed explicitly for anxiety management may be more appropriate.
What is the brand name of doxylamine?
One of the well-known brand names of doxylamine is "Unisom." The active component in Unisom, a popular over-the-counter sleep medication, is doxylamine succinate. It is employed to alleviate sleep issues and, momentarily, to improve sleep.
What happens if I miss a dose of doxylamine/Pyridoxine?
Doxylamine/pyridoxine doses should be taken as soon as you recall unless it is almost time for the next dose. To make up for a missing dose, keep the dose the same.
What happens if I take too much doxylamine/Pyridoxine?
Taking too much doxylamine/pyridoxine can lead to an overdose, which may cause symptoms such as severe drowsiness, confusion, rapid heart rate, hallucinations, and even seizures.
This is the best app..You ask anything and the doctors answer you within minutes, i love it

-Phindile Mkhatshwa


It is a good app, it can be helpful with pictures and be very detailed.

-brooke snow


Wow, these people are such a blessing. Dey give accurate answered to questions asked. Its really too good

-Okiti Stephanie


Impressive work !! Connecting to a doctor was so quick. I am really impressed.

-ASIF Khan


Doctor was really great, fast at responding very helpful

-Chelsey


Chat with them the doctor that I chat with very helpful and answer all my questions I recommend to anyone

-edith bien aime


The best patient doctors that understand and give you useful information ..I'm really thankful.

-Lesego Thejane


Very informative and very detailed in explanations.Also pleasant and courteous.I would recommend to anyone.

-Stephanie Brown


Very helpful, very polite and answers every question in a well mannered way.

-kulwinder gill


I really rate this website a lot, you people don't stick and and im sure you try your best to take swift actions for your patients.

-Elijah Mark


Talk to online doctors now and get medical advice, online prescriptions, and referrals within minutes. On-demand healthcare services at your fingertips.