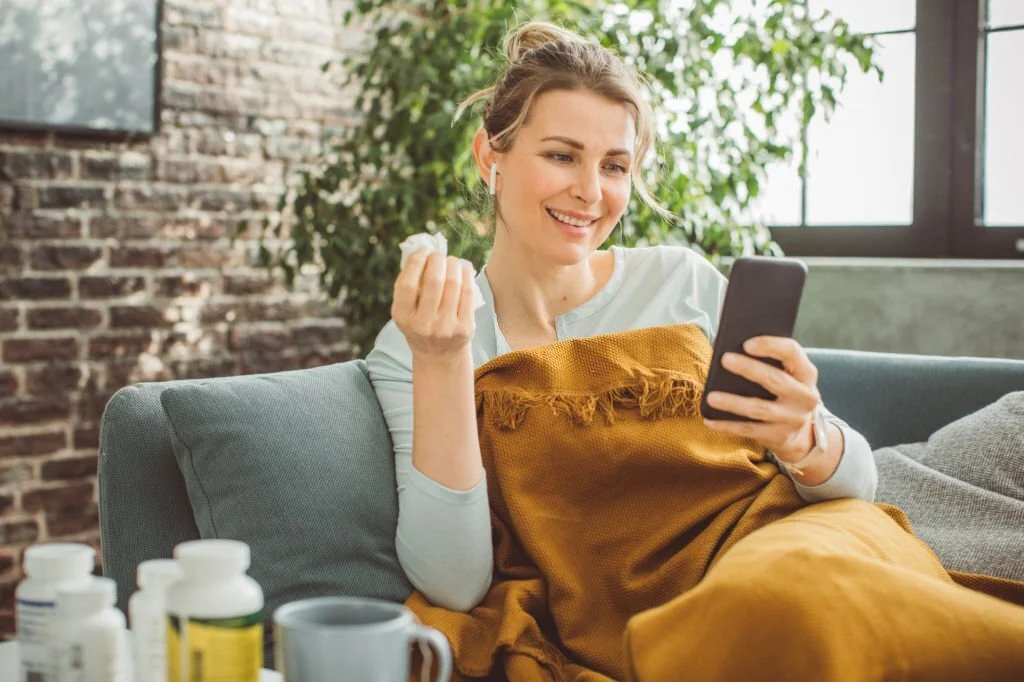 Get a Benzoyl Peroxide prescription online
You can get a Benzoyl Peroxide prescription online to treat mild to moderate acne.
Getting a Benzoyl Peroxide online is very straightforward; you can connect with a doctor anytime via Your Doctors Online. However, please note that the Benzoyl Peroxide cream/wash prescription will only be provided online after consultation with the doctor and if the treatment is suitable and safe for you.
Request Benzoyl Peroxide prescription online
Get an online prescription for Benzoyl Peroxide in three easy steps.
Download our app, register and tell us about your medical issue to get started.
Dermatology
Anemia
STD
UTI
Skin
Covid
Connect with a board-certified doctor. You can chat, send pictures and videos.
Hi I'm Dr. Nicole. How may I help you?
Hi, Dr. Nicole, I am suffering from mild acne. Can I get a prescription, please?

Our online doctors can help you with your medical issues and give you prescriptions.
Benzoyl peroxide 2.5% Adapalene 0.1% Once daily for 12 weeks
Send Prescription
What is Benzoyl Peroxide?
Benzoyl Peroxide is a standard topical treatment categorized as an antibacterial and keratolytic agent under the pharmacological family known as peroxides. The primary use for it is in the management of acne. By entering the skin and releasing oxygen, benzoyl peroxide works as a therapeutic agent by reducing the amount of bacteria that cause acne, clearing up pores, and encouraging the removal of dead skin cells. It is frequently sold over the counter in various formulations, such as lotions, gels, creams, and washes. These many forms allow people to select the one that best suits their unique skincare requirements and acne severity.
Important information about Benzoyl Peroxide
Common side effects of Benzoyl Peroxide include dry skin, peeling or red skin and burning or stinging (skin irritation).

Serious side effects of Benzoyl Peroxide can include swollen skin and blisters on the skin.
FAQs about Benzoyl Peroxide prescription online
How often should I use Benzoyl Peroxide?
Benzoyl peroxide gel or face wash is often used once or twice daily. Use it before bed once a day if you have sensitive skin. Try using less benzoyl peroxide if your skin flakes or gets dry. Apply it once a day or every two days until your skin adjusts.
Can you be allergic to Benzoyl Peroxide?
Benzoyl peroxide allergies are very rare. Benzoyl peroxide allergies can result in hives, breathing difficulties, lips, tongue, or throat swelling, and itching. An allergic response may be a severe medical emergency that must be treated immediately.
How to treat Benzoyl Peroxide rash?
If you suspect an allergic reaction to benzoyl peroxide, cease use and implement home treatments like cold compresses or an oatmeal bath for itching and hives. Nonprescription hydrocortisone cream or antihistamines can provide relief, but if symptoms persist after seven days.
What is the strongest Benzoyl Peroxide you can buy?
Benzoyl Peroxide Gel with the highest potency is ZAPZYT Acne Treatment Gel. Dermatologists advise using the same maximum strength composition, a water-based gel containing 10% benzoyl peroxide.
When to stop using Benzoyl Peroxide?
It would help to stop Benzoyl Peroxide when your acne is treated effectively and you no longer experience breakouts. It's also a good idea to discontinue if you develop significant skin irritation or allergic reactions.
Why does Benzoyl Peroxide make acne worse?
Benzoyl Peroxide can initially worsen acne due to a "purging" effect. It helps bring underlying acne lesions to the surface, causing a temporary increase in breakouts. This process is a normal part of the skin's adjustment to treatment and is usually followed by improved skin clarity with continued use.
Who should not use Benzoyl Peroxide?
Benzoyl peroxide is unsuitable if you ever had an allergic reaction to benzoyl peroxide. Also, do not use this medication on damaged or broken skin and sensitive or easily irritated skin.
This is the best app..You ask anything and the doctors answer you within minutes, i love it

-Phindile Mkhatshwa


It is a good app, it can be helpful with pictures and be very detailed.

-brooke snow


Wow, these people are such a blessing. Dey give accurate answered to questions asked. Its really too good

-Okiti Stephanie


Impressive work !! Connecting to a doctor was so quick. I am really impressed.

-ASIF Khan


Doctor was really great, fast at responding very helpful

-Chelsey


Chat with them the doctor that I chat with very helpful and answer all my questions I recommend to anyone

-edith bien aime


The best patient doctors that understand and give you useful information ..I'm really thankful.

-Lesego Thejane


Very informative and very detailed in explanations.Also pleasant and courteous.I would recommend to anyone.

-Stephanie Brown


Very helpful, very polite and answers every question in a well mannered way.

-kulwinder gill


I really rate this website a lot, you people don't stick and and im sure you try your best to take swift actions for your patients.

-Elijah Mark


Talk to online doctors now and get medical advice, online prescriptions, and referrals within minutes. On-demand healthcare services at your fingertips.