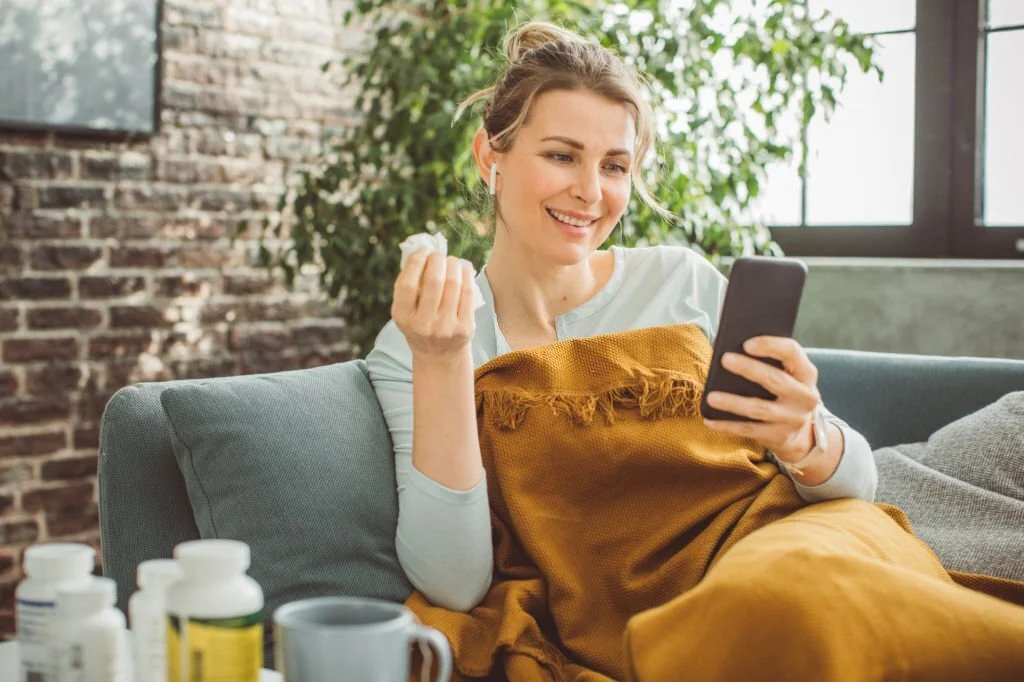 Get a prescription for Relpax refill online
You can get a Relpax (Eletriptan) refill to prevent or treat migraine headaches.
Getting a Relpax (Eletriptan) refill online is very straightforward; you can connect with a doctor at any time and place of your choice at Your Doctors Online. However, please note that a Relpax online will only be refilled after consultation with the doctor and if the treatment is suitable and safe for you.
Request Relpax prescription refill
Get a prescription refill for Relpax online in three easy steps.
Download our app, register and tell us about your medical issue to get started.
Migraine
Anemia
STD
UTI
Skin
Covid
Connect with a board-certified doctor. You can chat, send pictures and videos.
Hi I'm Dr. Nicole. How may I help you?
Hi Dr Nicole, I have migraine headaches frequently. Can I get a refill of my medication, please?

Our online doctors can help you with your medical issues and give you prescriptions.
Relpax ( Eletriptan) 20 mg single dose for 3 days.

If symptoms return or persist, may repeat dose after ≥2 hours

Maximum: 40 mg per 24 hours
Send Prescription
Relpax is a medication classified as a triptan, a class of drugs commonly used to treat migraines and cluster headaches.
Its mechanism of action involves constricting blood vessels in the brain and reducing inflammation, which helps alleviate the throbbing pain associated with migraines. Relpax is available by prescription only, and it comes in oral tablet form, typically in strengths of 20mg and 40mg, allowing patients to choose the appropriate dosage based on their condition and doctor's recommendations.
Important information about Relpax
Common side effects of Relpax include a slight headache (not a migraine), tingling or numbness, nausea, upset stomach, stomach discomfort or cramps, weakness, tiredness, dizziness, or pressure or heavy feeling anywhere in the body. They can include dry mouth or flushing (warmth, redness, or tingling under the skin).

Serious side effects of Relpax include hives, breathing issues, throat or face swelling, fever, sore throat, burning eyes, skin pain, a rash that is red or purple blisters and peels, chest pain, fluttering in the chest, slow or rapid heartbeats, lightheadedness, swelling, quick weight gain, and shortness of breath.
FAQs about Relpax prescription refill
Do I need a prescription for Relpax?
Yes, you need a prescription for Relpax. It is unavailable over the counter and requires a healthcare provider's authorization.
What is the brand name of Relpax?
The brand name of Relpax is "Relpax" itself. Relpax is the trade name for the medication that contains the active ingredient eletriptan and is used to treat migraines.
What are the alternatives for Relpax?
How many relpax can I take in 24 hours?
Adults should take 20 or 40 milligrams (mg) in one dose for migraine headaches if the migraine returns after being eased, a second dose should be given at least two hours after the first one. You should consume at most 80 mg in a single day.
How long does Relpax stay in your system?
The half-life of Relpax (eletriptan) is approximately 4 hours. It typically takes about five half-lives for a medication to be mostly eliminated from the body. So, Relpax may stay in your system for around 20 hours before it is mostly cleared.
How many relpax can you take in a week?
The recommended maximum dosage of Relpax (eletriptan) for most individuals is 40mg in 24 hours. It is generally advised not to exceed 80mg in 24 hours. It is often limited to 2 doses in 24 hours, with at least 2 hours between doses. The total number of Relpax tablets you can take in a week should be discussed with your doctor.
Can you get high off Relpax?
No, Relpax (eletriptan) is not known to produce a "high" or euphoric effect. It is not considered a recreational or psychoactive drug. Relpax is only prescribed for the specific purpose of treating migraines.
No, Relpax (eletriptan) is not a narcotic. It belongs to a class of medications called triptans, which treat migraines and cluster headaches by constricting blood vessels in the brain. Triptans work differently from narcotics, which are opioids that act on the central nervous system to relieve pain and can be habit-forming.
How long does eletriptan take to work?
Relpax's primary ingredient, eletriptan, usually begins to take effect between 30 minutes and two hours after taking it. The time it takes for someone to start feeling better can differ from person to person and may also depend on the severity of their migraine and how they react to the medicine.
Is Relpax a blood thinner?
No, Relpax (eletriptan) is not a blood thinner. It is a medication used to treat migraines by constricting blood vessels in the brain and reducing inflammation. Blood thinners, also known as anticoagulants, are a different class of drugs used to prevent or treat conditions related to abnormal blood clotting. Relpax does not have the exact mechanism of action as blood thinners.
In rare instances, a stroke may be a side effect of relpax. You are more likely to experience this adverse effect if you have previously experienced a stroke.
Is Relpax bad for kidneys?
Relpax (eletriptan) is primarily metabolized in the liver, and there is limited evidence to suggest that it may have a minor impact on kidney function. However, it's generally considered safe for individuals with normal kidney function.
Who should not take eletriptan?
If you have ever experienced cardiac disease, coronary artery disease, blood flow issues, Wolff-Parkinson-White syndrome, uncontrolled high blood pressure, severe liver disease, a heart attack, a stroke, or if your headache seems to be different from your typical migraine headaches, you should avoid using eletriptan.
Is aspirin better than triptan for migraines?
Like eletriptan (Relpax), Triptans are designed to target migraine symptoms and are generally more practical for many people. Aspirin may be considered a milder, over-the-counter option for mild migraines, but it may not provide the same level of relief as triptans for moderate to severe migraines.
What not to take with Relpax?
Sibutramine shouldn't be taken with Relpax since there could be a significant interaction. Nefazodone, azole antifungals, antibiotics, and protease inhibitors, which disrupt the liver enzymes that remove eletriptan from your body, should not be used within 72 hours of taking Relpax.
This is the best app..You ask anything and the doctors answer you within minutes, i love it

-Phindile Mkhatshwa


It is a good app, it can be helpful with pictures and be very detailed.

-brooke snow


Wow, these people are such a blessing. Dey give accurate answered to questions asked. Its really too good

-Okiti Stephanie


Impressive work !! Connecting to a doctor was so quick. I am really impressed.

-ASIF Khan


Doctor was really great, fast at responding very helpful

-Chelsey


Chat with them the doctor that I chat with very helpful and answer all my questions I recommend to anyone

-edith bien aime


The best patient doctors that understand and give you useful information ..I'm really thankful.

-Lesego Thejane


Very informative and very detailed in explanations.Also pleasant and courteous.I would recommend to anyone.

-Stephanie Brown


Very helpful, very polite and answers every question in a well mannered way.

-kulwinder gill


I really rate this website a lot, you people don't stick and and im sure you try your best to take swift actions for your patients.

-Elijah Mark


Talk to online doctors now and get medical advice, online prescriptions, and referrals within minutes. On-demand healthcare services at your fingertips.