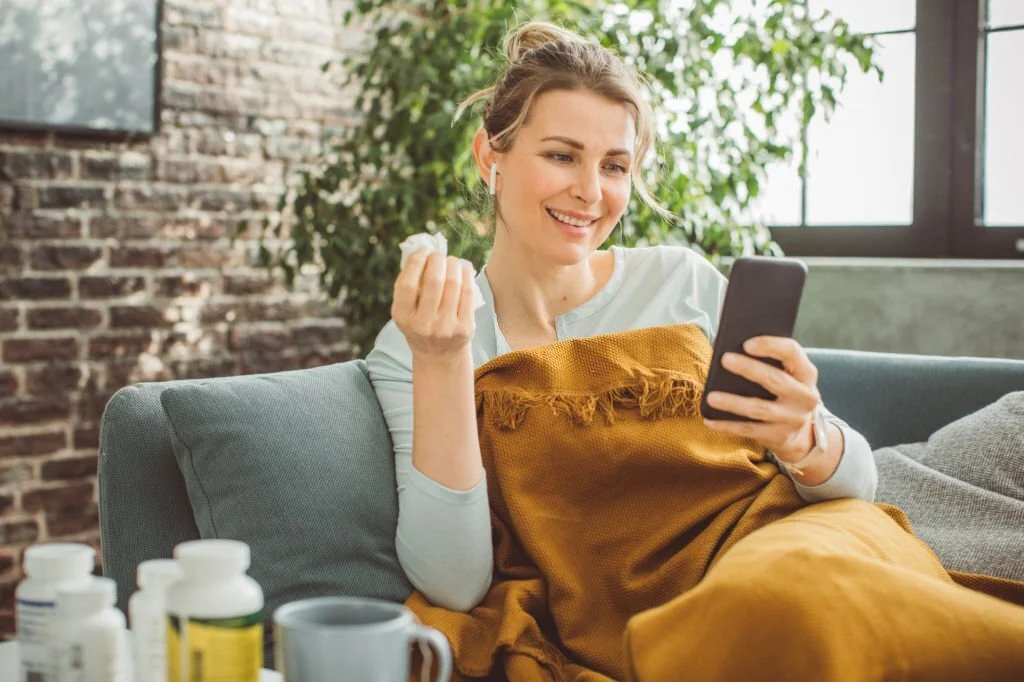 Get a Prescription for Yaz Online
Yaz birth control pills are combined pills commonly used to prevent pregnancy. They are sometimes prescribed to treat acne, regulate the menstrual cycle, manage symptoms related to premenstrual dysphoric disorder and treat ovarian cysts. You can get Yaz birth control online by connecting with our doctor at Your Doctors Online. Our online doctor will ask you to describe your symptoms to determine the best course of treatment. Then, if deemed necessary, they may recommend a follow-up appointment or a visit to a clinic.
However, please note that a Yaz birth control prescription will be provided after consultation with the doctor and if the treatment is considered suitable and safe for you.
How to Connect with an Online Doctor?
Connect with a health care professional online in 3 easy steps.
Download our app, register and tell us about your medical issue to get started.
Birth Control
Anemia
STD
UTI
Skin
Covid
Connect with a board-certified doctor. You can chat, send pictures and videos.
Hi I'm dr. Nicole. How may I help you?
Hi Dr Nicole, I have been using Yaz contraceptive pill. Can I get a refill for that?

Our online doctors can help you with your medical issues and give you prescriptions.
Ethinyl estradiol and drospirenone, 3 mg of drospirenone and 0.02 mg of ethinyl estradiol.

Take one tablet orally after a meal for 28 days, at the same time.
Send Prescription
What is Yaz and How to Take It
Yaz birth control pill is available only by prescription. It is the brand name, and Yaz ingredients include drospirenone and ethinyl estradiol. Yaz is very similar to the birth control Yasmin, but it contains a different estradiol dosage.
These combination pills contain a combination of female sex hormones that work by preventing the process of ovulation. In order to effectively prevent pregnancy, Yaz birth control pills must be taken once daily at the same time.
Yaz birth control ingredients include drospirenone and ethinyl estradiol, which are synthetic hormones. Yaz birth control is a popular option amongst women who want to take oral contraceptives to prevent pregnancy. The Yaz dosage depends on the person's health condition and can vary from person to person. These hormones work in conjunction, preventing the release of the egg from the ovaries, hence stopping ovulation from occurring. Yaz oral contraceptives cause changes to the cervical mucus and uterine lining; both stop the sperm from reaching the egg, preventing fertilization and implantation.
Yaz is available as a 28-day pack. There are 24 active tablets that contain 3 mg of drospirenone and 0.02 mg of ethinyl estradiol. The 4 inactive or placebo tablets contain no hormones. While taking the last 4 pills, you should get your period. Yaz should be taken orally at the same time each day. The pill can be taken with or without food. You should take the pills in the correct order and make your way towards the end of the pack. Take one pill as instructed; you can start your new pack after taking your last inactive pill. If you miss your period, inform your doctor. If you have just started your very first pack, you will require an additional non-hormonal form of birth control, such as using condoms for the first week. Birth control has low failure rates if taken correctly. 
Important Information About Yaz
Getting Yaz birth control over the counter is not an option due to certain risks associated while taking the medication:
Common side effects of Yaz medication include headache, spotting, breast tenderness and nausea. 

Before starting the medication, inform your doctor if you have a history of hypertension, diabetes, stroke, migraines, blood clots, blood clotting disorders, breast cancer, high cholesterol, depression, gallbladder problems, heart problems, jaundice during pregnancy, kidney disease, liver disease, thyroid problems etc.

In comparison to other oral contraceptives, since Yaz contains the hormone (drospirenone), that may slightly increase the chance of developing blood clots. But this rarely occurs in a healthy person.

It is essential to know that most women experience light bleeding or spotting while taking the pills. They may also experience nausea or an upset stomach while taking the first few packs. Missing pills can lead to spotting as well.

If you throw up within 4 hours after you take your pill, you should follow the instructions on what to do if you miss the pills. Moreover, if you have diarrhoea and or are on certain antibiotics, the effectiveness of Yaz may be reduced. 

If you are not regular when it comes to taking pills or this form of birth control does not work for you, talk to your doctor about other methods, including Depo, patches and implants.

Yaz has several drug interactions. The main interactions are with drugs prescribed to treat hepatitis C or HIV, phenytoin, carbamazepine, rifampin, topiramate, barbiturates, bosentan, felbamate, griseofulvin, oxcarbazepine and St. John's wort.

It is considered safe to drink while on Yaz. Although, as with other forms of birth control pills, Yaz does not offer protection against sexually transmitted infections.

Yaz can increase the amount of potassium in your blood. Therefore potassium level monitoring may be required if you are on potassium-sparing drugs as well as Yaz. 
Does Yaz cause weight gain?
Yaz is less likely to cause weight gain than other birth control pills as it contains drospirenone, which does not typically lead to water retention.
How can I refill my Yaz prescription?
You will need to consult with our online doctor at Your Doctors Online to refill your Yaz online prescription. After discussing our medical concerns and history, our online doctor can send your prescription to your preferred local pharmacy.
Yaz contains drospirenone which increases the risk of blood clots. It was on the market, widely marketed for ten years before people were notified of this risk. That is why it was recalled.
What are the main side effects of Yaz?
The main side effects of Yaz include: Headache, Reduced sex drive, Spotting between periods, Breast tenderness, Nausea, and Increased risk of blood clots.
Is Yaz a good contraceptive pill?
Yaz is a combination birth control pill considered 99% effective if taken correctly. The pill contains drospirenone and ethinyl estradiol hormone that helps to prevent pregnancy.
What happens if I miss a dose of Yaz?
If you miss one active pill, you must take two pills the next day. Then, continue taking one pill for the remaining pack. If you miss more than two pills, you must use a backup form of birth control, such as condoms, for at least 7 days after the missed pills.
What happens if I take too much Yaz?
If you've taken extra pills, you may experience vaginal bleeding. If that is the case, please report to your doctor or seek medical help.
This is the best app..You ask anything and the doctors answer you within minutes, i love it

-Phindile Mkhatshwa


It is a good app, it can be helpful with pictures and be very detailed.

-brooke snow


Wow, these people are such a blessing. Dey give accurate answered to questions asked. Its really too good

-Okiti Stephanie


Impressive work !! Connecting to a doctor was so quick. I am really impressed.

-ASIF Khan


Doctor was really great, fast at responding very helpful

-Chelsey


Chat with them the doctor that I chat with very helpful and answer all my questions I recommend to anyone

-edith bien aime


The best patient doctors that understand and give you useful information ..I'm really thankful.

-Lesego Thejane


Very informative and very detailed in explanations.Also pleasant and courteous.I would recommend to anyone.

-Stephanie Brown


Very helpful, very polite and answers every question in a well mannered way.

-kulwinder gill


I really rate this website a lot, you people don't stick and and im sure you try your best to take swift actions for your patients.

-Elijah Mark


Talk to online doctors now and get medical advice, online prescriptions, and referrals within minutes. On-demand healthcare services at your fingertips.