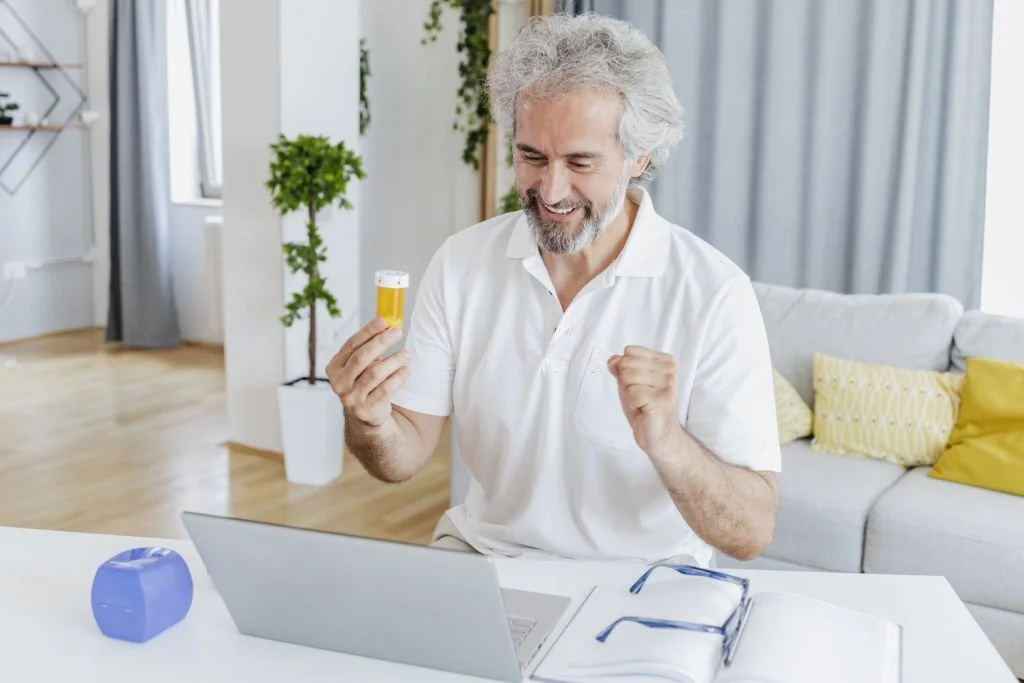 Get Hydroxyzine Prescription Refill Online
Hydroxyzine is usually prescribed to treat allergies, hives, and anxiety. It is also prescribed to induce sedation before and after surgery. If you have any such conditions, you can get a Hydroxyzine refill online. Getting a Hydroxyzine prescription online is very straightforward; you can connect with a doctor at any time and place of your choice at Your Doctors Online. Our online doctor will ask you to describe your symptoms to determine the best course of treatment. Then, if deemed necessary, they may recommend a follow-up appointment or a visit to a clinic.
However, please note that Hydroxyzine online will only be provided after consultation with the doctor and if the treatment is considered suitable and safe for you.
How to Connect with an Online Doctor?
Connect with a health care professional online in 3 easy steps.
Download our app, register and tell us about your medical issue to get started.
Allergy
Anemia
STD
UTI
Skin
Covid
Connect with a board-certified doctor. You can chat, send pictures and videos.
Hi I'm dr. Nicole. How may I help you?
Dr. Nicole, I have been experiencing palpitations and shortness of breath due to anxiety. Can you help?

Our online doctors can help you with your medical issues and give you prescriptions.
Hydroxyzine 25 mg tablet
take one tablet three times a day for 10 days.
Send Prescription
What is Hydroxyzine and How to Take It
Hydroxyzine is a prescription drug for treating allergy symptoms, sedation, and treating anxiety. It is available as Visatril, Hyzine, Atarax, Rezine, and Vistazine. Some other medications from this class include Meclizine, Clemastine, Chlorpheniramine, and Diphenhydramine. Based on its safety profile, Hydroxyzine is used as a first line of treatment for allergy and itching and for causing sedation before and after the surgery.
Hydroxyzine reduces itching and sneezing by blocking histamine H1 receptors. It induces calmness by interacting with brain histaminergic receptors. It may reduce anxiety by affecting serotonin and GABA neurotransmitters. Its sedative effects vary, so avoid alert activities while taking it. Proper dosing and use require medical advice.
Hydroxyzine is initially prescribed in a dosage of 25 mg for itching and 50 mg for anxiety, which may be later increased to 100 mg orally. It is vital to take Hydroxyzine online prescription as directed. The tablet should be taken once daily, with or without food.
Important Information About Hydroxyzine
Hydroxyzine is an antihistamine medication. You will require a prescription for Hydroxyzine. Here are some essential points that you should know about this drug:
Some side effects of Hydroxyzine Hydrochloride may include dizziness, drowsiness, constipation, headache, dry mouth, and skin rash.
Hydroxyzine may interact with various other medications, such as benzodiazepines, alcohol, and other sedatives, and may amplifythe effects of Hydroxyzine Hydrochloride. If you take any herbal or over-the-counter medication, share them with your healthcare professional before taking Hydroxyzine.

In some cases, Hydroxyzine can cause adverse effects such as fainting, hives, fast heartbeat, chest pain, difficulty swallowing, and skin rash. It may also lead to some digestive system problems.

 
Why doesn't Hydroxyzine work for me?
Hydroxyzine may not work due to incorrect dosage, individual response, and interactions with other medications like opioids, sedatives, alcohol, and benzodiazepines.
Can Hydroxyzine HCL 25 mg get you high?
If overused, Hydroxyzine Hydrochloride can get you high or euphoria. However, it is not recommended for recreational use as it can cause addiction or severe health defects.
How long does it take for Hydroxyzine Hydrochloride to work?
Hydroxyzine Hydrochloride takes 15-60 minutes for the onset of action and remains effective for 4-6 hours.
What is the typical starting dose of Hydroxyzine Hydrochloride?
The starting dose for Hydroxyzine Hydrochloride depends upon the indication for use. It is prescribed a 50mg initial dose for anxiety and sedation, while it is prescribed at an initial dose of 25 mg for itching.
Can I get Hydroxyzine hydrochloride over the counter?
Hydroxyzine Hydrochloride is a prescription medicine that is not available for use over the counter based on its safety profile.
This is the best app..You ask anything and the doctors answer you within minutes, i love it

-Phindile Mkhatshwa


It is a good app, it can be helpful with pictures and be very detailed.

-brooke snow


Wow, these people are such a blessing. Dey give accurate answered to questions asked. Its really too good

-Okiti Stephanie


Impressive work !! Connecting to a doctor was so quick. I am really impressed.

-ASIF Khan


Doctor was really great, fast at responding very helpful

-Chelsey


Chat with them the doctor that I chat with very helpful and answer all my questions I recommend to anyone

-edith bien aime


The best patient doctors that understand and give you useful information ..I'm really thankful.

-Lesego Thejane


Very informative and very detailed in explanations.Also pleasant and courteous.I would recommend to anyone.

-Stephanie Brown


Very helpful, very polite and answers every question in a well mannered way.

-kulwinder gill


I really rate this website a lot, you people don't stick and and im sure you try your best to take swift actions for your patients.

-Elijah Mark


Talk to online doctors now and get medical advice, online prescriptions, and referrals within minutes. On-demand healthcare services at your fingertips.