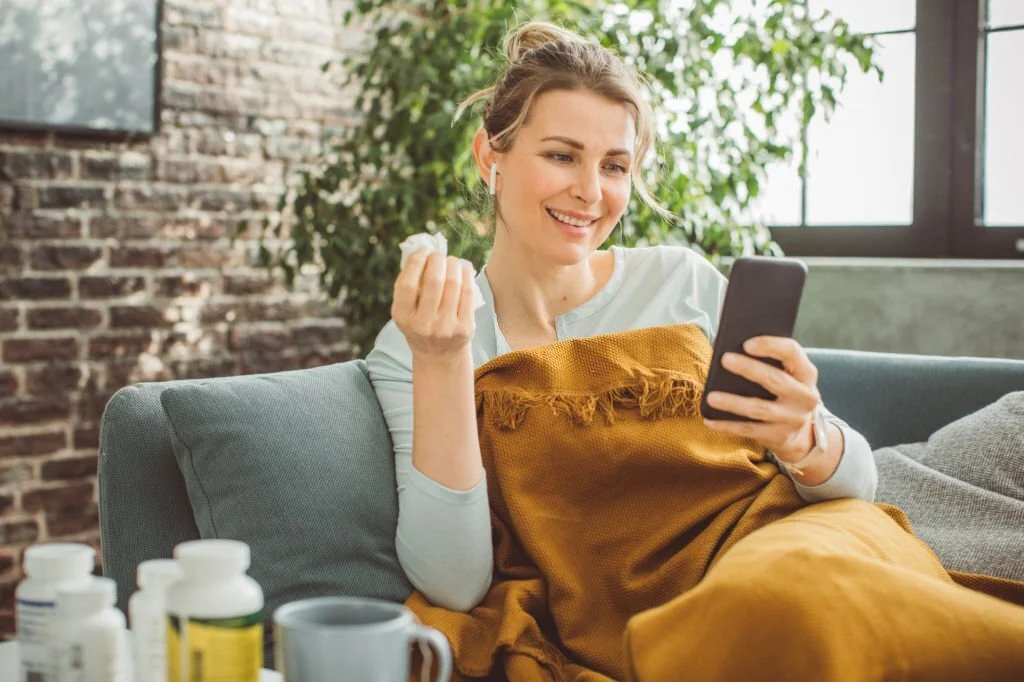 Get a Prescription for clindamycin online
You can get a Clindamycin prescription online to treat bacterial infections like dental infections.
Getting Clindamycin online is very straightforward; you can connect with a doctor at any time and place of your choice at Your Doctors Online. However, please note that Clindamycin online will only be provided after consultation with the doctor and if the treatment is suitable and safe for you.
Request Clindamycin prescription online
Get online prescription for Clindamycin in three easy steps.
Download our app, register and tell us about your medical issue to get started.
Dental Infection
Anemia
STD
UTI
Skin
Covid
Connect with a board-certified doctor. You can chat, send pictures and videos.
Hi I'm Dr. Nicole. How may I help you?
Hi Dr. Nicole, I have a toothache, gum swelling and a fever. Can I get antibiotics for my tooth infection, please?

Our online doctors can help you with your medical issues and give you prescriptions.
Clindamycin 300mg, one tablet thrice a day for 7 days with a full glass of water.

Ibuprofen 400mg, one tablet thrice a day for 7 days.
Send Prescription
Clindamycin is prescribed for bacterial infections such as skin infections, tooth abscesses, ear infections, strep throat, pneumonia, bacterial vaginosis, acne vulgaris, endocarditis or joint infections.
Clindamycin is a lincosamide antibiotic that stops bacterial protein synthesis, suppressing bacterial growth and treating infections. It's effective against Gram-positive, some Gram-negative, and certain anaerobic bacteria.
Clindamycin is available in various forms, including oral capsules, tablets, liquid formulations, topical creams, and gels for skin infections.
Important information about Clindamycin
Common side effects of Clindamycin include gastrointestinal symptoms like diarrhea, nausea, and abdominal pain.

Serious side effects may include severe allergic reactions, such as rash, itching, swelling, or difficulty breathing; severe diarrhea or colitis (inflammation of the colon) that can be life-threatening; and the potential for Clostridium difficile-associated diarrhea, which can also be severe. 

 
FAQs about Clindamycin prescription online
Can you get Clindamycin over the counter?
You cannot get Clindamycin without a prescription, as Clindamycin over the counter is unavailable. Antibiotics are prescribed for bacterial infections and must be prescribed under a physician's supervision.
Is Clindamycin good for a bladder infection or UTI?
Clindamycin is not the standard treatment of a bladder infection but can be prescribed if an individual is allergic to the first-line treatment for a UTI. UTI clindamycin dosage depends on the severity of the infection.
How much clindamycin should I take for a UTI?
Clindamycin is often 150 to 300 mg every six hours for UTIs in adults and 300 to 450 mg every six hours for more severe infections. The precise amount, however, may change based on how nasty the condition is.
How is clindamycin 300 mg prescribed?
Clindamycin 300 mg is typically prescribed orally as a capsule or tablet. The usual recommended dosage is one 300 mg dose every 6 to 8 hours.
Who should not take Clindamycin?
Suppose you are allergic to Clindamycin or have any medical conditions such as asthma, crohn's disease, ulcerative colitis, liver disease, allergic skin reactions or a severe drug reaction to aspirin. In that case, it is best to inform your doctor.
How quickly does clindamycin work?
Clindamycin typically starts to work within a few hours to a 1-2 days, depending on the treated condition. It may provide noticeable improvement in symptoms such as bacterial infections or acne within the first few days of treatment. Still, the entire course of antibiotics should be completed as prescribed for maximum effectiveness.
How many days does clindamycin stay in your system?
Clindamycin has a half-life of about 2.4 to 2.9 hours in adults with normal kidney function. It typically takes about five half-lives for a medication to be mostly eliminated from the body so that clindamycin can stay in your system for approximately 12 to 15 hours after the last dose. However, kidney function and individual variability can affect this duration.
Can you drink alcohol while taking Clindamycin?
There isn't any restriction on consuming alcohol while taking Clindamycin because there isn't any direct interaction. However, if you are already feeling queasy, alcohol may worsen your existing symptoms.
Is clindamycin more powerful than amoxicillin?
Clindamycin and amoxicillin are antibiotics effective against different infections. In a seven-day course, Clindamycin matches amoxicillin/metronidazole's efficacy. Clindamycin excels against specific bacteria, like anaerobic strains and some amoxicillin-resistant types. It's a valuable choice in periodontal therapy.
Yes, Clindamycin has an expiry date. Clindamycin has a shelf life of one year; after that, the medication may be ineffective for consumption. Do not save pills from your past illness and use them later on.
What bacteria does clindamycin not treat?
There is no action of clindamycin against enterococci. Clindamycin has anti-Staphylococcus aureus action, like cloxacillin and cephalosporins. Compared to most cephalosporins, it covers a broader range of anaerobic bacteria but seldom affects Gram-negative aerobic bacteria.
This is the best app..You ask anything and the doctors answer you within minutes, i love it

-Phindile Mkhatshwa


It is a good app, it can be helpful with pictures and be very detailed.

-brooke snow


Wow, these people are such a blessing. Dey give accurate answered to questions asked. Its really too good

-Okiti Stephanie


Impressive work !! Connecting to a doctor was so quick. I am really impressed.

-ASIF Khan


Doctor was really great, fast at responding very helpful

-Chelsey


Chat with them the doctor that I chat with very helpful and answer all my questions I recommend to anyone

-edith bien aime


The best patient doctors that understand and give you useful information ..I'm really thankful.

-Lesego Thejane


Very informative and very detailed in explanations.Also pleasant and courteous.I would recommend to anyone.

-Stephanie Brown


Very helpful, very polite and answers every question in a well mannered way.

-kulwinder gill


I really rate this website a lot, you people don't stick and and im sure you try your best to take swift actions for your patients.

-Elijah Mark


Talk to online doctors now and get medical advice, online prescriptions, and referrals within minutes. On-demand healthcare services at your fingertips.