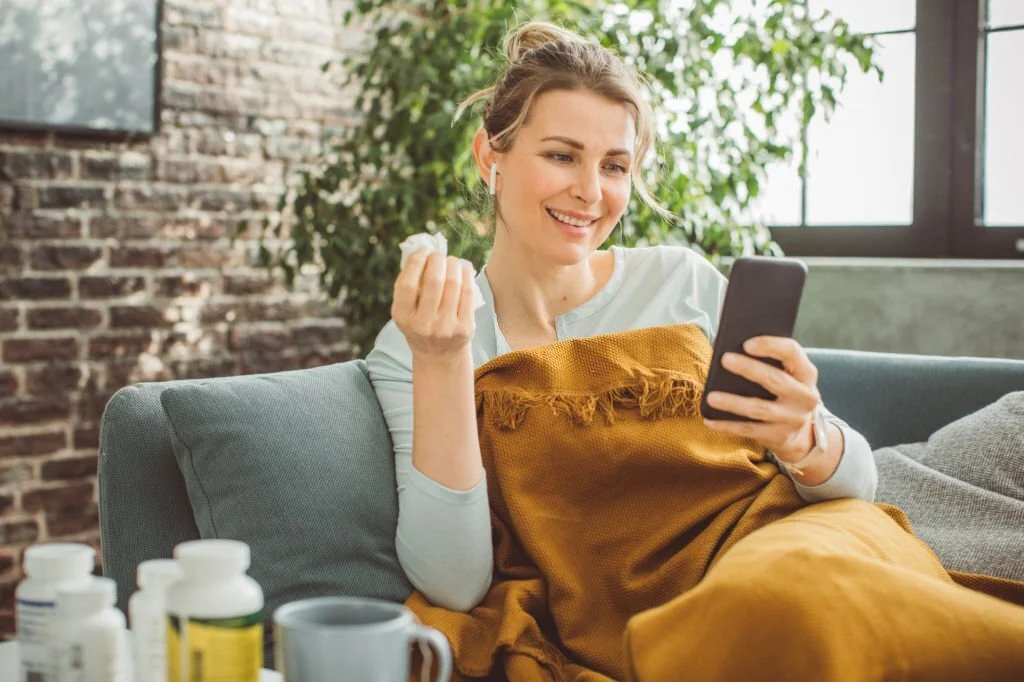 Get a Prescription Refill For Furosemide (Lasix) Online
Furosemide is typically prescribed to treat edema or fluid retention due to kidney, heart, or liver disease. It is also prescribed alone or in combination for high blood pressure. If you have any such conditions due to persistent high blood pressure, you can get a Furosemide refill online. Getting a Furosemide prescription online is very straightforward; you can connect with a doctor at any time and place of your choice at Your Doctors Online. Our online doctor will ask you to describe your symptoms to determine the best course of treatment. Then, if deemed necessary, they may recommend a follow-up appointment or a visit to a clinic. However, please note that Furosemide online will only be provided after consultation with the doctor and if the treatment is considered suitable and safe for you.
How to Connect with an Online Doctor?
Connect with a health care professional online in 3 easy steps.
Download our app, register and tell us about your medical issue to get started.
Edema
Anemia
STD
UTI
Skin
Covid
Connect with a board-certified doctor. You can chat, send pictures and videos.
Hi I'm dr. Nicole. How may I help you?
Dr. Nicole, I have long-term kidney disease and high blood pressure and have developed leg swelling. Can you help? 

Our online doctors can help you with your medical issues and give you prescriptions.
Furosemide (Lasix) 40 mg tablet.

Take one tablet once daily for one month. 
Send Prescription
What is Furosemide (Lasix) and How to Take It
Furosemide is a prescription drug for treating high blood pressure and edema (water retention). It is available as Lasix, Furoscix, Diaqua-2, and Lo-Aqua in the market. Furosemide belongs to the diuretic class of medication. Some other medications from this class include Bumetanide, Torsemide, and Ethacrynic acid. Due to its safety profile and effectiveness, Furosemide is not a first-line of treatment in patients with hypertension; however, it is often prescribed for edema due to congestive heart failure, liver cirrhosis, and renal disease.
Furosemide is a loop diuretic that is indicated for use in edema and high blood pressure. Furosemide acts on the kidney to increase the excretion of urine from the kidney by inhibiting electrolyte reabsorption. This helps in excessive water loss from the body leading to less fluid retention in edema. Low levels of water content and lower electrolyte reabsorption also help manage low blood pressure.
Furosemide is an oral medication available as a tablet, in varying dosage strengths of 20 mg, 40 mg, and 500 mg It is vital to take Furosemide online prescription as directed.
The tablet can be taken once a day, with or without food, as it does not upset the stomach if taken with food. Take it in the morning time and avoid taking it in the later hours of the day as it may cause sleep disturbances.
Important Information About Furosemide (Lasix)
Furosemide over the counter is not an option. You will require a prescription for Furosemide.
Here are some essential points that you should know about this drug:
Some side effects include increased thirst, confusion, muscle cramps, weakness, sensitivity to sunlight, headache, nausea, diarrhea, weakness, and blurred vision.
Furosemide may interact with various medications, such as Desmopressin, Lithium, Salicylates, NSAIDs, Indomethacin, and Ethacrynic acid. If you are taking any other medicines, share them with your healthcare professional before taking Furosemide.
If you are experiencing these side effects from Furosemide, like severe dizziness, confusion, muscle cramps, unusual tiredness, or signs of dehydration, talk to your doctor immediately.
FAQs About Furosemide (Lasix)
What happens when you stop taking Lasix?
When you stop taking Furosemide abruptly, it may lead to the imbalance of electrolyte and fluid retention. The electrolyte imbalance can be a severe condition due to an increase in sodium (hypernatremia) and a decrease in potassium (hypokalemia). This can worsen your existing symptoms of the disease.
Should you drink a lot of water when taking Lasix?
It is generally recommended to avoid drinking a lot of water while taking Furosemide. It is recommended to take enough water so you may not feel thirsty or dehydratedfor a long duration, especially when exercising and in hot weather.
How can I refill my Lasix prescription?
To get a refill for your Lasix prescription online, you can connect with one of our qualified doctors at Your Doctors Online.
Who should not take Lasix?
It is recommended that patients with anuria and known hypersensitivity to Furosemide, dehydration, and electrolyte imbalance should not take Furosemide. While others with liver and kidney disease, diabetes, and gout should use it cautiously and as directed by the healthcare provider. Avoid taking Lasix when pregnant or breastfeeding unless otherwise advised by your doctor.
What happens if I miss a dose of Lasix?
If the time for your next dose is not near, take the missed dose of Lasix as soon as you remember; otherwise, skip your dose and take the next dose in time. Never double the dose to compensate for the missed dose.
What happens if I take too much Lasix?
Too much Lasix intake can lead to severe dehydration due to excessive water and fluid loss from the body. You may also experience severe electrolyte imbalances, which can prove life-threatening if not treated immediately due to excessive intake of Furosemide.
What is a stronger diuretic than furosemide?
Torsemide is considered a more potent diuretic as compared to Furosemide because Torsemide has better bioavailability, longer half-life, and higher potency. However, Furosemide is still the most commonly used diuretic for fluid retention due to kidney, liver, and heart disease.
How long does it take for Furosemide to reduce swelling?
Furosemide starts working immediately after intake within 1hr, but you may observe improvement in your symptoms within a few weeks after you begin taking Furosemide regularly.
This is the best app..You ask anything and the doctors answer you within minutes, i love it

-Phindile Mkhatshwa


It is a good app, it can be helpful with pictures and be very detailed.

-brooke snow


Wow, these people are such a blessing. Dey give accurate answered to questions asked. Its really too good

-Okiti Stephanie


Impressive work !! Connecting to a doctor was so quick. I am really impressed.

-ASIF Khan


Doctor was really great, fast at responding very helpful

-Chelsey


Chat with them the doctor that I chat with very helpful and answer all my questions I recommend to anyone

-edith bien aime


The best patient doctors that understand and give you useful information ..I'm really thankful.

-Lesego Thejane


Very informative and very detailed in explanations.Also pleasant and courteous.I would recommend to anyone.

-Stephanie Brown


Very helpful, very polite and answers every question in a well mannered way.

-kulwinder gill


I really rate this website a lot, you people don't stick and and im sure you try your best to take swift actions for your patients.

-Elijah Mark


Talk to online doctors now and get medical advice, online prescriptions, and referrals within minutes. On-demand healthcare services at your fingertips.