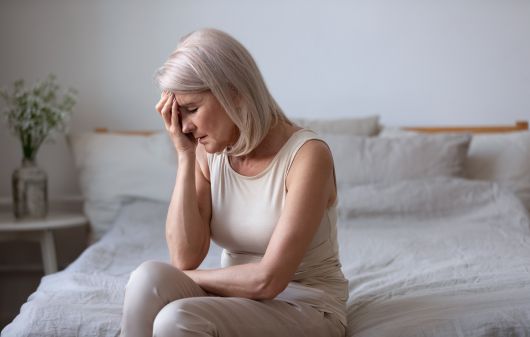 Get Menopause Treatment Online
Menopause happens at 40-50s for women and marks the end of menstrual cycles. If a woman doesn't experience a menstrual cycle for over 12 months, she has reached menopause age. It's a transitional period for a woman, often accompanied by emotional changes, hot flashes, and sleep disruption due to hormonal changes.
How to connect with doctor for menopause
Connect with an online doctor and get a prescription online.
Download our app, register and tell us about your medical issue to get started.
Menopause
Sexual Health
Obesity
STD
UTI
Allergies
Connect with a board-certified doctor. You can chat, send pictures and videos.
Hi I'm dr. Nicole. How may I help you?
Hi Dr. Nicole, I experience hot flashes and night sweats. Can you please help?

Our online doctors can help you with your medical issues and give you prescriptions.
NuvaRing (Vaginal ring)

Insert into your vagina and remove after three weeks. 

Wait for a week and insert a new ring.
Send Prescription
Following are the symptoms a woman experience when undergoing menopause: 
Urinary urgency

Difficulty sleeping

Hot flashes

Night sweats and/or cold flashes

Vaginal dryness

Breast tenderness

Changes in menstrual periods

Racing heart, headaches, joint, and muscle aches

Emotional changes

Changes in libido, difficulty concentrating, memory lapses

Weight gain, hair loss, or thinning

Dry skin, dry eyes, or dry mouth
Menopausal symptoms are caused by changes in hormone levels, particularly a decrease in estrogen production as part of the natural aging process. Menopause is defined as a year without menstrual bleeding and occurs when the ovaries produce less estrogen, leading to irregular periods and eventually their cessation. The physical changes experienced during menopause are the body's adaptations to the shifting hormone levels during perimenopause, menopause, and postmenopause stages.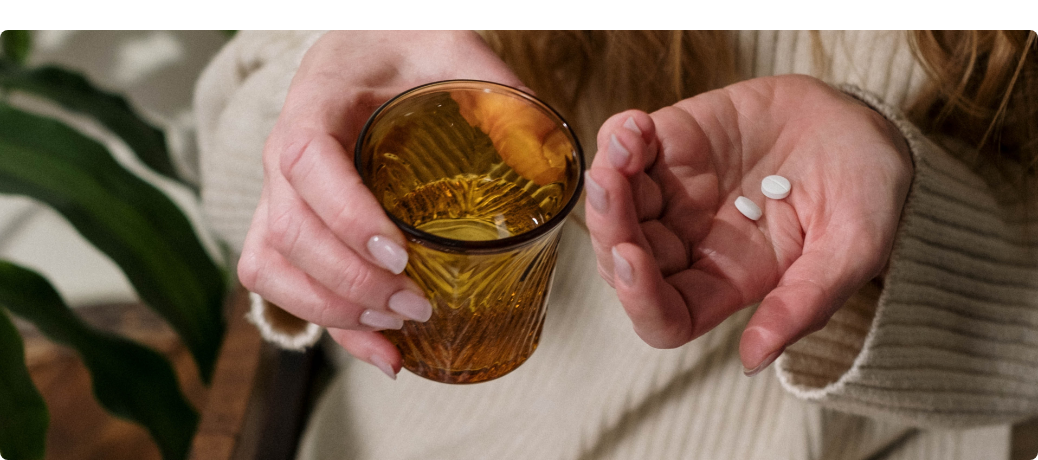 Which menopause treatment is best?
The best treatment for menopause is hormone replacement therapy, also called estrogen therapy. It helps ease the symptoms of menopause, including hot flashes. Your doctor will prescribe dosage and duration per your medical history for effective results.
How to treat hot flashes in the elderly?
Certain lifestyle changes and hormone therapy work best for treating hot flashes in the elderly. For example, avoiding wearing too tight clothes, abstain from alcoholic beverages and spicy foods that increase heat in the body. Moreover, if you smoke, avoid smoking and maintain a healthy weight. Due to the slow working of ovaries and the production of hormones like estrogen and progesterone during menopause also reduces, and such changes cause symptoms like hot flashes as the body undergoes variations. It can be treated with constant hormonal levels via hormonal therapy.
Is there a cure for menopause?
Menopause is a natural phenomenon, and there is no cure for it. However, good practices and hormonal therapies can treat and manage the symptoms. These treatments are focused on improving the body's health and avoiding any chronic conditions due to this transition.
How to relieve menopause symptoms permanently?
Menopause symptoms can be relieved permanently by taking certain measures like avoiding smoking, getting enough sleep, managing your dressing in layers to ease hot flashes, eating a balanced diet, reducing weight by regular exercise, and practicing meditation or other relaxation techniques.
What is the treatment for menopause mood swings?
The most common symptom of menopause is mood swings which can be treated with hormone replacement therapy, prescription drugs for mood stabilization, and low-dosage antidepressants (SSRIs).
What is the hormone treatment for perimenopause?
During perimenopause, hormone treatment helps restore the hormones that your body has stopped making. Therefore, perimenopause is the phase that is around menopause and causes menopause-like symptoms such as hot flashes, night sweats, and mood swings. You not only need estrogen to treat these symptoms, but it also helps prevent bone loss. That's how perimenopause hormonal treatment can help.
What are seven natural menopause treatments that work?
The most effective natural treatments for menopause include staying hydrated, avoiding triggering foods like caffeinated and alcoholic beverages and spicy foods, instead eating a lot of vegetables and fruits, reducing the uptake of processed foods and sugars, exercising regularly to maintain a healthy weight, and eating a diet rich in calcium, vitamin D, and phytoestrogens. Flaxseed, tofu, barley, lentils, soybean, and sesame can help enrich your body with phytoestrogens. Other options include acupuncture, stress management, yoga, and hypnosis.
What is the over-the-counter menopause treatment?
Over-the-counter supplements help restore the vitamins and hormones your body lacks. However, it is advisable only to take any of those as per your doctor's advice. Unregulated intake of supplements can do more harm than good.
What is the non-hormonal treatment for menopause?
The non-hormonal therapy option for menopause is selective serotonin receptor inhibitors (SSRIs) which are low-potency anti-depressants prescribed in certain cases for hot flashes. It is up to your doctor, who can only prescribe this option depending on your medical history and your family's.
How do you get rid of weight gain during menopause?
Weight gain can occur more speedily during menopause due to hormonal changes your body is undergoing. However, you can cope by maintaining a healthy diet, regular physical activity, considering hormonal therapy, and managing your habits.
This is the best app..You ask anything and the doctors answer you within minutes, i love it

-Phindile Mkhatshwa


It is a good app, it can be helpful with pictures and be very detailed.

-brooke snow


Wow, these people are such a blessing. Dey give accurate answered to questions asked. Its really too good

-Okiti Stephanie


Impressive work !! Connecting to a doctor was so quick. I am really impressed.

-ASIF Khan


Doctor was really great, fast at responding very helpful

-Chelsey


Chat with them the doctor that I chat with very helpful and answer all my questions I recommend to anyone

-edith bien aime


The best patient doctors that understand and give you useful information ..I'm really thankful.

-Lesego Thejane


Very informative and very detailed in explanations.Also pleasant and courteous.I would recommend to anyone.

-Stephanie Brown


Very helpful, very polite and answers every question in a well mannered way.

-kulwinder gill


I really rate this website a lot, you people don't stick and and im sure you try your best to take swift actions for your patients.

-Elijah Mark


Talk to online doctors now and get medical advice, online prescriptions, refills, lab requisitions and medical notes within minutes. On-demand healthcare services at your fingertips.