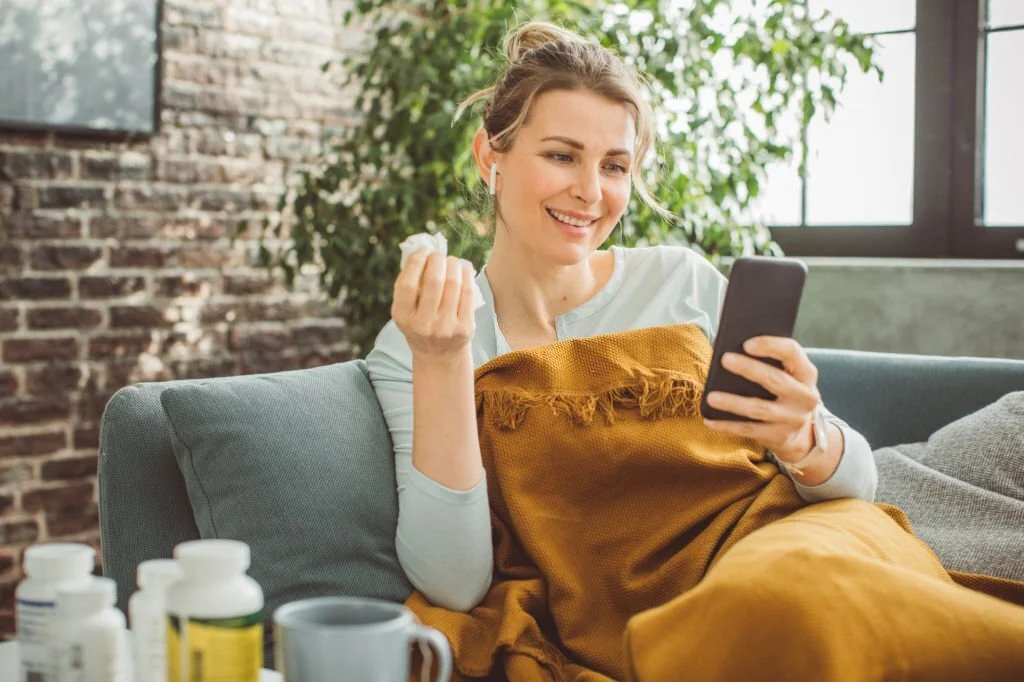 Get a Eflornithine (Vaniqa) Prescription Online
Eflornithine is a medication that is prescribed for the treatment of unwanted facial hair in women. You can get an Eflornithine (Vaniqa) prescription online. Obtaining an Eflornithine (Vaniqa) prescription online is simple; visit Your Doctors Online and connect with a doctor anytime, anywhere. Our online doctor will ask about your symptoms to determine treatment. They may suggest a follow-up appointment or clinic visit.
Please know that an Eflornithine (Vaniqa) refill will only be provided after a consultation with our doctor and if the medication is appropriate and safe.
How to Connect with an Online Doctor?
Connect with a health care professional online in 3 easy steps.
Download our app, register and tell us about your medical issue to get started.
Facial Hair
Anemia
STD
UTI
Skin
Covid
Connect with a board-certified doctor. You can chat, send pictures and videos.
Hi I'm dr. Nicole. How may I help you?
Dr. Nicole, I have unwanted facial hair around my chin and cheek area; Can you prescribe me something that can help?

Our online doctors can help you with your medical issues and give you prescriptions.
Eflornithine (Vaniqa) cream,

Apply twice daily on the affected area.
Send Prescription
What is Eflornithine (Vaniqa) and How to Take It
Eflornithine belongs to a class of medications called hair growth inhibitors. It is used as a topical cream for suppressing the growth of unwanted hair. Spironolactone, Carospir, and Florexa also help combat hirsutism.
The mechanism of action of this product involves the inhibition of the enzyme ornithine decarboxylase (ODC). Polyamines, needed for cell division and hair growth, are synthesized by ornithine decarboxylase. ODC inhibition slows cell proliferation and hair growth. Eflornithine (Vaniqa) modulates polyamine levels, cell division, and hair growth by targeting ODC. This product's molecular mechanism of action may help regulate hair growth.
Eflornithine is a topical cream applied twice daily to reduce hair growth. Before applying the topical cream, make sure to wash and dry your hands. To properly treat the affected area, gently apply a thin layer of cream. Remember to wash your hands again after applying the cream. Please refrain from washing the application area for a minimum of four hours after applying the cream. Continue your usual hair removal method while using the cream.
Important Information About Eflornithine (Vaniqa)
Eflornithine (Vaniqa) is a drug prescribed to reduce unwanted hair growth. You will require a prescription for Eflornithine (Vaniqa). Here are some essential points that you should know about this drug:

Side effects of Eflornithine include stinging, skin redness, rash, burning, acne, and swollen patches that are reddened and contain buried hair. If any of these side effects persist, seek immediate medical help.

Serious side effects may include unusual bleeding, sore throat, bruising, fever, unusual tiredness, weakness, hearing loss, diarrhea, convulsions, and nausea. If you notice any of these severe side effects, contact your healthcare provider.




There are no known drug interactions of Eflornithine products. However, consider it important to inform your doctor or healthcare provider about the complete list of medications you are taking.
FAQs About Eflornithine (Vaniqa)
How fast does eflornithine work?
The Eflornithine may take 4-8 weeks for facial hirsutism if applied consistently following the correct application method. It is recommended to continue using the cream as recommended by your healthcare provider.
Is there a substitute for Vaniqa?
There are some alternatives to Eflornithine that you can count on if you can not use Eflornithine for some reason. These include Eflora cream, Flutamide, Leuprolide, and Spironolactone.
Does Vaniqa make hair thinner?
No, Vaniqa does not help to thin the hair shaft in appearance, but it helps in reducing hair growth in the area of application over time. Vaniqa also does not remove hair; instead, it only helps reduce hair growth.
How much Vaniqa should I apply?
Only apply a thin layer of Vaniqa cream on the area of excessive hair growth. Do not wash the area of the application for four hours after applying.
How long can I use eflornithine (Vaniqa)?
Apply Vaniqa cream to the area affected two times daily at a difference of eight hours. Typically, it is recommended to undergo treatment for a duration of 4-8 weeks in order to observe noticeable improvement.
What happened I forgot to apply eflornithine (Vaniqa)?
It is essential to apply the dose at the same time every day, but if you forget it, apply it as soon as you remember it. Do not apply double doses if your next dose is just around.
Are there any side effects of using eflornithine (Vaniqa) for too long?
Yes, side effects can heighten if you use Eflornithine longer than recommended. It can cause acne, stinging, burning, redness, and tingling. If you want personalized guidance about using Eflornithine, you can download Your Doctors Online app, describe your problem, and get a prescription refill.
This is the best app..You ask anything and the doctors answer you within minutes, i love it

-Phindile Mkhatshwa


It is a good app, it can be helpful with pictures and be very detailed.

-brooke snow


Wow, these people are such a blessing. Dey give accurate answered to questions asked. Its really too good

-Okiti Stephanie


Impressive work !! Connecting to a doctor was so quick. I am really impressed.

-ASIF Khan


Doctor was really great, fast at responding very helpful

-Chelsey


Chat with them the doctor that I chat with very helpful and answer all my questions I recommend to anyone

-edith bien aime


The best patient doctors that understand and give you useful information ..I'm really thankful.

-Lesego Thejane


Very informative and very detailed in explanations.Also pleasant and courteous.I would recommend to anyone.

-Stephanie Brown


Very helpful, very polite and answers every question in a well mannered way.

-kulwinder gill


I really rate this website a lot, you people don't stick and and im sure you try your best to take swift actions for your patients.

-Elijah Mark


Talk to online doctors now and get medical advice, online prescriptions, and referrals within minutes. On-demand healthcare services at your fingertips.