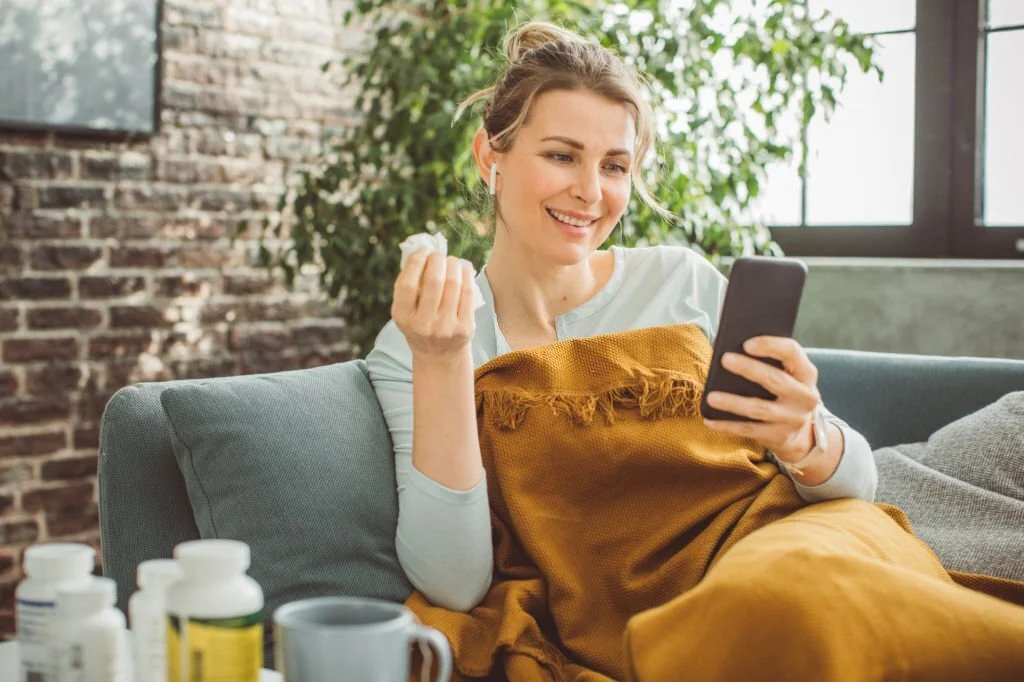 Get a prescription refill for Propranolol (Inderal) online
You can get a Propranolol prescription refill online for hypertension and lowering heart rate.
Getting Propanolol online is very straightforward; you can connect with a doctor anytime, anywhere via Your Doctors Online. However, please note that Propanolol online will only be provided after consultation with the doctor and if the treatment is suitable and safe for you.
Request Propanolol prescription refill
Get a prescription refill for Propanolol online in three easy steps.
Download our app, register and tell us about your medical issue to get started.
High Blood Pressure
Anemia
STD
UTI

Infections

Covid
Connect with a board-certified doctor. You can chat, send pictures and videos.
Hi I'm Dr. Nicole. How may I help you?
Dr. Nicole, I'm using Propranolol for hypertension, but I ran out of it today. Can I get a refill?

Our online doctors can help you with your medical issues and give you prescriptions.
Propranolol tablet: take 40 mg orally twice a day.




Send Prescription
What is Propranolol (Inderal)?
Propranolol is a non-selective beta-blocker, meaning it acts on all beta receptors. It is marketed under Inderal, Hemangeol, Inderal LA, Inderal XL, InnoPran XL, Avlocardyl, Deralin, Indoblok, and Anaprilin. Other drugs from the Propanolol class include Carvedilol, Timolol, Atenolol, and Labetolol.
Propranolol blocks the action of epinephrine and norepinephrine at both β1 and β2 adrenergic receptors to treat high blood pressure. This helps treat high blood pressure, migraines, angina, heart failure, and arrhythmias.
Important information about Propranolol (Inderal)
Following are some points that you need to know about Propanolol:

Common side effects of Propranolol include dizziness, gastrointestinal symptoms, cold extremities, mood changes, hair loss, dry eyes, headaches, sleep disturbances, and fatigue.



Serious side effects of Propranolol include breathing problems, allergic reactions, swelling, sudden weight gain, changes in blood sugar, hallucinations, trouble sleeping, or nightmares. If you notice these severe side effects, seek medical help immediately.
FAQs about Propranolol prescription refill
Do I need a prescription for Propanolol?
Yes, you can obtain Propanolol on prescription only. You will require a prescription from a registered healthcare practitioner for that.
How can I refill my Propranolol prescription online?
To get a Propanolol refill online, you can download our app and discuss your condition with one of our qualified doctors. Our doctor will prescribe you a refill if he finds it necessary.
How long does Propranolol (Inderal) last?
Propranolol half-life is 4 hours for most patients in case of hypertension. If you stop taking Propanolol, it will take you about 1-2 days to clear from your system. Please contact your healthcare professional online if you have any other questions about Propanolol.
How quickly does Propranolol work for anxiety?
Typically, it takes about 30-60 minutes for Propanolol to start working for anxiety. A dose of Propanolol should give 3-4 hours of relief from performance anxiety.
Does Propranolol cause weight gain?
Yes, Propanolol can cause weight gain. Some beta-blockers like Propanolol can cause weight gain of up to 5 pounds.
How to take Propranolol (Inderal)?
Take Propranolol as directed by your doctor. It comes in various forms like tablets, capsules, liquids, or chewable tablets. You should take it once daily, with or without food, and stick to the exact timing every day for proper dosing. The dosing may vary for different conditions.
When should you not take Inderal?
If you have an allergy to any of its ingredients, if you have low blood pressure, breathing problems, pregnancy, breastfeeding, or diabetes, you should avoid taking Inderal. Your doctor may decide to prescribe it if the benefits sometimes outweigh the risks. So always follow exactly as prescribed by your doctor.
What is the best time to take Inderal (Propanolol)?
Taking Inderal for hypertension 3-4 times daily is best to take it at night or before meals. The dosing for propranolol varies for different conditions, so following your doctor's recommendation is important.
Can Inderal (Propanolol) be taken every day?
Yes, Inderal can be taken daily, but you should take it as your doctor advises. You can contact one of our doctors online if you have any other questions.
What are the contraindications of Propanolol?
Propranolol has severe interactions with other medications for high blood pressure, heart rhythm medications, anti-depressants, alcohol, migraine medications, calcium channel blockers, and blood thinners. So, always discuss your medications with your healthcare provider before taking Propanolol.
What are the alternatives for Inderal (Propanolol)?
Topiramate, Amitriptyline, Nurtec ODT, OnabotulinumtoxinA, and Atogepant are some alternatives to Propanolol. You can discuss with your doctor about your condition for an appropriate prescription.
What is the typical starting dose of propranolol?
The typical starting dose of Propanolol is 60mg/day. If you have any concerns or questions regarding Porpanolol, you should discuss them with a doctor online by downloading our app and describing your issue.
This is the best app..You ask anything and the doctors answer you within minutes, i love it

-Phindile Mkhatshwa


It is a good app, it can be helpful with pictures and be very detailed.

-brooke snow


Wow, these people are such a blessing. Dey give accurate answered to questions asked. Its really too good

-Okiti Stephanie


Impressive work !! Connecting to a doctor was so quick. I am really impressed.

-ASIF Khan


Doctor was really great, fast at responding very helpful

-Chelsey


Chat with them the doctor that I chat with very helpful and answer all my questions I recommend to anyone

-edith bien aime


The best patient doctors that understand and give you useful information ..I'm really thankful.

-Lesego Thejane


Very informative and very detailed in explanations.Also pleasant and courteous.I would recommend to anyone.

-Stephanie Brown


Very helpful, very polite and answers every question in a well mannered way.

-kulwinder gill


I really rate this website a lot, you people don't stick and and im sure you try your best to take swift actions for your patients.

-Elijah Mark


Talk to online doctors now and get medical advice, online prescriptions, and referrals within minutes. On-demand healthcare services at your fingertips.