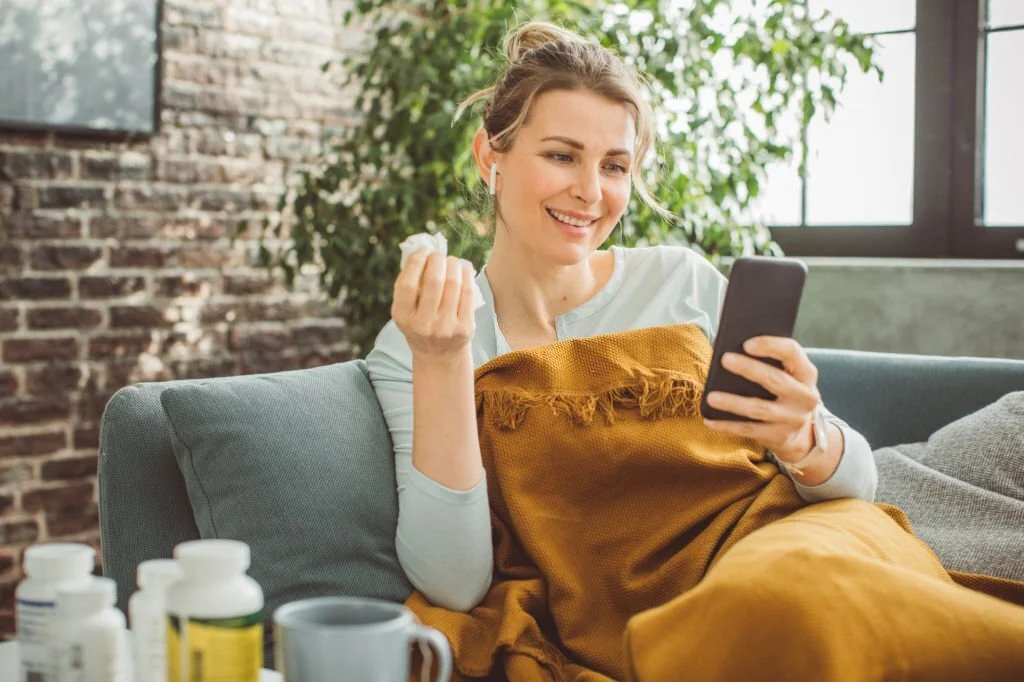 Get a Prescription for Latanoprost Online
Latanoprost is an ophthalmic medication primarily prescribed to lower intraocular pressure (IOP) in individuals with open-angle glaucoma and ocular hypertension, reducing the risk of vision loss. If you have these conditions, you can refill Latanoprost online. Obtaining a Latanoprost prescription online is simple; visit Your Doctors Online and connect with a doctor anytime, anywhere. Our online doctor will ask about your symptoms to determine treatment. They may suggest a follow-up appointment or clinic visit.
Please know that a Latanoprost refill will only be provided after a consultation with our doctor and if the medication is appropriate and safe.
How to Connect with an Online Doctor?
Connect with a health care professional online in 3 easy steps.
Download our app, register and tell us about your medical issue to get started.
Open-angle Glaucoma
Anemia
STD
UTI
Skin
Covid
Connect with a board-certified doctor. You can chat, send pictures and videos.
Hi I'm dr. Nicole. How may I help you?
Dr. Nicole, I have the blurry vision; I feel better after using Latanoprost. Can you give me a Latanoprost refill?

Our online doctors can help you with your medical issues and give you prescriptions.
Latanoprost one drop, once daily in the evening.
Send Prescription
What is Latanoprost and How to Take It
Latanoprost is an ophthalmic medication which belongs to the therapeutic class of prostaglandin analogs. It is commonly available under various brand names, including Xalatan. Latanoprost is typically available in the form of an ophthalmic solution (eye drops). Other medications in the same class of prostaglandin analogs used for managing intraocular pressure include bimatoprost (brand name: Lumigan) and travoprost (brand name: Travatan), among others.
Latanoprost increases the outflow of aqueous humor (the fluid within the eye), which reduces intraocular pressure. It does this by relaxing the blood vessels in the eye and enhancing fluid drainage from the eye, thereby decreasing pressure on the optic nerve.
Latanoprost is an ophthalmic solution applied directly to the eye(s) to lower the intraocular pressure, as instructed by your eye care professional. It is usually administered once daily in the evening. Latanoprost is a prescription medication, and the specific dosage and treatment plan should always be determined by a qualified healthcare provider.
Important Information About Latanoprost
Latanoprost is an ophthalmic medication. You will require a prescription for Latanoprost. Here are some essential points that you should know about this drug:

Common side effects of Latanoprost may include eye irritation, stinging or burning, redness of the eye, and changes in eyelash growth. If encountering severe or enduring adverse effects, it is advisable to seek medical assistance from a healthcare professional.




While uncommon, serious side effects may include allergic reactions, changes in iris color, and darkening of the eyelid skin. It is important to inform your healthcare provider if you encounter any of these severe adverse effects.

Latanoprost, when used for lowering intraocular pressure, typically has minimal systemic drug interactions. However, it's important to be cautious when using multiple eye drops simultaneously, as they can dilute each other's effectiveness.
Why use Latanoprost at night?
Latanoprost is often administered at night because applying it in the evening can be more effective in lowering intraocular pressure (IOP). The rationale behind using it at night is based on the circadian rhythm of IOP, which tends to be higher during the night and early morning hours.
Is Latanoprost over the counter?
No, Latanoprost is not accessible for purchase without a prescription, as it is unavailable over the counter (OTC). This medication is classified as a prescription drug, necessitating a valid prescription from a qualified healthcare professional, commonly an ophthalmologist or an optometrist, to obtain it.
How long is Latanoprost good for use after opening?
Latanoprost eye drops are typically good for use for approximately 6 to 8 weeks after the bottle is opened, assuming proper storage conditions. If you have concerns about the viability of Latanoprost eye drops, consult your healthcare provider or pharmacist for guidance.
How long does Latanoprost stay in your system?
Latanoprost has a relatively short half-life, which means it remains active in the body for a relatively brief period. This is why it is often administered as a once-daily evening dose to maintain consistent IOP reduction throughout the day and night. It's important to use Latanoprost as prescribed by your healthcare provider to achieve its intended therapeutic effects.
How to apply Latanoprost for eyelash growth?
The use of Latanoprost for eyelash growth is not an approved indication, and its off-label application for this purpose should only be undertaken with the oversight and guidance of a healthcare professional who can evaluate the potential risks and benefits. Furthermore, it is crucial to know about potential adverse reactions associated with using medications for off-label purposes.
How long can Latanoprost stay out of the fridge?
Latanoprost eye drops can indeed be stored at room temperature (below 25°C or 77°F) for up to 28 days after removal from the refrigerator, specifically after opening. However, for precise storage guidance and any concerns regarding Latanoprost, consulting a doctor or pharmacist is recommended to ensure proper handling and maintenance of the medication's effectiveness.
What is the typical starting dose of Latanoprost?
The recommended initial dosage for Latanoprost is a single drop administered in the affected eye(s) once daily during the evening, as directed by a healthcare professional. It's essential not to use more drops or alter the dosage without consulting your healthcare provider, as they will determine the most appropriate treatment plan for your specific condition.
What to avoid with Latanoprost?
You should avoid making direct contact between the tip of the eye dropper and any surfaces with Latanoprost. Remove contact lenses before applying Latanoprost and wait 15 minutes before reinserting them. Consult your healthcare provider before using any other eye drops simultaneously with Latanoprost to ensure they are compatible and won't interfere with each other's effectiveness.
What are the Latanoprost alternatives?
Alternatives to Latanoprost for lowering intraocular pressure may include other prostaglandin analogs like bimatoprost or travoprost, beta-blockers, alpha agonists, or carbonic anhydrase inhibitors, depending on individual patient factors and preferences.
This is the best app..You ask anything and the doctors answer you within minutes, i love it

-Phindile Mkhatshwa


It is a good app, it can be helpful with pictures and be very detailed.

-brooke snow


Wow, these people are such a blessing. Dey give accurate answered to questions asked. Its really too good

-Okiti Stephanie


Impressive work !! Connecting to a doctor was so quick. I am really impressed.

-ASIF Khan


Doctor was really great, fast at responding very helpful

-Chelsey


Chat with them the doctor that I chat with very helpful and answer all my questions I recommend to anyone

-edith bien aime


The best patient doctors that understand and give you useful information ..I'm really thankful.

-Lesego Thejane


Very informative and very detailed in explanations.Also pleasant and courteous.I would recommend to anyone.

-Stephanie Brown


Very helpful, very polite and answers every question in a well mannered way.

-kulwinder gill


I really rate this website a lot, you people don't stick and and im sure you try your best to take swift actions for your patients.

-Elijah Mark


Talk to online doctors now and get medical advice, online prescriptions, and referrals within minutes. On-demand healthcare services at your fingertips.