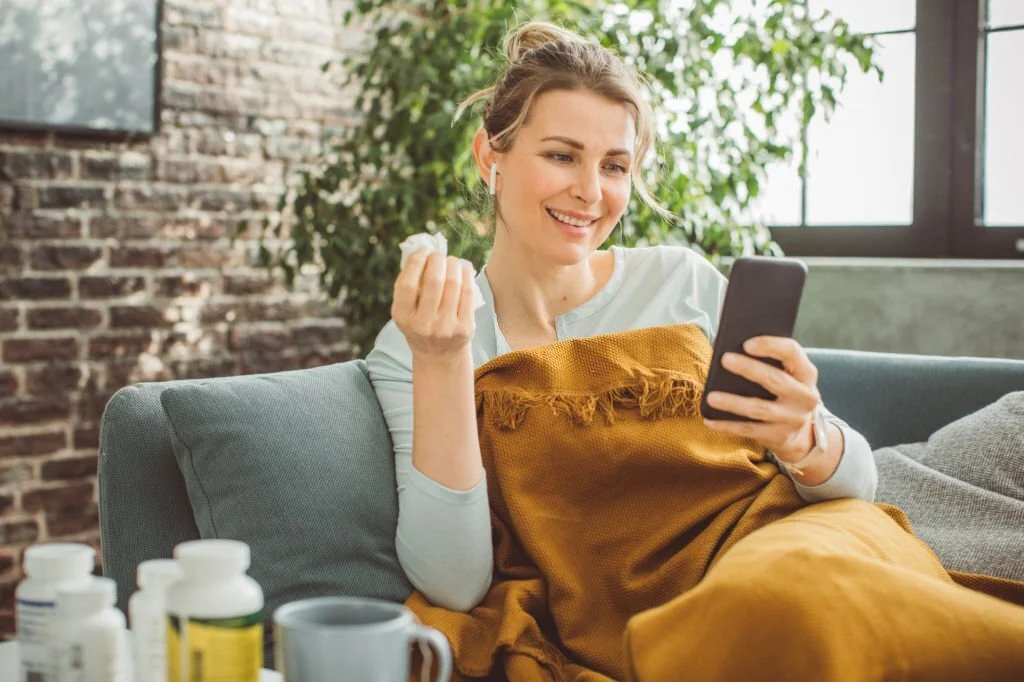 Get a Prescription for Omeprazole Online
Omeprazole is typically prescribed to manage acid reflux or Gerd,and to treat  Hpylori infections, duodenal or gastric ulcers. You can get an omeprazole prescription online by connecting with our doctor at Your Doctors Online. Our online doctor will ask you to describe your symptoms to determine the best course of treatment. Then, if deemed necessary, they may recommend a follow-up appointment or a visit to a clinic. However, please note that an online Omeprazole prescription will be provided after consultation with the doctor and if the treatment is considered suitable and safe for you.
How to Connect with an Online Doctor?
Connect with a health care professional online in 3 easy steps.
Download our app, register and tell us about your medical issue to get started.
Gastrointestinal Issues
Anemia
STD
UTI
Skin
Covid
Connect with a board-certified doctor. You can chat, send pictures and videos.
Hi I'm dr. Nicole. How may I help you?
Hi Dr Nicole, I have been experiencing heartburn that worsens after a meal. Can you prescribe something for relief? 

Our online doctors can help you with your medical issues and give you prescriptions.
Omeprazole/Losec Tablets

20mg, take 1 tablet orally

30 mins before breakfast for 7-14 days
Send Prescription
What is Omeprazole and How to Take It
Omeprazole belongs to type of drugs called proton pump inhibitors and are prescribed to manage GERD or acid reflux. Other kinds of drugs in this class include esomeprazole, pantoprazole and dexlansoprazole.
Omeprazole is classified under proton pump inhibitors. This medication reduces the production of acid in the stomach. Omeprazole pills block the process carried out by hydrogen potassium ATPase, limiting the amount of acid in the stomach. The reduction ensures that less acid will enter the esophagus and decreases the likelihood of discomfort. 
Omeprazole is generally available as Omeprazole 20 mg prescription as well as 10 mg and 40 mg delayed-release capsules. Omeprazole medication is prescribed as per the patient's need and condition. An omeprazole dose of 20 mg or prescription omeprazole of 40 mg can be taken more than once daily, usually 30 minutes before a meal. Another form is a delayed-release oral suspension. It takes about 1 hour for the medication to work after consumption. 
In order to manage GERD, 20 mg of Omeprazole a day for 4 weeks is the usual treatment protocol. In case of a duodenal stomach ulcer, 20 mg of Omeprazole for 4 weeks is the recommended dosage. 
Important Information About Omeprazole
If you are deciding whether to get Omeprazole online or Prilosec otc, you should be aware of the following:
Omeprazole prescription medication may lead to some undesirable side effects including abdominal pain, nausea, vomiting, headaches and diarrhoea. 

Omeprazole is known to increase the risk of bone fractures. 

There are several drug interactions with Omeprazole. Therefore, it should be taken with caution after consulting with a doctor. 

If you are allergic to Omeprazole or benzimidazoles, you should avoid taking this medication. 

Do not take Omeprazole and alcohol together.
Can I buy Omeprazole over the counter?
If you are confused between OTC Prilosec vs prescription Prilosec, Omeprazole is available as both Omeprazole OTC and Omeprazole prescription form. Some conditions require prescription for the medication specifically. You can get a prescription for Omeprazole 20 mg or Omeprazole 40 mg capsules online by consulting with an online doctor at Your Doctors online.
Are Prilosec and Omeprazole the same?
Prilosec is the brand name for Omeprazole and is available as both Prilosec OTC and prescription Prilosec.
Is prescription Omeprazole the same as over-the-counter?
Particular strengths or doses of Omeprazole are available only through a prescription. You will need a prescription from a licensed physician for that.
Can Omeprazole 20 mg get you high?
Omeprazole does not lead to hyperactivity or drowsiness.
Can Prilosec cause yeast infections?
Prilosec may cause candidiasis of the mouth, oesophagus or stomach. When taken with antibiotics, it can also increase the risk of developing vaginal yeast infections.
Can you drink alcohol with Omeprazole 20 mg?
Taking Omeprazole with alcohol can irritate the stomach lining further and worsen headaches and nausea.
Is there a non-prescription substitute for Omeprazole?
Prilosec and Nexium are available as over-the-counter (OTC) forms of Omeprazole used to treat acid reflux.
What is stronger than Omeprazole for GERD?
Prescription-strength PPI, including pantoprazole, esomeprazole, lansoprazole, rabeprazole and dexlansoprazole, are considered very effective in managing symptoms of GERD. H2 receptor blockers such as Ranitidine are another option for managing GERD.
What foods should you avoid when taking Omeprazole?
It is best to avoid alcohol and cranberry while taking Omeprazole.
Can Omeprazole cause acne?
A particular study found an increased occurrence of acne in females aged 60+, taking Omeprazole for several years. Although, no such direct correlation has been establishe, otherwise.
This is the best app..You ask anything and the doctors answer you within minutes, i love it

-Phindile Mkhatshwa


It is a good app, it can be helpful with pictures and be very detailed.

-brooke snow


Wow, these people are such a blessing. Dey give accurate answered to questions asked. Its really too good

-Okiti Stephanie


Impressive work !! Connecting to a doctor was so quick. I am really impressed.

-ASIF Khan


Doctor was really great, fast at responding very helpful

-Chelsey


Chat with them the doctor that I chat with very helpful and answer all my questions I recommend to anyone

-edith bien aime


The best patient doctors that understand and give you useful information ..I'm really thankful.

-Lesego Thejane


Very informative and very detailed in explanations.Also pleasant and courteous.I would recommend to anyone.

-Stephanie Brown


Very helpful, very polite and answers every question in a well mannered way.

-kulwinder gill


I really rate this website a lot, you people don't stick and and im sure you try your best to take swift actions for your patients.

-Elijah Mark


Talk to online doctors now and get medical advice, online prescriptions, and referrals within minutes. On-demand healthcare services at your fingertips.