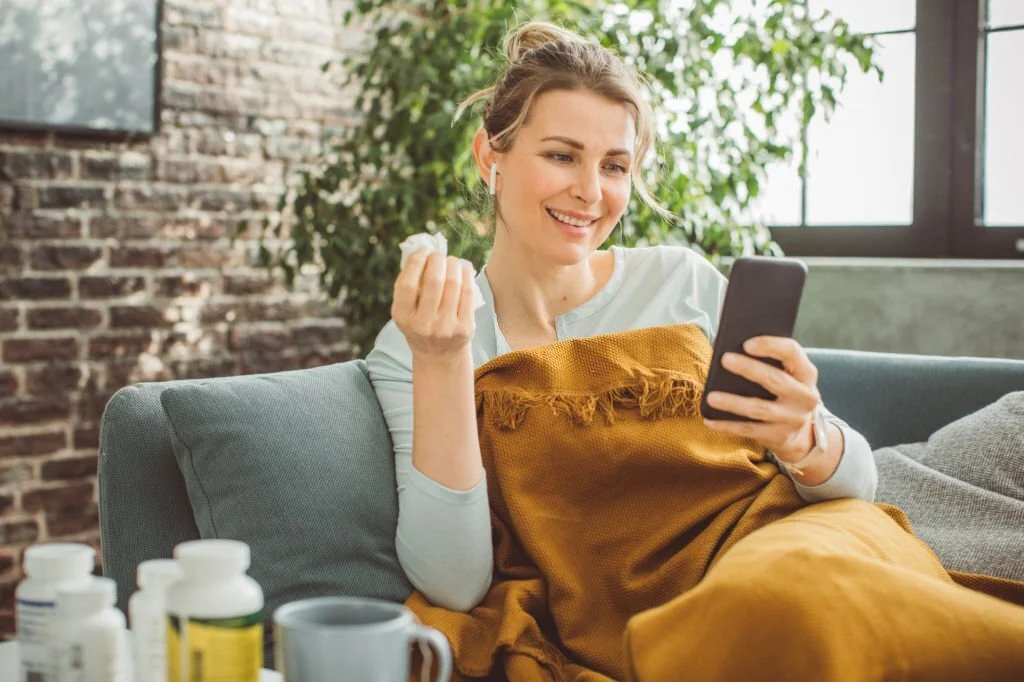 Get a prescription for Imiquimod online
You can get an Imiquimod prescription online to treat warts on the exterior of the genitals and rectum.
Getting Imiquimod online is very straightforward; you can connect with a doctor at any time and place of your choice at Your Doctors Online. However, please note that Imiquimod online will only be provided after consultation with the doctor and if the treatment is suitable and safe for you.
Request Imiquimod prescription online
Get an online prescription for Imiquimod in three easy steps.
Download our app, register and tell us about your medical issue to get started.
Skin

Anemia
STD
UTI
Skin
Covid
Connect with a board-certified doctor. You can chat, send pictures and videos.
Hi I'm Dr. Nicole. How may I help you?
Hi Dr. Nicole, I have warts near the genitals. Can I get some form of treatment, please?

Our online doctors can help you with your medical issues and give you prescriptions.
Imiquimod 3.75 %,  topical,

Once at night until there is total clearance of warts or for a maximum of 16 weeks
Send Prescription
Imiquimod belongs to a class of drugs called immune response modifiers. Imiquimod stimulates the body's immune system to produce natural substances that help fight off viruses and abnormal skin cells. When imiquimod is given to the area, immune cells are stimulated, triggering a local inflammatory response that aids in the removal of sick cells. As a non-invasive treatment option, it is particularly helpful in treating superficial basal cell carcinoma, vaginal warts, and actinic keratosis (precancerous skin lesions).
Imiquimod cream over the counter is not available.The medicine is intended for specific skin conditions under medical supervision and should not be used for severe burns or certain infections.
Important information about Imiquimod
Following are some points that you should know about imiquimod:
Common side effects include local skin irritation, redness, peeling, swelling, and discomfort at the application site.
Serious side effects, though rare, may occur, such as severe skin reactions, allergic responses, or flu-like symptoms.
FAQs about Imiquimod prescription online
Is Imiquimod over the counter?
No, Imiquimod is not available over the counter. It is a prescription medication and requires a doctor's prescription to purchase and use. You can get an Imiquimod prescription online through Your Doctors Online Telemedicine platform.
How long does Imiquimod stay in your system?
Due to imiquimod's brief half-life of only around 2 hours, it leaves the body rather swiftly. It usually leaves the body within a few days to a week after finishing the prescribed treatment cycle.
What if Imiquimod doesn't work?
Consult your doctor if Imiquimod doesn't relieve the desired ailment. They might re-evaluate your situation and suggest cryotherapy, laser therapy, or excision surgery.
Can I use Imiquimod every day?
You can apply imiquimod cream once a day for five days a week (Monday through Friday) if you are using it to treat superficial basal cell carcinoma. You may apply the cream to the basal cell carcinoma and its surroundings. Applying Imiquimod lotion to the skin for approximately 8 hours is advised.
Who can prescribe Imiquimod?
Imiquimod is a prescription drug that can only be recommended by trained medical practitioners. Doctors of medicine (MDs), doctors of osteopathic medicine (DOs), physician assistants (PAs) and nurse practitioners (NPs) are frequently included in this category. These medical professionals are qualified and authorized to diagnose skin disorders. You can get a prescription at Your Doctors Online.
What is the typical starting dose of Imiquimod?
For Actinic keratosis, it's typically applied once daily, twice weekly for 16 weeks. It's used once daily, five times per week, for superficial basal cell carcinoma for six weeks. For external genital warts, it's applied once daily, 3 times per week, for up to 16 weeks.
Is Imiquimod safe for warts?
When used three times a week overnight for up to 16 weeks, five percent imiquimod cream is an efficient and secure self-administered therapy for external anogenital warts.
What is better than Imiquimod?
"Better" depends on the specific condition being treated. There are alternatives to imiquimod, such as cryotherapy, topical chemotherapy, laser therapy, surgical excision, and others, depending on the condition and individual factors.
How fast can Imiquimod work?
Most people experience relief in about 4 weeks with Imiquimod, and complete wart clearance may take up to 16 weeks. However, it doesn't guarantee a cure, and new warts may emerge during or after treatment. For actinic keratosis, alternatives like cryotherapy or topical creams (e.g., 5-fluorouracil or ingenol mebutate) are considered based on lesion extent and location.
Please wash your hands before and after application, apply a thin layer before bedtime, and leave it on for the recommended duration. Follow the prescribed dosage for actinic keratosis, basal cell carcinoma, or genital warts, using the appropriate brand as advised.
What are the Interactions of Imiquimod with Other medications?
Imiquimod interactions may occur with immunosuppressive drugs like corticosteroids or certain medications affecting the immune system.
What is the success rate of Imiquimod?
Clearance rates of 79% to 82% have been reported with 6 weeks of 5% imiquimod treatment. For superficial basal cell carcinoma, once-daily use for 6 weeks successfully treated 87–88% of patients, while 76% of patients with nodular disease saw success with once-daily treatment for 12 weeks.
How quickly can skin heal after Imiquimod cream?
After using Imiquimod cream, the healing process typically starts within a few weeks but may take several weeks to months for complete skin recovery, varying by the condition and individual response. Skin redness may persist for up to 4 weeks after treatment cessation. If discomfort is excessive, consider taking a week off and then resuming treatment or using the cream every other week.
What is the success rate of Imiquimod cream for warts?
When used as directed (three overnight applications weekly for up to 16 weeks), Imiquimod cream results in complete wart clearance in approximately 37% to 52% of immunocompetent patients.
What to avoid when using Imiquimod?
Avoid sun exposure, sexual contact during application, contact with eyes, lips, or mucous membranes, and overusing Imiquimod beyond prescribed amounts.
This is the best app..You ask anything and the doctors answer you within minutes, i love it

-Phindile Mkhatshwa


It is a good app, it can be helpful with pictures and be very detailed.

-brooke snow


Wow, these people are such a blessing. Dey give accurate answered to questions asked. Its really too good

-Okiti Stephanie


Impressive work !! Connecting to a doctor was so quick. I am really impressed.

-ASIF Khan


Doctor was really great, fast at responding very helpful

-Chelsey


Chat with them the doctor that I chat with very helpful and answer all my questions I recommend to anyone

-edith bien aime


The best patient doctors that understand and give you useful information ..I'm really thankful.

-Lesego Thejane


Very informative and very detailed in explanations.Also pleasant and courteous.I would recommend to anyone.

-Stephanie Brown


Very helpful, very polite and answers every question in a well mannered way.

-kulwinder gill


I really rate this website a lot, you people don't stick and and im sure you try your best to take swift actions for your patients.

-Elijah Mark


Talk to online doctors now and get medical advice, online prescriptions, and referrals within minutes. On-demand healthcare services at your fingertips.