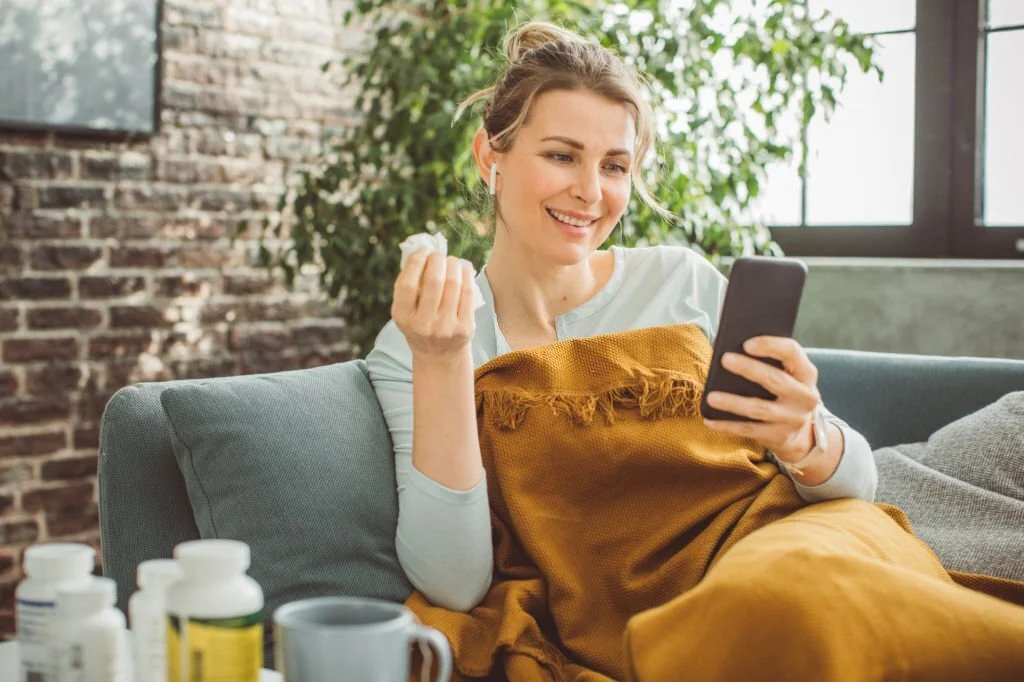 Get a Contrave (Bupropion / Naltrexone) prescription refill online
Contrave is a prescription medication used in obese adults to manage weight coupled with a reduced-calorie diet.
You can get a Contrave prescription online by connecting with our doctor at Your Doctors Online. Our online doctor will ask you to describe your symptoms to determine the best course of treatment that is considered suitable and safe for you.
Request Contrave prescription refill
Get a prescription refill for Contrave online in three easy steps.
Download our app, register and tell us about your medical issue to get started.
Obesity
Anemia
STD
UTI

Infections

Covid
Connect with a board-certified doctor. You can chat, send pictures and videos.
Hi I'm Dr. Nicole. How may I help you?
Hi Dr. Nicole, I have been taking Contrave for weight loss. Can I get a refill?

Our online doctors can help you with your medical issues and give you prescriptions.
Contrave(naltrexone HCL 8mg and bupropion HCL 90 mg)
Take two tablets twice daily, two in the morning and two in the evening.


Send Prescription
What is Contrave (Bupropion / Naltrexone)?
Contrave (naltrexone/bupropion) is a combination of two medications that work on the brain centre that controls the appetite, reducing the appetite or suppressing hunger. Naltrexone is classified as an opioid antagonist, and bupropion is classified as a norepinephrine and dopamine reuptake inhibitor.
Important information about Contrave
Common side effects include vomiting, nausea, dry mouth, dizziness, headache, constipation, diarrhea and trouble sleeping.
Severe side effects include seizures, suicidal thoughts and behavior, allergic reaction, rash, hives, chest pain, shortness of breath, swelling etc.
FAQs about Contrave prescription refill
What is the best time to take Contrave?
You must take Contrave in the morning and the evening as your doctor prescribes.
How long does it take for Contrave to work?
It can take as long as 4 weeks to start to see the positive effects of Contrave in terms of weight loss. It's essential that you exercise regularly and lower the calories in your diet while taking Contrave (naltrexone/bupropion).
What foods to avoid on Contrave?
You must avoid high-fat meals, such as meals with eggs, avocado, peanut butter, or cheese, as these foods can make the medication reach very high levels in your body, increasing the risk of having a seizure.
How do you take Contrave for best results?
Contrave for weight loss is initially given as one tablet. After that, the dose is gradually increased to one tablet twice a day and then to two tablets twice daily by the time you reach your 4th week of taking the pills.
When should you not take Contrave?
If you have uncontrolled hypertension, a history of seizures, a brain tumor, drink alcohol excessively, have bipolar disorder or are pregnant, you shouldn't take Contrave.
Do side effects of Contrave go away?
Most mild side effects of Contrave disappear within a few days to weeks. However, you must seek medical attention for persisting or worsening side effects.
Should I take contrave on an empty stomach?
You can consume Contrave with or without your meal. But you should avoid taking Contrave with a high-fat meal as it increases the risk of side effects.
Does contrave make you sleepy?
Some patients on Contrave have actually reported trouble falling asleep or sleep disturbances, and some have reported fatigue as well.
Does contrave give you energy like phentermine?
Contrave isn't formulated to boost energy levels. It suppresses the appetite.
Can you drink alcohol while on Contrave?
Avoid drinking alcohol while taking contrave as it can increase your chances of experiencing adverse effects.
How long does contrave stay in your system?
Contrave can stay in our system for around 4 days before being completely eliminated.
How do you withdraw from Contrave?
Stopping Contrave does not lead to withdrawal symptoms, but treatment shouldn't be continued beyond 16 weeks if a person hasn't lost more than 5% of their weight.
How does Contrave help you lose weight?
Contrave for weight loss works by suppressing the appetite and reducing cravings. A combination of exercise and diet is most effective.
How long should you wait to eat after taking Contrave?
You can take Contrave with or without your meals. But you should avoid taking Contrave with a meal that is high in fat content as it increases the risk of side effects.
This is the best app..You ask anything and the doctors answer you within minutes, i love it

-Phindile Mkhatshwa


It is a good app, it can be helpful with pictures and be very detailed.

-brooke snow


Wow, these people are such a blessing. Dey give accurate answered to questions asked. Its really too good

-Okiti Stephanie


Impressive work !! Connecting to a doctor was so quick. I am really impressed.

-ASIF Khan


Doctor was really great, fast at responding very helpful

-Chelsey


Chat with them the doctor that I chat with very helpful and answer all my questions I recommend to anyone

-edith bien aime


The best patient doctors that understand and give you useful information ..I'm really thankful.

-Lesego Thejane


Very informative and very detailed in explanations.Also pleasant and courteous.I would recommend to anyone.

-Stephanie Brown


Very helpful, very polite and answers every question in a well mannered way.

-kulwinder gill


I really rate this website a lot, you people don't stick and and im sure you try your best to take swift actions for your patients.

-Elijah Mark


Talk to online doctors now and get medical advice, online prescriptions, and referrals within minutes. On-demand healthcare services at your fingertips.