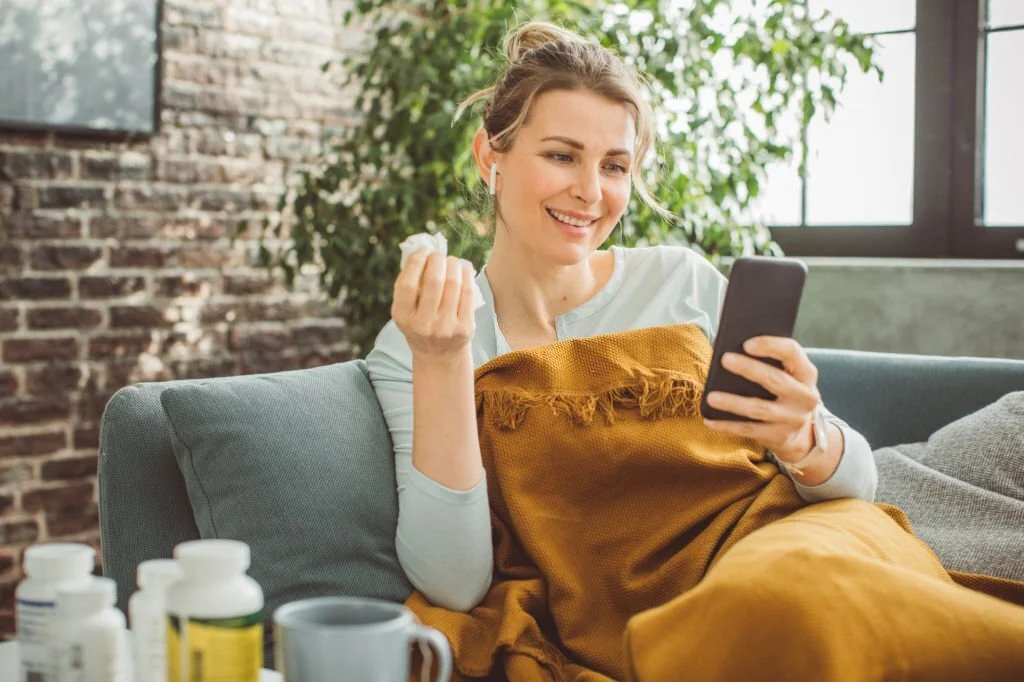 Get a Ferrous Fumarate prescription online

You can get a Ferrous Fumarate prescription online to prevent or treat iron deficiency anemia.
Getting a Ferrous Fumarate online is very straightforward; you can connect with a doctor at any time and place of your choice at Your Doctors Online. However, please note that a Ferrous Fumarate online will only be provided after consultation with the doctor and if the treatment is suitable and safe for you.
Request Ferrous Fumarate prescription online
Get online prescription for Ferrous Fumarate in three easy steps.
Download our app, register and tell us about your medical issue to get started.
Anaemia
Anemia
STD
UTI
Skin
Covid
Connect with a board-certified doctor. You can chat, send pictures and videos.
Hi I'm Dr. Nicole. How may I help you?
Hi Dr. Nicole, I have iron deficiency anemia. Can I get a refill of my medication, please?

Our online doctors can help you with your medical issues and give you prescriptions.
Ferrous fumarate 150 mg once every other day
Send Prescription
What is Ferrous Fumarate?
Ferrous fumarate consists of iron ions combined with fumaric acid salt. This compound provides a highly concentrated source of elemental iron, essential for producing hemoglobin in red blood cells, enabling them to transport oxygen throughout the body. Ferrous fumarate is often prescribed when dietary sources of iron are inadequate or poorly absorbed. It is available in various forms, such as tablets and liquid preparations. It is generally well-absorbed by the body, making it an effective treatment for iron-deficiency-related conditions when directed by a healthcare professional.
Important information about Ferrous Fumarate
Common side effects of Ferrous Fumarate encompass constipation, diarrhea, stomach cramps, or upset stomach.

Serious side effects of Ferrous Fumarate can include severe allergic reactions, including rash, itching/swelling (especially of the face/tongue/throat), severe dizziness, and trouble breathing.
FAQs about Ferrous Fumarate prescription online
What is the dosing for Ferrous Fumarate?
Take one tablet containing 29-150 mg of elemental iron every other day or on Monday, Wednesday, and Friday, with daily dosing considered for improved adherence in some cases. However, it may lead to reduced absorption.
How do you take Ferrous Fumarate?
The optimum time to take ferrous fumarate is on an empty stomach. Take it at least an hour before and two hours after eating, if you can. You can take it with or after food if it doesn't irritate your stomach.
Does Ferrous Fumarate cause weight gain?
Weight gain is not commonly reported as a side effect of ferrous fumarate. Iron supplements, including ferrous fumarate, are typically prescribed to address iron deficiency anemia or other related conditions. Any weight changes experienced while taking iron supplements are more likely related to factors such as improved overall health and appetite rather than a direct effect of the medication itself.
What is the difference between Ferrous Fumarate and Ferrous Sulfate?
Their primary distinctions are in the amount of elemental iron they offer. About 20% of the essential iron is provided by Ferrous Sulfate, whereas 33% is supplied by Ferrous Fumarate. As a result of its higher concentration, Ferrous Fumarate may be a preferable option if you need to supplement with more iron.
Does Ferrous Fumarate cause constipation?
Heartburn, nausea, diarrhea, constipation, and cramps are just a few of the stomach issues that iron supplements may bring. Drink plenty of water and consume fibre-rich foods like fruits, vegetables, and legumes daily. Taking iron supplements may cause your stool to turn green or greyish-black.
How long does it take for Ferrous Fumarate to work?
When you first begin consuming ferrous fumarate. Although it may take up to 4 weeks for ferrous fumarate to fully take effect, you might feel better after taking it for a week.
What are the Ferrous Fumarate alternatives?
Fumarate alternatives are Ferrous sulfate, Ferrous gluconate, Iron polysaccharide complex, Heme iron supplements, Intravenous (IV) iron and Dietary changes.
Can I take Ferrous Fumarate forever?
It would be best to take ferrous fumarate for as long as you risk developing iron deficiency anemia to prevent it. You'll need to take it for several months to treat iron-deficient anemia.
Is Ferrous Fumarate good for anemia?
Yes, Ferrous Fumarate is effective for treating iron deficiency anemia, as it provides a concentrated source of elemental iron that the body can use to produce hemoglobin and red blood cells. It helps alleviate anemia symptoms such as fatigue, weakness, and pale skin.
How long is Ferrous Fumarate treatment?
You'll need to take it for several months to treat iron deficiency anemia. After your condition has improved, your doctor typically urges you to continue taking it for another 3 to 6 months to help your body replenish its iron stores.
Who should avoid Ferrous Fumarate?
You should not take it if you have iron overload syndrome, hemolytic anemia, or a ferrous fumarate allergy.
What not to eat with Ferrous Fumarate?
Foods and substances to avoid with Ferrous Fumarate are dairy products, antacids, calcium supplements, high-fiber foods and whole grains.
This is the best app..You ask anything and the doctors answer you within minutes, i love it

-Phindile Mkhatshwa


It is a good app, it can be helpful with pictures and be very detailed.

-brooke snow


Wow, these people are such a blessing. Dey give accurate answered to questions asked. Its really too good

-Okiti Stephanie


Impressive work !! Connecting to a doctor was so quick. I am really impressed.

-ASIF Khan


Doctor was really great, fast at responding very helpful

-Chelsey


Chat with them the doctor that I chat with very helpful and answer all my questions I recommend to anyone

-edith bien aime


The best patient doctors that understand and give you useful information ..I'm really thankful.

-Lesego Thejane


Very informative and very detailed in explanations.Also pleasant and courteous.I would recommend to anyone.

-Stephanie Brown


Very helpful, very polite and answers every question in a well mannered way.

-kulwinder gill


I really rate this website a lot, you people don't stick and and im sure you try your best to take swift actions for your patients.

-Elijah Mark


Talk to online doctors now and get medical advice, online prescriptions, and referrals within minutes. On-demand healthcare services at your fingertips.