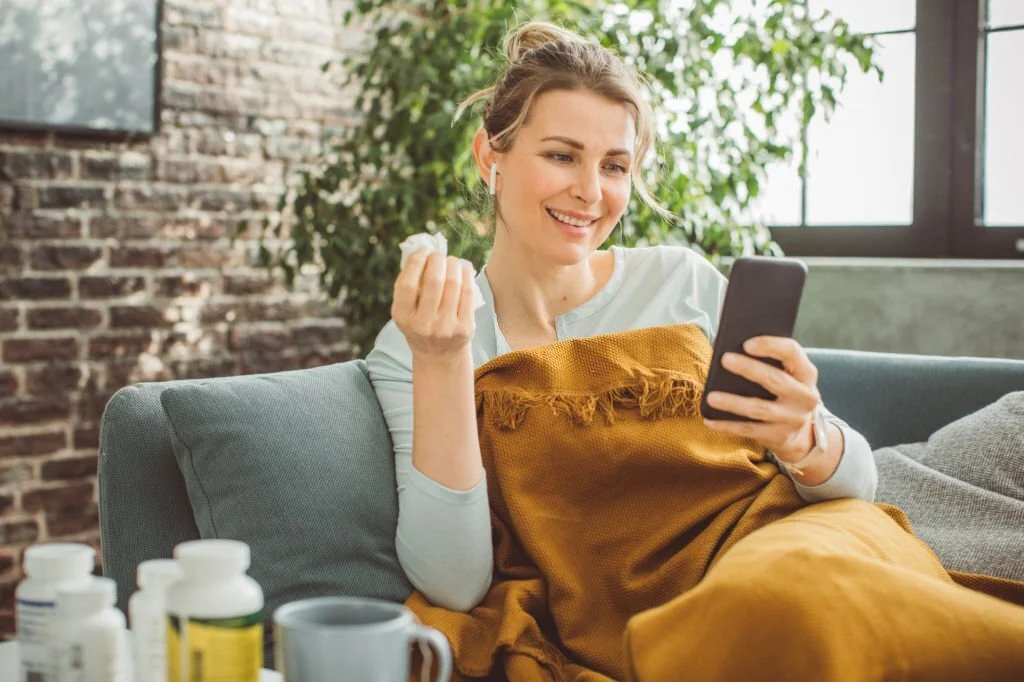 Get Ciprofloxacin prescription online
You can get a Ciprofloxacin prescription online if you have a bacterial infection such as a urinary tract infection, strep throat, ear infection, gastrointestinal infection, skin infection, sinus infection, typhoid or bone infection etc.
Getting an online Ciprofloxacin prescription is very straightforward; you can connect with a doctor at any time via Your Doctors Online. However, please note a prescription will only be provided after consultation with the doctor and if the treatment is considered suitable and safe for you.
Request Ciprofloxacin prescription online
Get online prescription for Ciprofloxacin in three easy steps.
Download our app, register and tell us about your medical issue to get started.
UTI
Cardiovascular
Anemia
STD
Skin
Covid
Connect with a board-certified doctor. You can chat, send pictures and videos.
Hi I'm dr. Nicole. How may I help you?
Hi Dr Nicole, I have pain while urinating and an increased frequency of urination. Can I get antibiotics for a UTI?

Our online doctors can help you with your medical issues and give you prescriptions.
Ciprofloxacin 500mg tablets

Take one tablet twice daily by mouth with water for 7 days.
Send Prescription
Ciprofloxacin is an antibiotic that comes under the umbrella of fluoroquinolones, commonly available by the brand name Cipro. Ciprofloxacin stops the bacteria's DNA from replicating, resulting in their death.
Ciprofloxacin is available as a tablet, capsule or oral suspension. It can be taken with or without food and twice a day, preferably at the same time every day. The Ciprofloxacin dosage depends on the severity and type of infection. Some other drugs from the same class include moxifloxacin, ofloxacin and levofloxacin.
The duration of the treatment depends on the illness and severity of the infection. Prescription Ciprofloxacin should be taken as advised to reduce the chances of antibiotic-resistant infection.
Important information about Ciprofloxacin
Over-the-counter Ciprofloxacin is not an option. You will require a prescription for Ciprofloxacin. Here are some critical points that you should know:
Some side effects include fever, chills, joint pain, blood or cloudy urine, black and tarry stools, red skin lesions, hives, weight gain and yellowing of the eyes. 

Taking Ciprofloxacin can affect your tendons and may increase the risk of tendon rupture or tendonitis. This is more common in those over 60 years of age or taking steroids.

Ciprofloxacin may lead to low blood sugar in some patients. Symptoms to look out for include fatigue, blurred vision, confusion, cold sweats and pale skin.

Ciprofloxacin may rarely lead to tears in your aorta (a large artery in the body), resulting in dangerous aortic bleeding or causing a heart attack.

Ciprofloxacin may increase theophylline levels in the blood, which can have serious consequences. 

Ciprofloxacin can lead to photosensitivity. It is best to wear protective clothing and use sunscreen while using the pills. 
FAQs about Ciprofloxacin online prescription
Is Ciprofloxacin available over the counter?
You can't buy Ciprofloxacin without a prescription. Ciprofloxacin is a prescription-only medication; hence, you will require a prescription from a licensed physician. You can get a Cipro prescription online by consulting an online doctor at Your Doctors Online.
How long should I take Ciprofloxacin 500mg for UTI?
Cipro is commonly prescribed at 500mg twice a day for a UTI for 7 days.
Who should not take Ciprofloxacin?
You should not take Ciprofloxacin if you are allergic to this medication. Moreover, if you have diabetes, kidney disease, heart condition, organ transplants, heart problems, mood disorders, specific genetic conditions, or tendon ruptures, you should avoid taking this medicine.
How long does it take for Ciprofloxacin to work?
It can take 2-3 days for you to notice a significant improvement in your symptoms. However, the drug starts working within a few hours after taking it.
What is the closest antibiotic to Cipro?
Some alternative antibiotics used to treat similar infections as those treated by Cipro include Amoxicillin, Cephalexin, Azithromycin etc.
Can Cipro alone cure UTI?
Cipro can cure a UTI, but the use it is not used as a first-line treatment option. Ciprofloxacin, 500mg dosage for UTI, is usually taken twice a day for 7 days.
What drugs cannot be taken with Ciprofloxacin?
Ciprofloxacin has interactions with tizanidine(muscle relaxant), sildenafil(phosphodiesterase 5 inhibitor), blood thinners, antipsychotics, antidepressants, nonsteroidal anti-inflammatory drugs, diuretics, and insulin. Hence these drugs cannot be taken while taking Cipro.
What happens if you take Ciprofloxacin on an empty stomach?
It is best to take Ciprofloxacin on an empty stomach. The pill should be swallowed with water for maximum absorption and effectiveness.
How much max can I take Ciprofloxacin daily?
In adults, Ciprofloxacin is prescribed between 250-750mg twice daily. Extended-release tablets can be prescribed as 500-1000mg every 24 hours.
What happens if I miss a dose of Ciprofloxacin?
You should take the missed dose as soon as you remember. However, if it is time to take your next dose, skip the missed dose and take the scheduled dose/pill.
What happens if I take too much Ciprofloxacin?
Taking an overdose or extra dose of Ciprofloxacin can lead to undesirable effects. Some of these side effects include nausea, vomiting, diarrhoea, muscle weakness, or irregular heartbeat. Please seek immediate medical help if that is the case.
This is the best app..You ask anything and the doctors answer you within minutes, i love it

-Phindile Mkhatshwa


It is a good app, it can be helpful with pictures and be very detailed.

-brooke snow


Wow, these people are such a blessing. Dey give accurate answered to questions asked. Its really too good

-Okiti Stephanie


Impressive work !! Connecting to a doctor was so quick. I am really impressed.

-ASIF Khan


Doctor was really great, fast at responding very helpful

-Chelsey


Chat with them the doctor that I chat with very helpful and answer all my questions I recommend to anyone

-edith bien aime


The best patient doctors that understand and give you useful information ..I'm really thankful.

-Lesego Thejane


Very informative and very detailed in explanations.Also pleasant and courteous.I would recommend to anyone.

-Stephanie Brown


Very helpful, very polite and answers every question in a well mannered way.

-kulwinder gill


I really rate this website a lot, you people don't stick and and im sure you try your best to take swift actions for your patients.

-Elijah Mark


Talk to online doctors now and get medical advice, online prescriptions, and referrals within minutes. On-demand healthcare services at your fingertips.