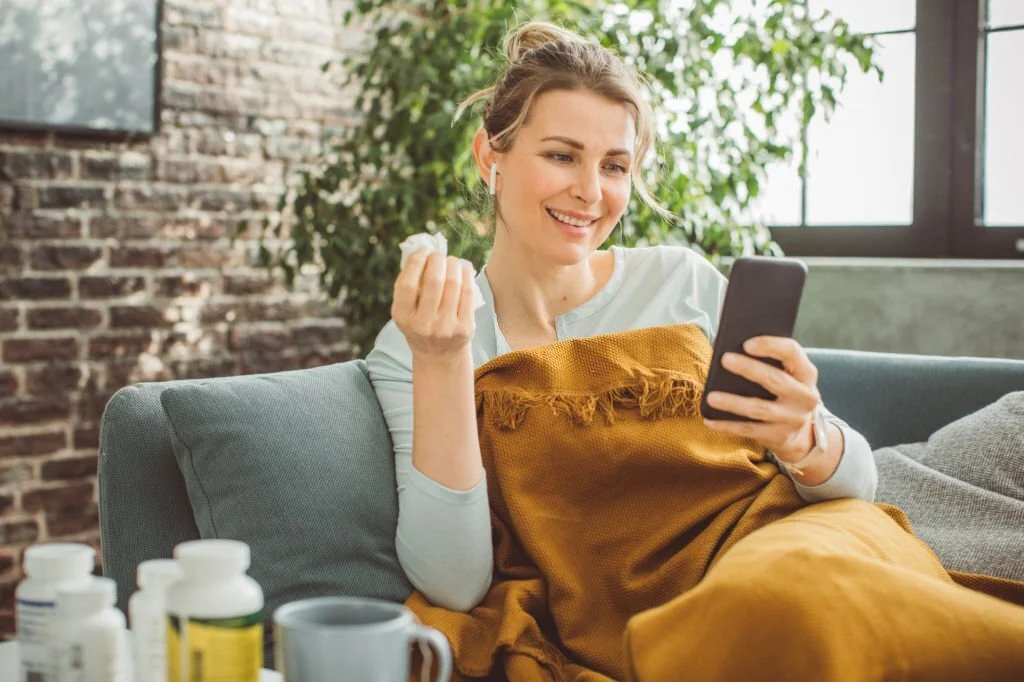 Get a Prescription for Salicylic Acid Online
Salicylic acid is a type of beta hydroxy acid (BHA) prescribed for various skin conditions, including acne, warts, psoriasis, calluses, and corns. If you have these conditions, you can refill Salicylic acid online. Obtaining a Salicylic acid prescription online is simple; visit Your Doctors Online and connect with a doctor anytime, anywhere. Our online doctor will ask about your symptoms to determine treatment. They may suggest a follow-up appointment or clinic visit.
Please know that a Salicylic acid refill will only be provided after a consultation with our doctor and if the medication is appropriate and safe.
How to Connect with an Online Doctor?
Connect with a health care professional online in 3 easy steps.
Download our app, register and tell us about your medical issue to get started.
Skin
COPD
Anemia
STD
UTI
Covid
Connect with a board-certified doctor. You can chat, send pictures and videos.
Hi I'm dr. Nicole. How may I help you?
Dr. Nicole, I have Psoriasis. It improves after applying Salicylic acid. Can you give me a Salicylic acid refill?

Our online doctors can help you with your medical issues and give you prescriptions.
Salicylic acid is applied once or twice a day on the affected area.
Send Prescription
What is Salicylic Acid and How to Take It
Salicylic acid is categorized within the therapeutic class of keratolytic agents. It comes under brand names such as Aliclen and Betasal. Salicylic acid is predominantly available in topical formulations like gels, creams, lotions, and ointments. Additionally, it is a component of particular medicated pads and shampoos designed to address specific skin and scalp conditions. Other medications belonging to the same therapeutic class as salicylic acid encompass benzoyl peroxide, alpha hydroxy acids, and sulfur-based preparations, which are frequently utilized in dermatological treatments.
Salicylic acid serves as a keratolytic agent, exerting its effects by facilitating several essential actions. First, it encourages exfoliation by promoting the shedding of dead skin cells. This action proves valuable in unclogging pores and thwarting the onset of acne breakouts. Additionally, salicylic acid exhibits mild anti-inflammatory properties, which effectively diminish redness and alleviate irritation often linked to skin conditions like psoriasis. Moreover, in the context of wart removal, salicylic acid gradually deconstructs the layers of the wart, ultimately simplifying the removal process. These multifaceted mechanisms underscore the versatility and effectiveness of salicylic acid in various dermatological applications.
Salicylic acid is predominantly accessible in various topical forms, offering a wide array of options for individuals seeking its therapeutic benefits. These topical formulations include gels, creams, lotions, ointments and specialized shampoos, making it adaptable to different skin and scalp conditions. The specific frequency of application varies, contingent on the nature of the skin condition and the particular product in use.
Typically, healthcare providers recommend applying salicylic acid once or twice daily, adhering to the guidance provided either by the healthcare professional or detailed on the product's label. It is crucial to emphasize that salicylic acid is exclusively intended for external use and should be applied directly to the affected area of the skin or scalp, with strict adherence to the recommended dosage instructions. It should never be ingested, underscoring the importance of proper administration to ensure safe and effective results.
Important Information About Salicylic Acid
Salicylic acid is a keratolytic agent. However, higher concentrations or specialized treatments may need a prescription. Here are some essential points that you should know about this drug:

Common side effects of salicylic acid can include skin dryness, peeling, redness, and mild stinging or burning at the application site. These side effects are typically mild and temporary.

Serious side effects are rare with topical salicylic acid when used as directed. However, excessive use or misuse can lead to skin irritation, chemical burns, and severe redness. It is essential to follow the instructions provided with the product or those given by a healthcare provider.

Salicylic acid is generally not known to interact significantly with other medications, as it is primarily used topically. However, it's important to inform your healthcare provider or dermatologist about any other topical or prescription products you are using on your skin to avoid potential interactions.

Salicylic acid is generally considered safe for use in pregnancy and breastfeeding mothers when applied topically in low concentrations and for short durations.
FAQs About Salicylic Acid
Can you use salicylic acid with retinol?
Salicylic acid and retinol can be used together as it can be effective for treating breakouts and reducing the signs of aging when used correctly. To minimize the risk of skin irritation, it's typically advised to use salicylic acid in the morning and retinol at night.
How long does salicylic acid take to work?
The time it takes for salicylic acid to work may take several weeks of consistent use to observe improvements in skin texture and a reduction in acne breakouts. If you have concerns about the effectiveness of your salicylic acid treatment, it's a good idea to consult with a dermatologist who can provide guidance and adjust your skincare routine as needed.
How often to use salicylic acid?
The frequency of salicylic acid use varies based on the product and your skin's tolerance. Daily use is suitable for mild formulations like cleansers and toners.
How long to leave salicylic acid on the wart?
It's recommended to leave it on the wart for about 24 hours before removing the old application and applying a fresh one. This process is usually repeated daily or as directed by a healthcare provider until the wart is gone, which can take several weeks.
How to treat a chemical burn on the face from salicylic acid?
If you experience a chemical burn from salicylic acid on your face, rinse with cool water for 20 minutes. Then, apply an antibiotic ointment and a sterile bandage, and seek medical attention if the burn is severe or shows signs of infection.
What to use after salicylic acid?
After using salicylic acid, it's often recommended to apply a moisturizer to keep the skin hydrated. Additionally, using sunscreen during the day is crucial, as salicylic acid can make the skin more sensitive to the sun.
How to use benzoyl peroxide and salicylic acid together?
Benzoyl peroxide and salicylic acid can be used together for acne treatment, but it's best to consult a dermatologist for personalized guidance on the combination and application order.
This is the best app..You ask anything and the doctors answer you within minutes, i love it

-Phindile Mkhatshwa


It is a good app, it can be helpful with pictures and be very detailed.

-brooke snow


Wow, these people are such a blessing. Dey give accurate answered to questions asked. Its really too good

-Okiti Stephanie


Impressive work !! Connecting to a doctor was so quick. I am really impressed.

-ASIF Khan


Doctor was really great, fast at responding very helpful

-Chelsey


Chat with them the doctor that I chat with very helpful and answer all my questions I recommend to anyone

-edith bien aime


The best patient doctors that understand and give you useful information ..I'm really thankful.

-Lesego Thejane


Very informative and very detailed in explanations.Also pleasant and courteous.I would recommend to anyone.

-Stephanie Brown


Very helpful, very polite and answers every question in a well mannered way.

-kulwinder gill


I really rate this website a lot, you people don't stick and and im sure you try your best to take swift actions for your patients.

-Elijah Mark


Talk to online doctors now and get medical advice, online prescriptions, and referrals within minutes. On-demand healthcare services at your fingertips.