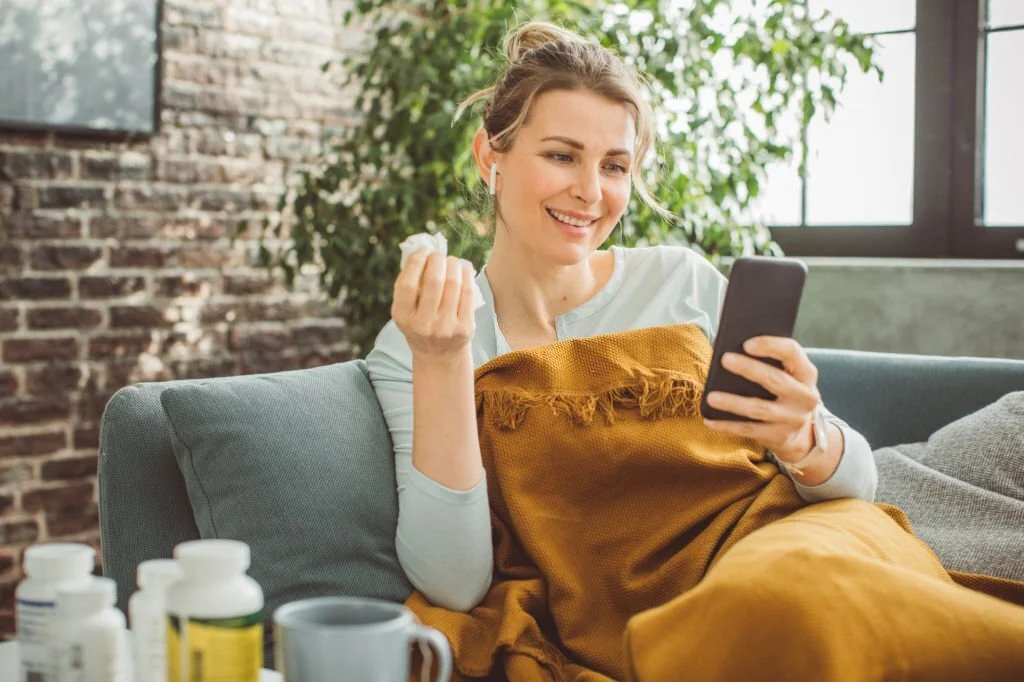 Get a Prescription for Rizatriptan Online
Rizatriptan is sued to treat migraines for children and adults above six years. If you have these conditions for the first time or are facing this frequently, you can refill Rizatriptan online. Obtaining a Rizatriptan prescription online is simple; visit Your Doctors Online and connect with a doctor anytime, anywhere. Our online doctor will ask about your symptoms to determine treatment.
They may suggest a follow-up appointment or clinic visit. Please know that a Rizatriptan refill will only be provided after a consultation with our doctor and if the medication is appropriate and safe.
How to Connect with an Online Doctor?
Connect with a health care professional online in 3 easy steps.
Download our app, register and tell us about your medical issue to get started.
Migraine Headache
Anemia
STD
UTI
Skin
Covid
Connect with a board-certified doctor. You can chat, send pictures and videos.
Hi I'm dr. Nicole. How may I help you?
Dr. Nicole, I am having a severe migraine headache again; I feel better after taking Rizatriptan. Can you give me a Rizatriptan refill?

Our online doctors can help you with your medical issues and give you prescriptions.
Rizatriptan 10 mg orally;

Take one tablet once daily.
Send Prescription
What is Rizatriptan and How to Take It
Rizatriptan is a highly effective medication that is specifically designed to alleviate and manage the debilitating symptoms associated with migraine headaches. This remarkable pharmaceutical compound has been extensively researched and developed to provide targeted relief for individuals who suffer from the excruciating pain, throbbing sensations, and other distressing symptoms commonly experienced during a migraine episode. 
By acting on certain receptors in the brain, Rizatriptan works to constrict blood vessels and reduce inflammation, ultimately bringing about a significant reduction in the severity and duration of migraine attacks. Maxalt, Maxalt-MLT, or RizaFilm, all these brand names refer to the same medication, Rizatriptan. The first option is oral tablets, which can be swallowed with water for easy ingestion. 
The second option is orally disintegrating tablets, which are designed to dissolve quickly on the tongue without the need for water. Both forms provide the same therapeutic benefits, ensuring patients' flexibility and convenience when taking this medication.
Rizatriptan exerts its therapeutic effects by acting as an agonist, specifically at serotonin 5-HT1B and 5-HT1D receptors. These receptors play a crucial role in regulating serotonin, a neurotransmitter involved in various physiological processes within the central nervous system. 
The mechanism of action of this medication has a multifaceted approach to alleviating migraine symptoms. Firstly, it exerts its therapeutic effects by constricting the blood vessels in the brain, thereby reducing the blood flow to this region. By doing so, it effectively interrupts the transmission of pain signals to the brain, resulting in a diminished perception of pain.
Adults experiencing acute migraines should begin treatment with either a 5 mg or 10 mg Rizatriptan tablet once daily; if the migraine returns after the initial dose, a second dose may be given at least 2 hours later. The maximum Rizatriptan dose is usually 30 mg in any 24-hour period. Oral tablets are swallowed whole with a glass of water, whereas orally disintegrating tablets are placed on the tongue that dissolves quickly without needing water.

Important Information About Rizatriptan
Rizatriptan is an antimigraine drug. You will require a prescription for Rizatriptan. Here are some essential points that you should know about this drug:

Some common side effects of Rizatriptan include drowsiness, fatigue, asthenia (weakness), flushing, dizziness, nausea, paresthesia (tingling, prickling, or burning sensations), tiredness, weakness, and dry mouth. Discuss with your doctor if you notice these side effects and if they persist.




Rizatriptan has been linked to a variety of serious adverse effects that must be treated quickly. Pain, heaviness, tightness, or pressure in the chest and/or the neck are all symptoms that fall under this category. Additionally, individuals may also notice a pounding heartbeat, which can be pretty alarming. Other sensations that may arise include a feeling of burning, warmth, heat, numbness, tightness, or tingling.

Patients with uncontrolled hypertension, ischemic heart disease, or hemiplegic or basilar migraine should not take rizatriptan. Some antidepressants, ergot medicines, and monoamine oxidase A (MAO-A) inhibitors may interact negatively with rizatriptan. Before beginning Rizatriptan, it is important to discuss all of your current medications with your doctor.
How long does it take for Rizatriptan to work?
Rizatriptan starts working within a timeframe ranging from 30 minutes to 2 hours after it is ingested. This means that individuals who have taken this medication can expect to experience relief from their migraine symptoms within this time frame.
How much Rizatriptan can I take in a day?
Adults can take 5 or 10 mg at a time. If your migraine remains or goes away and comes back, you can take another dose two hours after the last. No more than 30 mg of rizatriptan should be taken within a 24-hours duration.
How long does Rizatriptan stay in your system?
Rizatriptan, a migraine medication, has a half-life of 2-2.5 hours—the body's rizatriptan concentration halves within this timeframe after ingestion. Rizatriptan's short half-life means its effects are short-lived, requiring repeated dosing for migraine relief. A single 10-mg Rizatriptan tablet takes 1 to 1.5 hours to reach Tmax in healthy volunteers.
Is Rizatriptan a controlled substance?
No, Rizatriptan is classified within a category of drugs known as triptans. These Triptans are specifically designed to alleviate the symptoms of acute migraine headaches effectively.
Can you take Rizatriptan with Tylenol?
There are no drug interactions found between Rizatriptan and Tylenol. However, this does not necessarily mean no interactions exist. Always consult your healthcare provider.
How long do Rizatriptan side effects last?
There may be specific side effects associated with using Rizatriptan, but it is important to note that these side effects are generally mild and typically do not require immediate medical attention. Some side effects may diminish or completely disappear as your body becomes accustomed to the medication during the course of treatment.
Does Rizatriptan make you drowsy?
Yes, it is worth noting that drowsiness is a frequently encountered side effect associated with using Rizatriptan. If drowsiness starts affecting your routine chores, you can discuss it with your doctor or healthcare provider, and they may adjust or change your dose accordingly.
How many Rizatriptan can I take in a month?
The number of rizatriptan tablets that can be taken in a month depends on the dosage prescribed by a healthcare provider and the frequency of migraines. The maximum Rizatriptan dose is usually around 30 mg daily.
Can I take Ibuprofen with Rizatriptan?
There are no drug interactions found between rizatriptan and ibuprofen. However, this does not necessarily mean no interactions exist. Always consult your healthcare provider.
Do you need a prescription for Rizatriptan?
Yes, Rizatriptan requires a prescription from your healthcare provider. You can not obtain it over the counter without a prescription. Discuss with our doctor online to get personalized advise.
How can I refill my Maxalt prescription?
You can get a Maxalt prescription refill online without seeing a doctor via the Your Doctors Online app. One of our qualified healthcare professionals will evaluate your need for Maxalt before prescribing a refill.
What does Maxalt do to the brain?
Maxalt, also known as Rizatriptan, is a medication that effectively targets the underlying causes of migraine pain. It achieves this by constricting the blood vessels surrounding the brain, which helps alleviate the discomfort experienced during a migraine episode. Additionally, Maxalt works to reduce the levels of certain substances that are directly involved in the development and progression of migraine pain. By targeting these key factors, Maxalt provides relief and helps individuals regain control over their lives, allowing them to manage better and overcome the debilitating effects of migraines.
Who should not take Maxalt?
People with uncontrolled high blood pressure, heart problems, those who have used an MAO inhibitor in the past 14 days, and who are allergic to rizatriptan or any of its ingredients.
What is an alternative to Maxalt?
There are several examples of medications that are commonly used to treat migraines. One such medication is Imitrex, also known as Sumatriptan. Another medication that is frequently used is Zomig, which contains Zolmitriptan. Frova, on the other hand, contains Frovatriptan and is often prescribed for individuals who experience longer-lasting migraines.
This is the best app..You ask anything and the doctors answer you within minutes, i love it

-Phindile Mkhatshwa


It is a good app, it can be helpful with pictures and be very detailed.

-brooke snow


Wow, these people are such a blessing. Dey give accurate answered to questions asked. Its really too good

-Okiti Stephanie


Impressive work !! Connecting to a doctor was so quick. I am really impressed.

-ASIF Khan


Doctor was really great, fast at responding very helpful

-Chelsey


Chat with them the doctor that I chat with very helpful and answer all my questions I recommend to anyone

-edith bien aime


The best patient doctors that understand and give you useful information ..I'm really thankful.

-Lesego Thejane


Very informative and very detailed in explanations.Also pleasant and courteous.I would recommend to anyone.

-Stephanie Brown


Very helpful, very polite and answers every question in a well mannered way.

-kulwinder gill


I really rate this website a lot, you people don't stick and and im sure you try your best to take swift actions for your patients.

-Elijah Mark


Talk to online doctors now and get medical advice, online prescriptions, and referrals within minutes. On-demand healthcare services at your fingertips.