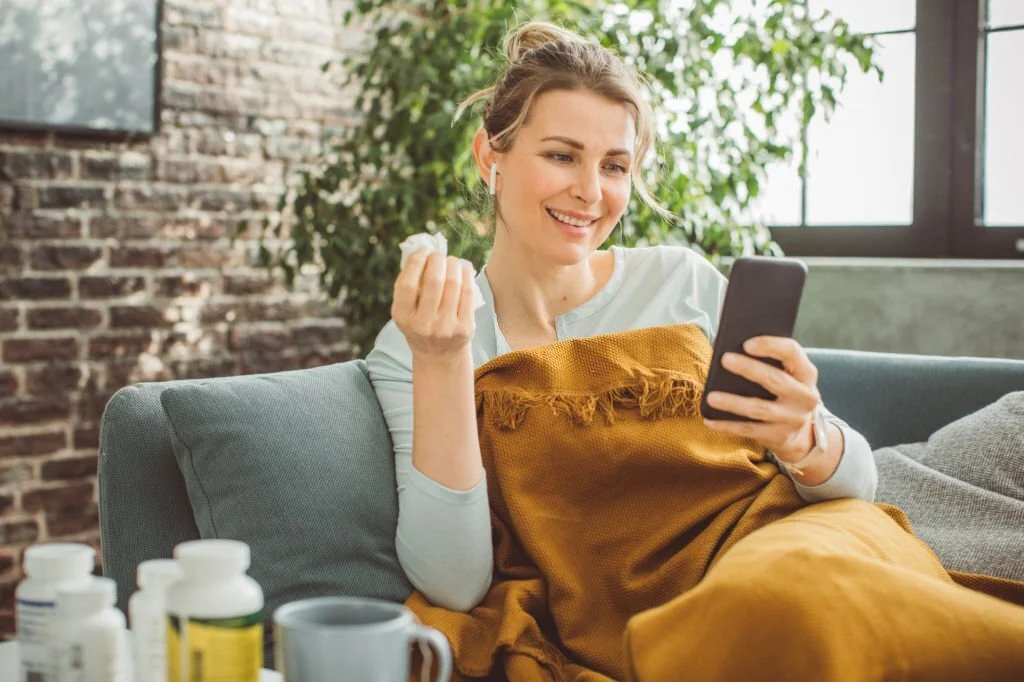 Get a Tenex (Guanfacine) Prescription Refill Online
Tenex is a brand name for Guanfacine. It is a medication used orally to treat ADHD (Attention Deficit Hypersensitivity Disorder) and hypertension. Obtaining a Tenex prescription refill online is simple; visit Your Doctors Online and connect with a doctor anytime, anywhere. Our online doctor will ask about your symptoms to determine treatment. They may suggest a follow-up appointment or clinic visit.
Please know that a Tenex refill will only be provided after a consultation with our doctor and if the medication is appropriate and safe.
How to Connect with an Online Doctor?
Connect with a health care professional online in 3 easy steps.
Download our app, register and tell us about your medical issue to get started.
Hypertension
Anemia
STD
UTI
Skin
Covid
Connect with a board-certified doctor. You can chat, send pictures and videos.
Hi I'm dr. Nicole. How may I help you?
Dr. Nicole, I have been taking Tenex for hypertension, but I have run out of it. Can you give me a Tenex refill?

Our online doctors can help you with your medical issues and give you prescriptions.
Tenex refill 1 mg tablet

Take one tablet once daily.



Send Prescription
What is Tenex (Guanfacine Hydrichloride) and How to Take It
Guanfacine Hydrochloride belongs to the antihypertensive and ADHD therapeutic class of drugs. It is available under the brand names Tenex and Intuniv. Other drugs from the same class include. Other similar drugs like Guanfacine include atomoxetine (Straterra) and viloxazine (Qelbree).
Guanfacine Hydrochloride works by decreasing nerve signals from the brain to the blood vessels and heart causing the constricted blood vessels to relax so blood can flow smoothly. This helps in lowering the blood pressure.
Tenex should be taken with water, and the dosage can be adjusted on individual response to treatment, such as age and medical condition. It is recommended to take Tenex at bedtime only, and the dose should be taken at the same time daily.
Important Information About Tenex (Guanfacine)
Tenex is an antihypertensive drug. You will require a prescription for Tenex. Here are some essential points that you should know about this drug:

Common side effects of Tenex (Guanfacine Hydrochloride) include drowsiness, weakness, constipation, dry mouth, decreased blood pressure, tiredness, dizziness, headache, and constipation. You can consult one of our healthcare providers online if you notice any of these side effects.



Some serious yet less common side effects of Tenex include bradycardia, diarrhea, hypotension, abdominal pain, dyspepsia, confusion, amnesia, nausea, depression, rhinitis, leg cramps, and hypokinesia. If you notice any of these serious side effects get in touch with your healthcare provider at the earliest signs.



Tenex may have serious drug interactions with some other drugs such as Clonidine, Diuretics, Valproic acid, other antihypertensive agents, alcohol, and other medications like Aripiprazole, Buspirone, Methylphenidate, Gabapentin, Ibuprofen, Lamotrigine, Melatonin, Fluoxetine, Quetiapine, Duloxetine, Hydroxyzine, and Metformin.
FAQs About Tenex (Guanfacine)
Can you drink alcohol with Guanfacine?
It is not advisable to consume alcohol while taking Guanfacine. Alcohol has the potential to increase the sedative and blood pressure-lowering effects. Before taking Tenex, it is important to discuss any questions you may have about contraindicated foods or medications with your doctor.
Can Guanfacine get you high?
No, it is not known to make you feel high or cause a feeling of euphoria. However, if you feel any unusual side effects or symptoms, you can discuss them with one of our qualified professionals online from the comfort of your home.
How long does Tenex last?
Tenex peak plasma concentrations are achieved in 1 to 4 hours after a single oral dose. If you have any other questions about Tenex, you can speak to your doctor online.
What is the dosing for Tenex?
It is recommended to take Tenex 1 mg or 2 mg once daily orally or as directed by your doctor. You can discuss with your doctor about dosing, dosage strength, and dosage intervals before taking Tenex.
Does Tenex make you sleepy?
Yes, Tenex can cause drowsiness as a side effect, which may make you feel sleepy. It is recommended to take it at bedtime for this reason. If you have any concerns about the dosage of Tenex, it is advisable to consult with your doctor.
Can you take Tenex at night?
Yes, it is usually advised to take Tenex at bedtime due to its tendency to induce drowsiness. Taking it before bedtime at night will not interfere with your daily routine chores. It is important to promptly seek medical assistance if you encounter any unusual side effects.
What are the risks of Tenex?
Serious side effects of Tenex include stroke, kidney disease, liver disease, syncope, blurred vision, impotence, confusion, fatigue, drowsiness, and dry mouth.
Is Tenex good for anxiety?
Tenex is not approved for anxiety treatment. It is only recommended for use in ADHD and hypertension. It should not be used for any other therapeutic conditions without consulting with a doctor.
What happens when you stop taking Tenex?
If you stop taking Tenex abruptly, you may experience withdrawal symptoms such as nervousness, headache, hypertension, and agitation. Therefore it is recommended not to stop Tenex abruptly instead, cut down the dose gradually.
Does Tenex cause erectile dysfunction?
Yes, it can cause erectile dysfunction, but it is a very rare side effect and does not occur frequently. If you notice any unusual side effects, speak to your doctor.
How can I refill my Tenex prescription?
You can get a Tenex refill online by discussing it with one of our qualified doctors via our app. For a consultation, you can download the app, describe your problem, and get a refill from the comfort of your home.
Who should not take Tenex?
You should not take Tenex if you have an allergy to any of its ingredients, it is important to avoid taking Tenex. Additionally, individuals with kidney disease, liver disease, or syncope should avoid taking this medication. Before taking Tenex, it is important to consult with your doctor if you have any pre-existing conditions.
What are the dangers of Tenex?
Common side effects of Tenex include weakness, dry mouth, constipation, dizziness, drowsiness, and fatigue. If any of your symptoms continue or get worse after taking Tenex, it is important to consult with your doctor.
What happens if I take too much Tenex?
If you overdose on Tenex, you may experience increased side effects, such as drowsiness, weakness, tiredness, and constipation. It is important to consult with your doctor if you suspect that you have taken an overdose of Tenex.
This is the best app..You ask anything and the doctors answer you within minutes, i love it

-Phindile Mkhatshwa


It is a good app, it can be helpful with pictures and be very detailed.

-brooke snow


Wow, these people are such a blessing. Dey give accurate answered to questions asked. Its really too good

-Okiti Stephanie


Impressive work !! Connecting to a doctor was so quick. I am really impressed.

-ASIF Khan


Doctor was really great, fast at responding very helpful

-Chelsey


Chat with them the doctor that I chat with very helpful and answer all my questions I recommend to anyone

-edith bien aime


The best patient doctors that understand and give you useful information ..I'm really thankful.

-Lesego Thejane


Very informative and very detailed in explanations.Also pleasant and courteous.I would recommend to anyone.

-Stephanie Brown


Very helpful, very polite and answers every question in a well mannered way.

-kulwinder gill


I really rate this website a lot, you people don't stick and and im sure you try your best to take swift actions for your patients.

-Elijah Mark


Talk to online doctors now and get medical advice, online prescriptions, and referrals within minutes. On-demand healthcare services at your fingertips.