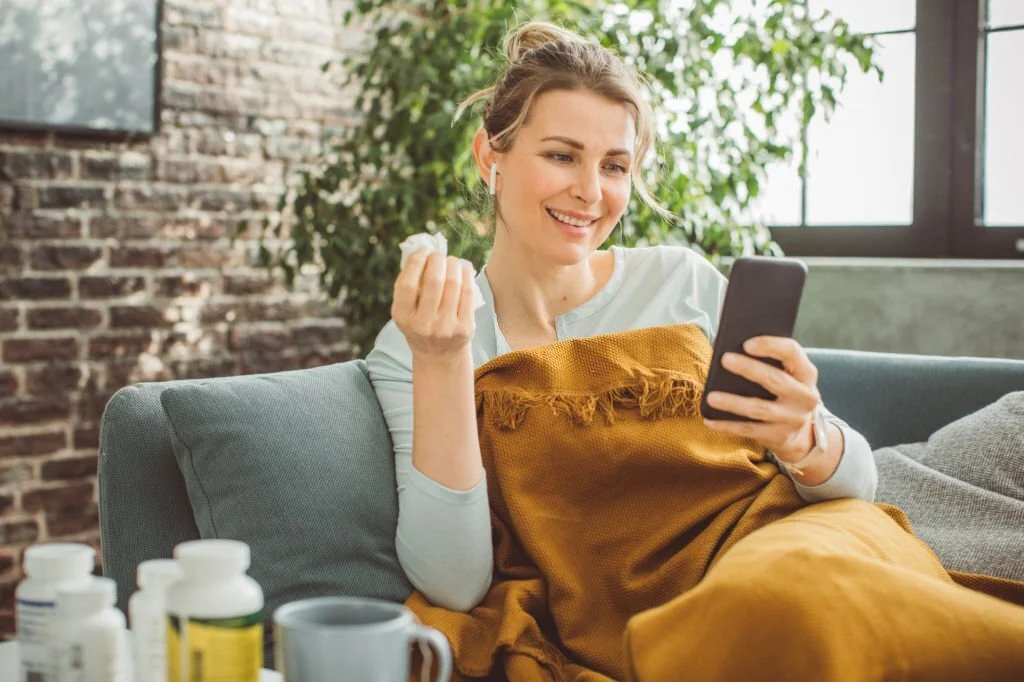 Get Bupropion (Zyban) Prescription Refill Online
Bupropion (Zyban) is a medication that helps people quit smoking and is often used in smoking cessation. If you have been taking Bupropion (Zyban) for smoking cessation, you can get a Bupropion (Zyban) refill online. Obtaining a Bupropion (Zyban) prescription online is simple; visit Your Doctors Online and connect with a doctor anytime, anywhere. Our online doctor will ask about your symptoms to determine treatment. They may suggest a follow-up appointment or clinic visit. Please know that a Bupropion (Zyban) refill will only be provided after a consultation with our doctor and if the medication is appropriate and safe.
How to Connect with an Online Doctor?
Connect with a health care professional online in 3 easy steps.
Download our app, register and tell us about your medical issue to get started.
Smoking Cessation
Anemia
STD
UTI
Skin
Covid
Connect with a board-certified doctor. You can chat, send pictures and videos.
Hi I'm dr. Nicole. How may I help you?
Dr. Nicole, I feel I need a Bupropion (Zyban) refill for smoking cessation.

Our online doctors can help you with your medical issues and give you prescriptions.
Bupropion (Zyban) 150 mg tablet

Take one tablet twice daily.
Send Prescription
What is Bupropion (Zyban) and How to Take It
Bupropion is an atypical antidepressant that is chemically unrelated to Nicotine. It acts as a non-nicotine smoking cessation support. Bupropion is available in the market with brand names Zyban, Wellbutrin XL, Forfivo XL, Alpenzin, and Wellbutrin SR. Zyban is a sustained-release tablet with 'ZYBAN 150' imprinted on purple, biconvex, film-coated round tablets.
Bupropion (Zyban) is an aid to help people with smoking cessation. It reduces the craving for smoking as a non-nicotine drug for smoking cessation. It is metabolized by the enzyme CYP2D6 into hydroxybupropion.
Bupropion is recommended as one 150 mg tablet taken once daily for the first three days, which is later increased to 300 mg daily. The tablet should be swallowed or engulfed without chewing or breaking into pieces. The duration of treatment varies from individual to individual.
Important Information About Bupropion (Zyban)
Bupropion (Zyban) is an atypical antidepressant drug. You will require a prescription for Bupropion (Zyban). Here are some essential points that you should know about this drug:
Some common side effects include constipation, dizziness, stomach pain, unusual weight loss, hyperventilation, irritability, shaking, trouble sleeping, restlessness, irregular heartbeat, dry mouth, trembling, and sweating. Discuss with your doctor if any of these side effects persist or worsen.
It is advised to avoid taking Bupropion with Codeine, Tamoxifen, Thioridazine, and MAOIs (such as isocarboxazid, phenelzine, linezolid, Selegiline, and Tranylcypromine). Bupropion (Zyban) is found to have interaction with these drugs, so simultaneous use should be avoided.



Some serious side effects may include allergic reaction, rash, hypersensitivity to Bupropion, itching, hives, swelling, increase in blood pressure, blistering, or peeling of the skin. Immediately seek medical attention if you notice any of these.
FAQs About Bupropion (Zyban)
Is Zyban available over the counter?
No, Zyban is not available over the counter as it is a prescription medication available only provided by a registered healthcare professional.
Is Zyban the same as Wellbutrin?
Yes, they have the same active ingredient, Burpopion but different indications and dosing instructions. Wellbutrin is used as an antidepressant, while Bupropion is used as an aid for smoking cessation. Though in some countries like Canada, Wellbutrin is also approved to aid smoking cessation.
Who should not take Zyban (Bupropion)?
If you are allergic to any of the Zyban ingredients, you should not take it to avoid hypersensitive reactions to the drugs. Avoid taking Zyban if you are already taking MAOIs, Pimozide, Thioridazine, Codiene, and Tamoxifen. Speak to your healthcare provider about accurate dosing instructions for the drug if you are taking any other medications.
When should Zyban not be used?
If you have seizures, bulimia nervosa, or anorexia, you should not take Bupropion in any concentration. If you have any questions about your health condition or how to take your medication, it's a good idea to talk to your healthcare provider.
What happens if I miss a dose of Zyban?
If you take it twice daily and have accidentally skipped a dose, take it as soon as you remember. If you take it once daily, take the dose on your next dosing schedule and avoid double dosing.
What happens if I take too much Zyban?
A Zyban overdose can be life-threatening. Taking too much Zyban can cause severe symptoms like hallucinations, seizures, loss of consciousness, and extreme confusion.
What is the typical starting dose of Zyban?
The usual starting dose for Zyban is 150 mg per day for the first three days; the dose is later increased as your healthcare provider recommends.
This is the best app..You ask anything and the doctors answer you within minutes, i love it

-Phindile Mkhatshwa


It is a good app, it can be helpful with pictures and be very detailed.

-brooke snow


Wow, these people are such a blessing. Dey give accurate answered to questions asked. Its really too good

-Okiti Stephanie


Impressive work !! Connecting to a doctor was so quick. I am really impressed.

-ASIF Khan


Doctor was really great, fast at responding very helpful

-Chelsey


Chat with them the doctor that I chat with very helpful and answer all my questions I recommend to anyone

-edith bien aime


The best patient doctors that understand and give you useful information ..I'm really thankful.

-Lesego Thejane


Very informative and very detailed in explanations.Also pleasant and courteous.I would recommend to anyone.

-Stephanie Brown


Very helpful, very polite and answers every question in a well mannered way.

-kulwinder gill


I really rate this website a lot, you people don't stick and and im sure you try your best to take swift actions for your patients.

-Elijah Mark


Talk to online doctors now and get medical advice, online prescriptions, and referrals within minutes. On-demand healthcare services at your fingertips.