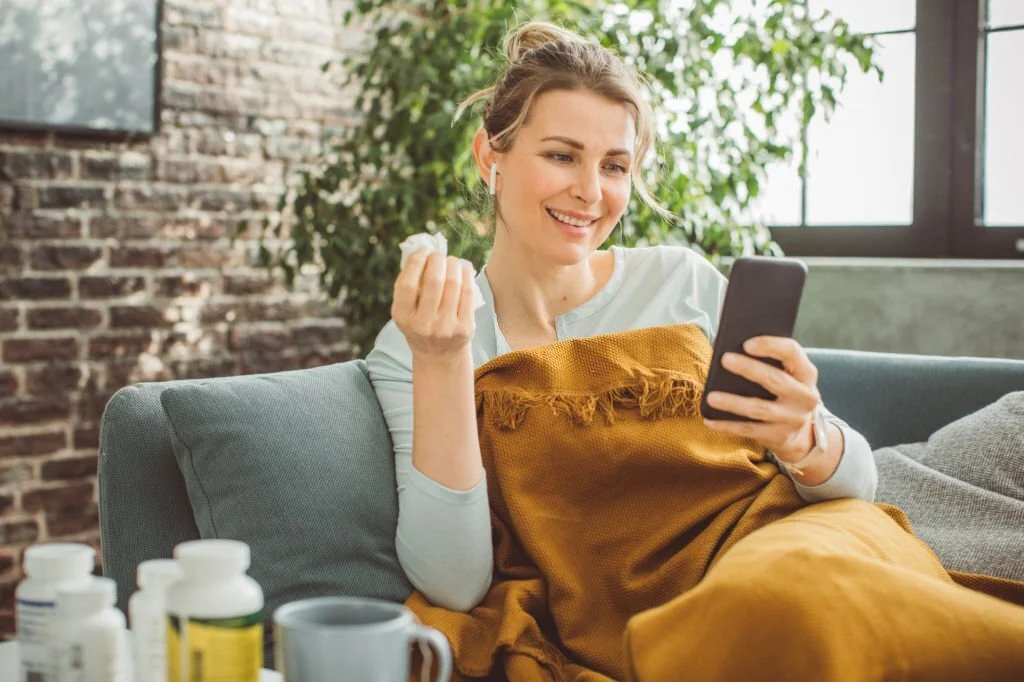 Get Lamictal Refill Online
Lamictal is usually prescribed as an anti-epileptic or mood stabilizer to treat bipolar disorder or epileptic seizures. If you suffer from any of these conditions, you can get a Lamictal refill online. Obtaining a Lamictal prescription online is simple; simply visit Your Doctors Online and connect with a doctor anytime and anywhere. Our online doctor will ask you to describe your symptoms to determine the best course of treatment. Then, if deemed necessary, they may recommend a follow-up appointment or a visit to a clinic. Please know that your doctor will only give a refill Lamictal online if our qualified doctor thinks it is safe for you to take.
How to Connect with an Online Doctor?
Connect with a health care professional online in 3 easy steps.
Download our app, register and tell us about your medical issue to get started.
Epilepsy
Anemia
STD
UTI
Skin
Covid
Connect with a board-certified doctor. You can chat, send pictures and videos.
Hi I'm dr. Nicole. How may I help you?
Dr. Nicole, I am experiencing episodes of seizures. I was taking Lamictal previously. Can you prescribe a refill for Lamictal?

Our online doctors can help you with your medical issues and give you prescriptions.
Lamictal 0.3 mg

One or two half-tablets of Lamictal refill per day, with each dose rounded down to the nearest whole tablet.
Send Prescription
What is Lamictal (Lamotrigine) and How to Take It
Lamotrigine is a prescription drug for treating tonic-clonic seizures, epilepsy, and bipolar disorder. It is available as Lamictal, Lamictal XR, Lamictal ODT, and Lamictal CD in the market. Lamictal belongs to the anti-convulsant and anti-epileptic class of medication. Some other medications from this class include Carbamazepine, Valproate, Phenytoin, and Phenobarbital. Based on its safety profile, Lamictal is used as a first line of treatment for patients with generalized tonic-clonic seizures. This includes partial seizures, complex seizures, simple partial seizures, etc.
Lamictal, also known as lamotrigine, helps treat epilepsy and bipolar disorder by blocking sodium channels in the brain, stabilizing neuronal membranes, and decreasing the excessive firing of neurons, which can cause seizures and mood swings. It helps control brain activity by modulating calcium channels and blocking the action of the excitatory neurotransmitter glutamate. Lamictal's overall efficacy in treating epilepsy and bipolar disorder results from its multifaceted actions.
Lamictal is prescribed initially in a dosage of 0.3 mg, which may later be increased to 0.6 mg orally for children.The dosage depends on the child's medical condition, weight, and medication response. It is taken by mouth once or twice a day in tablet or liquid form, with or without food. For adults with epilepsy or bipolar disorder, the dose is initially 25 mg per day which is later increased to 50 mg or 100 mg. Seek medical advice for Lamictal dosing and administration.
Important Information About Lamictal
Lamictal is an anticonvulsant or anti epileptic drug. You will require a prescription for Lamictal. Here are some essential points that you should know about this drug:
Some side effects of Lamictal include Lamictal (lamotrigine), include headaches, dizziness, drowsiness, nausea, vomiting, and upset stomach.



Lamictal may interact with various other medications, such as Carbamazepine, Valproate, Phenytoin, Phenobarbital, and Primidone. Always tell your doctor about all the medicines you are currently taking before starting Lamictal.



In some cases, side effects can be serious, causing rash; a rare but serious side effect may indicate a severe allergic reaction and require immediate medical attention. It may also cause mood, behavior, or psychiatric changes. Report any serious side effects to a doctor immediately.
Is Lamotrigine the same as Lamictal?
Yes, both Lamotrigine and Lamictal refer to the same drug. The generic drug name is Lamotrigine, but the brand name is Lamictal. Anticonvulsant Lamotrigine is effective in the treatment of both epilepsy and manic-depressive illness. Lamotrigine is the active ingredient in Lamictal, but generic versions of the drug are sold under various brand names.
How long does it take for Lamictal to work?
Significant results from Lamictal typically appear after 4 to 6 weeks of treatment, as reaching the minimum effective dose of 200 mg of Lamictal may take several weeks.
Does Lamictal cause weight gain?
No, when compared to other medications for epilepsy and bipolar disorder, lamotrigine (the active ingredient in Lamictal) is generally regarded as having a more favorable side effect profile. Gaining weight is a rare Lamictal side effect. In fact, the opposite of weight gain is more common with this medication: weight loss.
Is it hard to lose weight on Lamictal?
No, in most cases, Lamictal is not associated with increased weight loss resistance. However, how you react to Lamictal may vary depending on your unique physiology and any other medications you may be taking.
Can Lamictal be prescribed online?
Yes, Lamictal (lamotrigine) prescription refill can be obtained online from a licensed physician or psychiatrist via Your Doctors Online.
What happens if you take Lamictal and are not bipolar?
Lamictal (lamotrigine) is used to treat epilepsy and bipolar disorder. It is sometimes prescribed off-label for neuropathic pain or psychiatric disorders. Without medical supervision, taking Lamictal without bipolar disorder or epilepsy may cause side effects and adverse reactions. Lamictal can cause life-threatening skin rashes sometimes.
What not to eat with Lamotrigine?
Lamictal is most effective when taken without food. Butter, margarine, beef fat, and coconut, palm, and palm kernel oils are high in fat and may interfere with Lamictal absorption. While taking Lamictal, avoid packaged cakes, cookies, and frozen foods. Finally, alcohol can exacerbate Lamictal's nervous system side effects (dizziness, drowsiness, and difficulty concentrating).
Does Lamotrigine slow metabolism?
For the vast majority of people taking Lamotrigine (Lamictal), there is no convincing evidence that the drug causes any significant changes in weight or metabolic rate.
Who should not take Lamotrigine (Lamictal)?
Do not take Lamictal if you have ever had a severe allergic reaction to lamotrigine or any of the other ingredients. People who have had serious skin reactions to Lamictal in the past, such as Stevens-Johnson syndrome or toxic epidermal necrolysis, should not take the medication again. Because valproate (Depakote) can increase Lamictal levels in the body, possibly increasing the risk of side effects, the two drugs should not be used together without proper dose adjustment.
What is the typical starting dose of Lamotrigine?
Lamotrigine (Lamictal) doses vary according to your individual condition. For adults and children over 13 with epilepsy, it usually starts with 25 mg daily for two weeks, then 50 mg for two weeks, and then 100 mg to 400 mg per day. Based on weight, 2–12-year-olds start with a lower dose. Adults with bipolar disorder start with 25 mg daily for two weeks, then 50 mg for two weeks, and finally 100 mg to 200 mg per day. Healthcare providers determine dosing based on individual factors.
This is the best app..You ask anything and the doctors answer you within minutes, i love it

-Phindile Mkhatshwa


It is a good app, it can be helpful with pictures and be very detailed.

-brooke snow


Wow, these people are such a blessing. Dey give accurate answered to questions asked. Its really too good

-Okiti Stephanie


Impressive work !! Connecting to a doctor was so quick. I am really impressed.

-ASIF Khan


Doctor was really great, fast at responding very helpful

-Chelsey


Chat with them the doctor that I chat with very helpful and answer all my questions I recommend to anyone

-edith bien aime


The best patient doctors that understand and give you useful information ..I'm really thankful.

-Lesego Thejane


Very informative and very detailed in explanations.Also pleasant and courteous.I would recommend to anyone.

-Stephanie Brown


Very helpful, very polite and answers every question in a well mannered way.

-kulwinder gill


I really rate this website a lot, you people don't stick and and im sure you try your best to take swift actions for your patients.

-Elijah Mark


Talk to online doctors now and get medical advice, online prescriptions, and referrals within minutes. On-demand healthcare services at your fingertips.