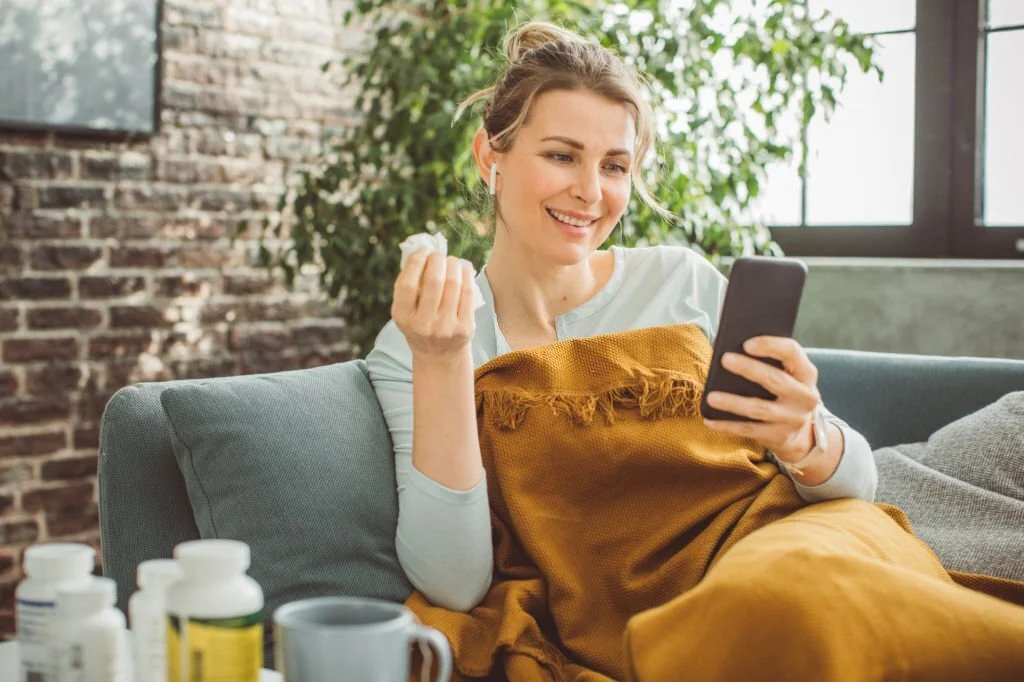 Get Amerge (naratriptan) prescription refill online
You can get an Amerge refill online to prevent or treat headaches, pain and other symptoms of migraines, including sensitivity to light/sound, nausea, and vomiting. Getting an Amerge online refilling is easy; you can connect with a doctor at any time and place of your choice at Your Doctors Online.
However, please note that an Amerge ( Naratriptan) will only be refilled online after consultation with the doctor and if the treatment is suitable and safe for you.
Request Amerge prescription refill
Get a prescription refill for Amerge online in three easy steps.
Download our app, register and tell us about your medical issue to get started.
Migraines
Anemia
STD
UTI

Infections

Covid
Connect with a board-certified doctor. You can chat, send pictures and videos.
Hi I'm Dr. Nicole. How may I help you?
Hi Dr Nicole, I have migraines. Can I get a refill of my medication, please?

Our online doctors can help you with your medical issues and give you prescriptions.
Amerge 2.5 mg once daily.
Send Prescription
What is Amerge (naratriptan)?
Amerge, a medication for migraine, is a brand name for the medication naratriptan. It belongs to the class of drugs known as triptans, primarily used to treat migraines. Amerge works by constricting blood vessels in the brain, reducing inflammation, and alleviating pain signals. It specifically targets the serotonin (5-HT) receptors involved in migraine-related processes.
This medication is unavailable over the counter and requires a prescription from a healthcare provider. Amerge typically comes in oral tablet form, with various strengths, and may be taken with or without food.
Important information about Amerge
Common side effects of Amerge include nausea, dizziness, drowsiness, dry mouth, tingling or numbness, and chest discomfort or tightness.

Serious side effects of Amerge can include allergic reactions e.g. rash, itching, swelling, severe dizziness, difficulty breathing, chest pain or pressure, which could indicate heart problems, changes in blood pressure, either significant increase or decrease, severe, abdominal pain, vision changes and stroke symptoms, such as confusion, severe headache, slurred speech, or weakness on one side of the body.
FAQs about Amerge prescription refill
How does Naratriptan Work?
Naratriptan is a medication used to treat migraines by constricting blood vessels and decrease inflammation in the brain, alleviating headaches and associated symptoms. It also affects certain pain pathways in the brain to relieve migraine pain.
How long does naratriptan stay in your system?
Naratriptan, the active ingredient in Amerge, has a half-life of approximately 5-8 hours. This means it may take about 5-8 hours for half of the drug to be eliminated from your system. However, it may take a few days for naratriptan to completely clear from your body.
How long does naratriptan take to work?
Naratriptan takes about an hour to start working, but it takes around three hours to achieve its peak effects. You can take another dose of naratriptan if your migraine goes away but returns, but don't take more than 5 mg in 24 hours.
Amerge (naratriptan) should be avoided by individuals with a history of heart disease, angina, high blood pressure, or peripheral vascular disease, as it can constrict blood vessels. It should also be avoided in those with known hypersensitivity or allergy to naratriptan or its components.
What are the alternatives of Amerge?
What not to take while taking Amerge?
While taking Amerge (naratriptan), avoiding the simultaneous use of other triptans or ergotamine medications is essential, as this can increase the risk of a potentially serious condition called serotonin syndrome. Combining Amerge with MAO inhibitors, a type of antidepressant, should also be avoided, as it can lead to dangerous interactions.
How to take Amerge during pregnancy?
Amerge (naratriptan) should only be used during pregnancy if the potential benefits outweigh the risks. Minimizing medication use during pregnancy is generally recommended, and non-pharmacological approaches like rest, hydration, and relaxation techniques should be considered first for managing migraines.
What is the starting dose for Amerge?
The typical starting dose for Amerge (naratriptan) is 1 mg. If the migraine symptoms persist or recur, a second 1 mg dose can be taken after 4 hours, but the maximum recommended dose within 24 hours is 5mg.
This is the best app..You ask anything and the doctors answer you within minutes, i love it

-Phindile Mkhatshwa


It is a good app, it can be helpful with pictures and be very detailed.

-brooke snow


Wow, these people are such a blessing. Dey give accurate answered to questions asked. Its really too good

-Okiti Stephanie


Impressive work !! Connecting to a doctor was so quick. I am really impressed.

-ASIF Khan


Doctor was really great, fast at responding very helpful

-Chelsey


Chat with them the doctor that I chat with very helpful and answer all my questions I recommend to anyone

-edith bien aime


The best patient doctors that understand and give you useful information ..I'm really thankful.

-Lesego Thejane


Very informative and very detailed in explanations.Also pleasant and courteous.I would recommend to anyone.

-Stephanie Brown


Very helpful, very polite and answers every question in a well mannered way.

-kulwinder gill


I really rate this website a lot, you people don't stick and and im sure you try your best to take swift actions for your patients.

-Elijah Mark


Talk to online doctors now and get medical advice, online prescriptions, and referrals within minutes. On-demand healthcare services at your fingertips.