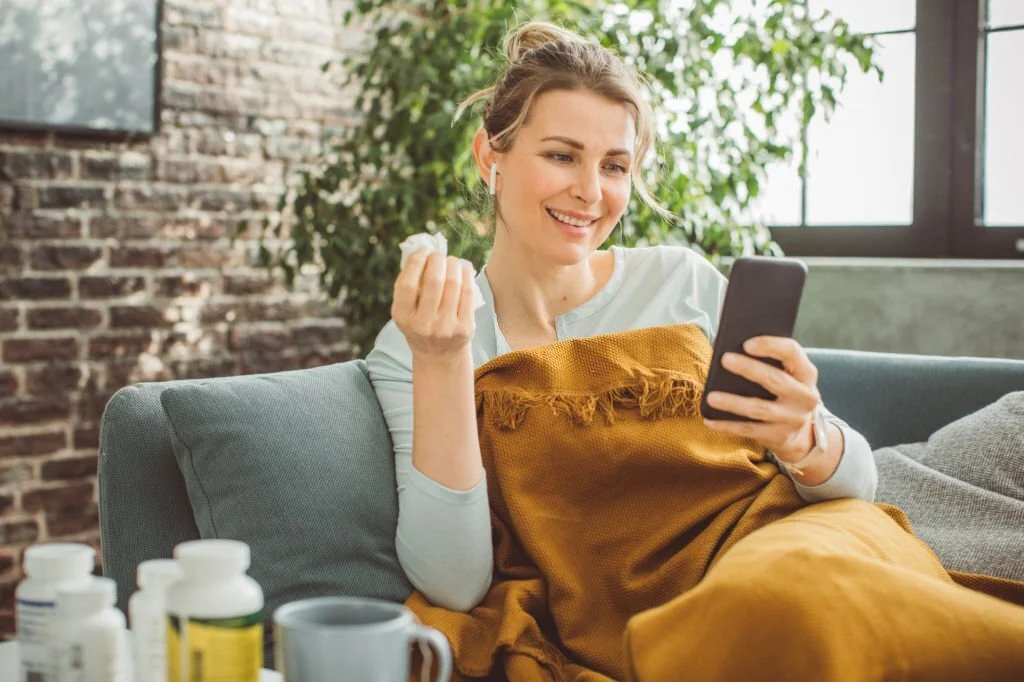 Get a Prescription for Citalopram Online
Citalopram is used for depression, including the Major Depressive Disorder (MDD). If you have these conditions, you can refill Citalopram online. Obtaining a Citalopram prescription online is simple; visit Your Doctors Online and connect with a doctor anytime, anywhere. Our online doctor will ask about your symptoms to determine treatment. They may suggest a follow-up appointment or clinic visit.
Please know that a Citalopram refill will only be provided after a consultation with our doctor and if the medication is appropriate and safe.
How to Connect with an Online Doctor?
Connect with a health care professional online in 3 easy steps.
Download our app, register and tell us about your medical issue to get started.
Hypertension
Anemia
STD
UTI
Skin
Covid
Connect with a board-certified doctor. You can chat, send pictures and videos.
Hi I'm dr. Nicole. How may I help you?
Dr. Nicole, I have been taking Citalopram for Major depressive disorder. Can you give me a Citalopram refill?

Our online doctors can help you with your medical issues and give you prescriptions.
Citalopram 10 mg tablet; take one tablet once daily.
Send Prescription
What is Citalopram and How to Take It
Citalopram is an antidepressant that belongs to selective serotonin reuptake inhibitors (SSRIs). It is sold under the brand name Celexa and is available as an Oral solution (10mg/5ml), tablet (10mg, 20mg, 40mg), and capsule (30mg). Other medicines in the same class include Fluoxetine (Prozac), Paroxetine (Paxil), Sertraline (Zoloft), and Escitalopram (Lexapro).
Citalopram functions by augmenting the neurochemical activity of serotonin within the brain, thereby facilitating the re-establishment of equilibrium for a specific endogenous substance within the brain. Consequently, this mechanism results in elevated levels of serotonin.
Citalopram can be administered with or without food. It is recommended to thoroughly agitate the bottle of oral liquid before measuring each dose. To ensure accurate dosage administration, it is recommended to employ a designated measuring spoon, oral syringe, or medicine cup for each dose measurement. The optimal dosage of citalopram depends on factors such as the patient's age, medical condition, and individual response to treatment.
The recommended dosage for adults consists of a single daily administration of 30 milligrams (mg); however, it is essential to note that your physician may modify this dosage according to individual requirements. It is not recommended to initiate treatment with citalopram capsules due to the limited availability of a single dose strength of 30 mg. Consider utilizing alternative dosage forms of citalopram, such as solutions or tablets, as a means to initiate treatment and modify dosages rather than solely relying on a daily dose of 30 mg. The determination of use and dosage in pediatric patients should be made by a qualified medical professional.
Important Information About Citalopram
Citalopram is an antidepressant drug. You will require a prescription for Citalopram. Here are some essential points that you should know about this drug:
Common side effects of citalopram include dry mouth, sweating, inability to sleep, feeling sleepy, tired, or weak, and headaches. If you experience any serious side effects, such as seizures, low sodium levels, or a severe allergic reaction, seek immediate medical attention.




Citalopram has a serious interaction with other drugs, such as Azithromycin or other antibiotics and nonsteroidal anti-inflammatory drugs (NSAIDs). Using an NSAID with citalopram may cause bruising or bleeding. Talk to your doctor before taking citalopram if you are allergic to it or its ingredients.




Citalopram passes in breast milk, but no serious side effects are reported with its use during breastfeeding. Some side effects include sleepiness and weight loss in some rare cases. You can also take it during pregnancy if the benefits outweigh the risks.
Is Celexa a controlled substance?
No, Celexa does not fall under the category of controlled substances. It is commonly employed in treating depression and frequently prescribed for individuals diagnosed with Major Depressive Disorder. It is advisable to discuss with one's healthcare provider regarding the usage of Citalopram, mainly if there are any inquiries or concerns about its administration.
What decongestant can I take with Citalopram?
There is a known interaction between Citalopram and decongestants. You should not take them together. Nevertheless, if there is a necessity to utilize a decongestant, it is advisable to engage in a consultation with a medical professional before selecting one.
Can Citalopram cause tardive dyskinesia?
Yes, tardive dyskinesia is a serious condition that can be caused by an interaction with Citalopram. If one encounters any manifestations indicative of tardive dyskinesia, it is imperative to promptly communicate with a healthcare professional.
What cold medicine can I take while on Citalopram?
There is a known interaction between Citalopram and cold medicine. You should not take them together.
Does Celexa cause constipation?
Yes, constipation is a common side effect of Celexa. If you experience persistent constipation while taking Celexa, you should discuss it with your doctor in detail. Usually, your body adjusts to the medication, and it gets better on its own.
Is Celexa the same as Citalopram?
Yes, Celexa is the brand name for Citalopram and is used for major depressive disorder. Discuss with your doctor if you have any specific questions about Citalopram.
No, acne is not a known side effect of Celexa; however, if you notice anything unusual while taking Celexa, please discuss it with your doctor, and they may change your dose or advise you accordingly.
Does Citalopram make you sleepy?
Yes, drowsiness is a common side effect of Citalopram; therefore, you should avoid doing activities that need you to be alert, such as driving while you are taking Citalopram.
Can you drink on Citalopram?
No, consumption of alcohol and citalopram is not advised together. The consumption of alcohol has the potential to elevate the likelihood of experiencing adverse effects, including but not limited to somnolence, vertigo, and compromised cognitive functioning.
When is the best time to take Citalopram?
The best time to take Citalopram is morning or evening, regardless of food intake. Maintaining a consistent level of medication in the body necessitates adhering to a regular daily schedule for administration. However, you should follow your doctor's instructions on how to take citalopram.
What allergy medicine can I take with Citalopram?
If you need to use an allergy medicine, you can use Zyrtec. There is a moderate drug interaction between citalopram and diphenhydramine, which is an antihistamine used in allergy medicines.
What are the Citalopram alternatives?
There exist multiple alternative treatment options to citalopram for the management of depression and anxiety disorders. Several commonly used alternatives to the medication include other selective serotonin reuptake inhibitors (SSRIs) such as escitalopram (Lexapro), fluoxetine (Prozac), sertraline (Zoloft), as well as serotonin-norepinephrine reuptake inhibitors (SNRIs) such as venlafaxine (Effexor) and duloxetine (Cymbalta). It is advisable to consult with a medical professional regarding the optimal treatment alternatives suitable for your specific circumstances.
Who should not take Citalopram?
People allergic to Citalopram should not take it, and people who take monoamine oxidase inhibitors (MAOIs) or have taken them within the past 14 days should not take Citalopram due to the risk of serotonin syndrome. People with a history of seizures, bleeding disorders, or low sodium levels should also use citalopram cautiously.
This is the best app..You ask anything and the doctors answer you within minutes, i love it

-Phindile Mkhatshwa


It is a good app, it can be helpful with pictures and be very detailed.

-brooke snow


Wow, these people are such a blessing. Dey give accurate answered to questions asked. Its really too good

-Okiti Stephanie


Impressive work !! Connecting to a doctor was so quick. I am really impressed.

-ASIF Khan


Doctor was really great, fast at responding very helpful

-Chelsey


Chat with them the doctor that I chat with very helpful and answer all my questions I recommend to anyone

-edith bien aime


The best patient doctors that understand and give you useful information ..I'm really thankful.

-Lesego Thejane


Very informative and very detailed in explanations.Also pleasant and courteous.I would recommend to anyone.

-Stephanie Brown


Very helpful, very polite and answers every question in a well mannered way.

-kulwinder gill


I really rate this website a lot, you people don't stick and and im sure you try your best to take swift actions for your patients.

-Elijah Mark


Talk to online doctors now and get medical advice, online prescriptions, and referrals within minutes. On-demand healthcare services at your fingertips.