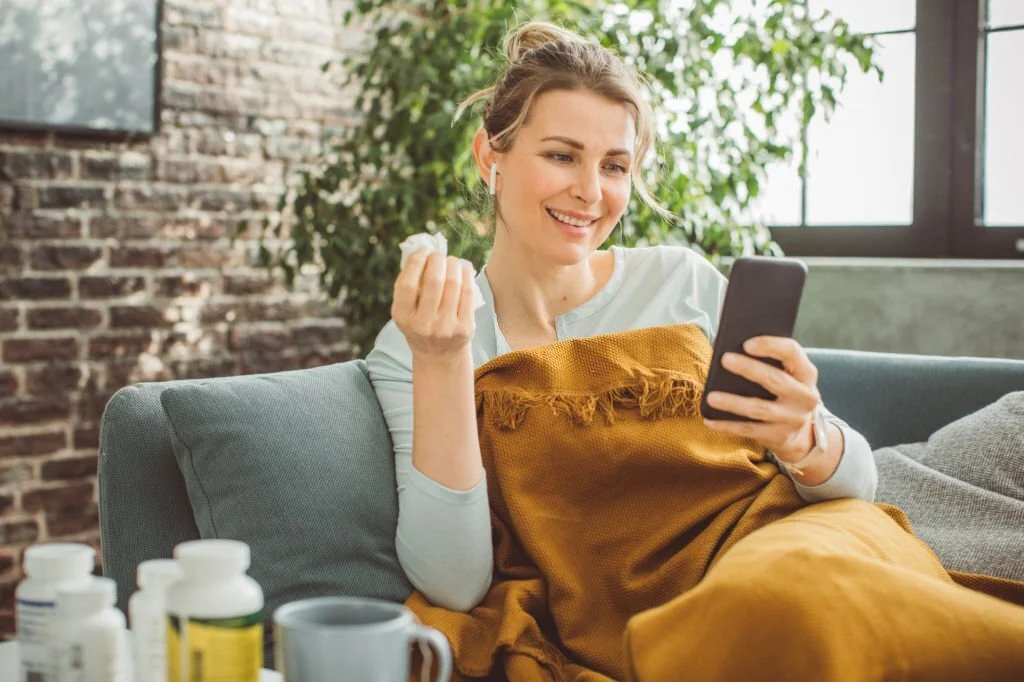 Get Seroquel (Quetiapine) Refill Online
Seroquel treats various mental health conditions, including schizophrenia, major depressive disorders, and bipolar disorder. Obtaining a Seroquel prescription online is straightforward; visit Your Doctors Online and connect with a doctor anytime, anywhere. To determine the best course of treatment, our online doctor will ask you to describe your symptoms. They may then recommend a follow-up appointment or a visit to a clinic if deemed necessary. Please know that a Seroquel refill will only be provided after a consultation with our doctor and if the medication is deemed appropriate and safe.
How to Connect with an Online Doctor?
Connect with a health care professional online in 3 easy steps.
Download our app, register and tell us about your medical issue to get started.
Bipolar Disorder
Anemia
STD
UTI
Skin
Covid
Connect with a board-certified doctor. You can chat, send pictures and videos.
Hi I'm dr. Nicole. How may I help you?
Dr. Nicole. I have been taking Seroquel before for bipolar disorder and believe I need it again. Can you give me a Seroquel Refill?

Our online doctors can help you with your medical issues and give you prescriptions.
Seroquel 50 mg table

Take one tablet once daily.



Send Prescription
What is Seroquel (Quetiapine) and How to Take It
Quetiapine is a medication that helps with mental health problems such as schizophrenia, bipolar disorder, borderline personality disorder, and major depressive disorder. It can be used by both children and adults. Quetiapine is a medication that you can find in pharmacies under the brand names Seroquel and Seroquel XR Some other drugs from the same class include Aripiprazole, Risperidone, Ziprasidone, Cariprazine, Olanzapine, Paliperidone, and Lurasidone.

Seroquel (quetiapine) affects the chemical balance in the brain in two ways. Dopamine receptors are the first target, as they control movement and cognition. By inhibiting serotonin receptors, it boosts positive emotions and improves sleep quality, satiety, and vitality.
You should strictly adhere to your doctor's orders when taking Seroquel (Quetiapine). Seroquel can be taken either before or after a meal. Unless your doctor tells you otherwise, simply swallow the tablets with a glass of water. To take the oral liquid, use the dropper that comes with it. You can drink it as is or mix it with water, ginger ale, lemon-lime soda, lemonade, or orange juice.
Important Information About Seroquel
Seroquel is an antipsychotic drug. You will require a prescription for Seroquel. Here are some essential points that you should know about this drug:
Seroquel can cause side effects like constipation, drowsiness, upset stomach, tiredness, weight gain, blurred vision, or dry mouth. If any side effects get worse, talk to your doctor. Seroquel can cause muscle-related side effects like restlessness, tremors, and stiffness. Sometimes, taking certain medications can cause tardive dyskinesia (TD). It can continue even after you stop taking the medication.




Seroquel interacts with various medications, alcohol, and certain types of food. Seroquel has potential interactions with medications that impact cardiac rhythm, increase the likelihood of bleeding, induce drowsiness, influence blood pressure, and alter serotonin, dopamine, and other neurotransmitter levels. Additionally, it is crucial to provide a comprehensive list of all medications you are currently taking to ensure the absence of any potential adverse effects.

Seroquel carries some serious risks that you should be aware of. It may increase the risk of high blood sugar, leading to symptoms like increased thirst, frequent urination, hunger, dry mouth, fruity breath odor, and weight loss. It can also raise the risk of low blood cell counts, causing weakness, fever, cold or flu-like symptoms, sore throat, and trouble breathing. Seroquel can elevate a hormone called prolactin, leading to side effects like menstrual changes and breast milk production in females and reduced sex drive or erectile problems in males. Long-term elevated prolactin levels can increase the risk of osteoporosis and bone fractures.
Is Seroquel over the counter?
No, Seroquel is a prescription medicine and is not available for use over the counter. However, you can get a Seroquel refill online via the Your Doctors Online app.
How long does it take for Quetiapine to work?
To feel the full effect of Quetiapine, it may take up to 2-3 months. Quetiapine (Seroquel) works differently for each person and condition. Quetiapine's therapeutic effects usually take several weeks to appear after a few days to a week.
What does Seroquel do to you if you don't need it?
If you take Seroquel even if you don't need it, it can cause side effects such as dizziness, constipation, drowsiness, upset stomach, tiredness, weight gain, blurred vision, and dry mouth. It may also impair your thinking, so avoid driving after taking Seroquel.
Can an online psychiatrist prescribe Seroquel (Quetiapine)?
Yes, our team of qualified healthcare professionals is available 24/7 for consultation, prescription, or refill if deemed necessary, according to your health condition.
What are the alternatives for Seroquel (Quetiapine)?
Some alternatives to Seroquel may include; Abilify, Lithium, Abilify Miantena, Lamictal, Omega-3 Fatty Acids, Vraylar, Latuda, Caplyta, and Tryptophan.
What is the typical starting dose of Quetiapine?
The patient's age and condition determine the starting dose of Quetiapine (Seroquel). The initial dose for schizophrenia and bipolar disorder is 50 mg/day. For Mania symptoms, the dosage starts at 100 mg/day. Before altering medication dosages, consult a doctor.
What happens if I take too much Seroquel?
If you overdose on Seroquel, you may feel heightened side effects such as drowsiness, low blood pressure, confusion, seizures, rapid heart rate, muscle stiffness, tremors, dry mouth, constipation, nausea, and vomiting. A Seroquel overdose may be life-threatening and can cause coma or even death.
This is the best app..You ask anything and the doctors answer you within minutes, i love it

-Phindile Mkhatshwa


It is a good app, it can be helpful with pictures and be very detailed.

-brooke snow


Wow, these people are such a blessing. Dey give accurate answered to questions asked. Its really too good

-Okiti Stephanie


Impressive work !! Connecting to a doctor was so quick. I am really impressed.

-ASIF Khan


Doctor was really great, fast at responding very helpful

-Chelsey


Chat with them the doctor that I chat with very helpful and answer all my questions I recommend to anyone

-edith bien aime


The best patient doctors that understand and give you useful information ..I'm really thankful.

-Lesego Thejane


Very informative and very detailed in explanations.Also pleasant and courteous.I would recommend to anyone.

-Stephanie Brown


Very helpful, very polite and answers every question in a well mannered way.

-kulwinder gill


I really rate this website a lot, you people don't stick and and im sure you try your best to take swift actions for your patients.

-Elijah Mark


Talk to online doctors now and get medical advice, online prescriptions, and referrals within minutes. On-demand healthcare services at your fingertips.