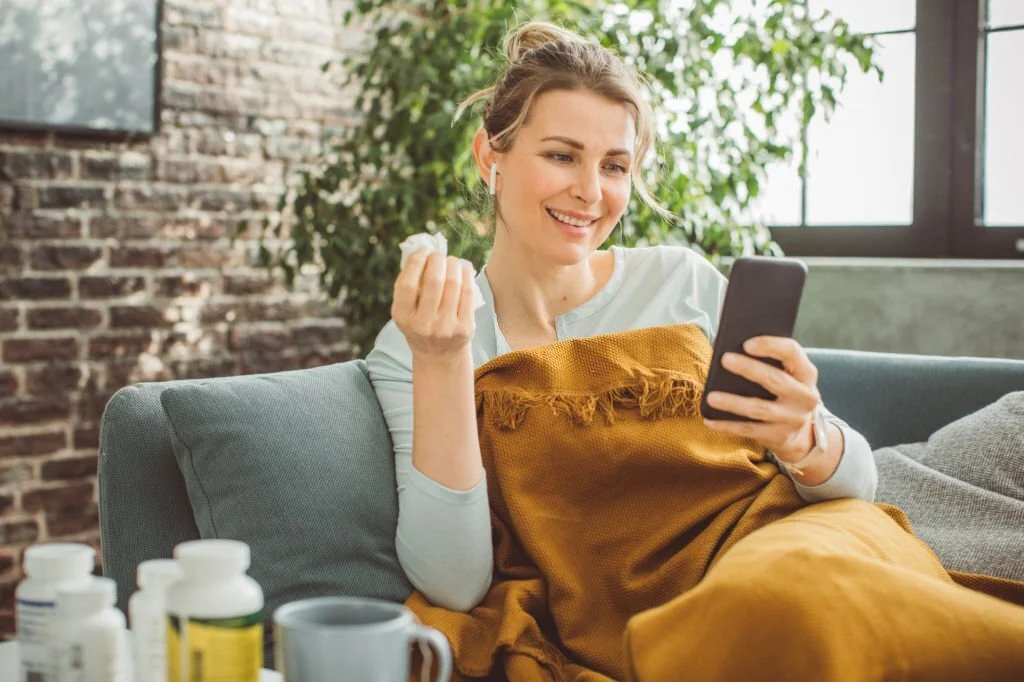 Get an Epi-Pen Prescription Online
Epi-Pen is the brand name of an auto-injectable device that delivers the drug epinephrine. It is used when someone is having a severe allergic reaction known as anaphylaxis. If you have these conditions, you can refill Epi-pen online.
Obtaining an Epi-pen prescription online is simple; visit Your Doctors Online and connect with a doctor anytime, anywhere. Our online doctor will ask about your symptoms to determine treatment. They may suggest a follow-up appointment or clinic visit.
Please know that an Epi-pen refill will only be provided after a consultation with our doctor and if the medication is appropriate and safe.
How to Connect with an Online Doctor?
Connect with a health care professional online in 3 easy steps.
Download our app, register and tell us about your medical issue to get started.
Hypertension
Anemia
STD
UTI
Skin
Covid
Connect with a board-certified doctor. You can chat, send pictures and videos.
Hi I'm dr. Nicole. How may I help you?
Dr. Nicole, I have run out of Epi-pen. I have a food allergy. Can you give me an Epi-pen refill?

Our online doctors can help you with your medical issues and give you prescriptions.
Epi-pen 0.3 mg

Administered in case of allergic symptoms.
Send Prescription
What is Epi-Pen and How to Take It
Epi-pen contains drugs from the therapeutic classes of Adrenergic bronchodilators, Vasopressors, and Catecholamines. It is known by the brand name EpiPen and comes in dosage forms of 0.3 mg or 0.15 mg solution, vial, autoinjector syringe, and prefilled syringe.
The Epi-pen is an auto-injector that delivers a dose of the hormone epinephrine, also known as adrenaline, into the body. This treatment functions by effectively alleviating the symptoms associated with anaphylaxis. Epipen delivers medicines quickly and effectively to patients with food allergies or any other common triggers.
Hold the pen in a fist from the blue end facing up to the sky, check the window on the side of the pen, swing your hand back, and insert it into your thigh. If you are using it for someone else, follow the same method but just have them sit and kneel before them and insert it in their thighs.
Important Information About Epi-Pen
Epi-pen may contain an Adrenergic bronchodilator, Vasopressor, Catecholamines, and alpha and beta-adrenergic agonists. You will require a prescription for Epi-pen. Here are some essential points that you should know about this drug:

Side effects of Epi-pen may include anxiety, restlessness, weakness, sweating, paleness, throbbing, anxiety, tremor, dizziness, paleness, headache, fear, nervousness, vomiting, and nausea. Discuss your side with your doctor if they persist or worsen.



Serious side effects of Epi-Pen may include chest pain, double vision, discomfort, difficulty speaking, inability to move the arms, seizures, slow speech, sweating, tremors, and slow or fast heartbeat. If any of these side effects occur, please consult with your healthcare provider.




Drug interactions may include alpha-blockers, diuretics, amphetamine, digoxin, cardiac glycosides, chlorpheniramine, cardiac glycosides, and drugs for treating irregular heartbeat. 
Can you buy Epi-pen over the counter?
Epi-pen is only available on prescription by a registered medical practitioner. Telehealth services like Your Doctors Online can provide a refill of Epi-pen if needed. To get an Epi-pen refill, download our app and describe your problem to one of our qualified professionals and get an Epi-pen refill online.
When should you use an Epi-pen?
Epi-pen is used for severe allergic reactions or anaphylaxis to an ingestible like food or medicine. Symptoms of such a reaction can occur instantly and worsen quickly, so it is essential to inject Epi-pen when you notice the first sign of those symptoms.
What happens when you use an Epi-pen?
It is essential to use Epi-pen as your doctor prescribes. It is injected into muscles and mitigates allergic reactions immediately. The effective dose of epinephrine is usually 0.3 mg on noticing any signs of allergy.
When do you need an Epi-pen?
An Epi-Pen is used for severe allergic reactions to ingestible like certain foods. It is recommended to inject immediately when you notice the first allergy symptom. Speak to your healthcare provider for more direction on when to use Epi-pen.
How long does it take for Epi-pen to work?
Epi-pen starts working immediately and may take 5-10 minutes to take full effect, and its effect starts wearing off in 20-30 minutes. If you have any additional questions about how to take the Epi-pen, it is advisable to consult with your doctor.
What happens if you use an expired Epi-pen?
The Epi-pen shelf life is usually one year from the manufacturing date. If you have an Epi-pen and you experience a severe allergy, it is better to use it instead of avoiding use. An expired Epi-pen may be less effective but can be life-saving in case of emergency. Do not neglect an expired Epi-pen purposefully, and try getting an immediate refill if your Epi-pen has expired.
How long is an Epi-pen good for after expiration?
Epi-pen can retain a significant concentration of Epinephrine even if it has expired, but it is best to replace the expired epi-pen with a new one as soon as possible to avoid any life-threatening circumstances.
What happens if you take an Epi-pen and don't need it?
Epinephrine in Epi-pen can cause anxiety, tremors, and an increased heart rate if you take it when you don't need it. However, these side effects go away as the effects of Epinephrine wither away.
This is the best app..You ask anything and the doctors answer you within minutes, i love it

-Phindile Mkhatshwa


It is a good app, it can be helpful with pictures and be very detailed.

-brooke snow


Wow, these people are such a blessing. Dey give accurate answered to questions asked. Its really too good

-Okiti Stephanie


Impressive work !! Connecting to a doctor was so quick. I am really impressed.

-ASIF Khan


Doctor was really great, fast at responding very helpful

-Chelsey


Chat with them the doctor that I chat with very helpful and answer all my questions I recommend to anyone

-edith bien aime


The best patient doctors that understand and give you useful information ..I'm really thankful.

-Lesego Thejane


Very informative and very detailed in explanations.Also pleasant and courteous.I would recommend to anyone.

-Stephanie Brown


Very helpful, very polite and answers every question in a well mannered way.

-kulwinder gill


I really rate this website a lot, you people don't stick and and im sure you try your best to take swift actions for your patients.

-Elijah Mark


Talk to online doctors now and get medical advice, online prescriptions, and referrals within minutes. On-demand healthcare services at your fingertips.